Abbott Faces Infant Food Poisoning Lawsuit Over Contaminated Formula
September 14, 2022
By: Irvin Jackson
Two Arkansas parents have filed an infant food poisoning lawsuit against Abbott Laboratories, Inc., claiming their child fell ill after eating contaminated baby formula that was recalled earlier this year.
Abbott recalled cans of Similac, Alimentum and Elecare in February 2022, indicating the infant formula may be contaminated with Salmonella Newport and Cronobacter sakazakii bacteria. However, within days of the recall, reports began to surface that the company knew about the infant formula contamination problems at its facility since at least September 2021, when the Minnesota Department of Health began investigating a case involving an infected infant.
In a complaint (PDF) filed late last month, William Holdridge and Amanda Watkins say their minor child, identified only by the initials E.H., was one of those infants who became sick with food poisoning after eating the contaminated formula. The family indicates that Abbott made a "conscious and despicable decision" not to recall the formula as soon as it learned about the problems.
Infant Formula Recall Delayed For Months
The claim was filed in the U.S. District Court for the Western District of Arkansas, and joins hundreds of other families who have now come forward to pursue Similac food poisoning lawsuits, each raising similar claims that children were diagnosed with salmonella and other severe gastrointestinal illnesses after consuming the recalled formula.
Infant Formula Recall Lawsuits
Was your child diagnosed with Salmonella or other food poisoning after consuming recalled Similac, Alimentum or EleCare formula sold by Abbott?
CONTACT A LAWYER
Holdridge and Watkins indicate their baby consumed the recalled Abbott formula in September 2021, and developed a severe salmonella infection. As a result of the infant formula food poisoning, E.H. underwent extensive medical treatment and hospitalization, his parents say in the lawsuit.
According to allegations raised in the lawsuit, the food poisoning could have been avoided if Abbott had taken adequate steps to address problems with infant formula contamination impacting products manufactured at its Sturgis facility.
"Rather than recalling its dangerous infant formula in September 2021, Defendant Abbott…waited until February 2022 – after the FDA publicly announced it was investigating Defendant Abbott – before it decided to recall the products," the lawsuit states. "Defendant Abbott's conscious and despicable decision not to recall its contaminated infant formulas caused severe injuries in E.H., a Minor, and the death of several others."
Salmonella food poisoning can cause serious and sometimes fatal infections in young children and elderly people, or those with weakened immune systems. Symptoms of Salmonella infection include fever, diarrhea, nausea, vomiting, and abdominal pain.
In some cases, the bacteria can travel into the bloodstream and lead to more severe illness such as aneurysm, endocarditis, and arthritis.
Abbott Infant Formula Manufacturing Problems
Following the recall, FDA investigators have found multiple deficiencies and problems at the Similac manufacturing facility, including leaks in the roof that allowed water to enter and sit stagnant on the floor and on production equipment.
During a September inspection, reports indicated that Abbott was aware of a report involving a child falling ill with cronobacter in Minnesota after eating Similac Sensitive made at the Sturgis facility. While the manufacturer knew about the incident, no recall was issued at that time and parents were not informed about the food poisoning risk from the infant formula.
It was not until after a follow-up inspection in January 2022 that the FDA forced Abbott to take action, after they found five different strains of cronobacter in the facility.
The Sturgis, Michigan facility has been slowly allowed to resume production in recent weeks, manufacturing limited amounts of EleCare and other specialty formulas. However, the formula plant was shut down due to flooding in June 2022, and the company just recently announced that full production of Similac will resume again by mid-October.
Similac NEC Lawsuits
The recall came as Abbott already faced hundreds of Similac NEC lawsuits, involving premature infants who developed a devastating gastrointestinal illness caused by the cow's milk-based infant formula products.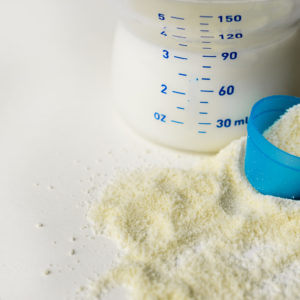 Necrotizing enterocolitis (NEC) is a devastating condition that primarily impacts premature babies, occurring when the walls of the intestines are invaded by bacteria, resulting in destruction of the bowel and often resulting in the need for emergency surgery while the infant is still in the hospital.
These baby formula NEC lawsuits allege Abbott placed its desire for profits before the health and safety of newborn babies, by failing to warn about the risks associated with using their formula among premature and low birth weight infants.
Similar allegations have also been presented in Enfamil lawsuits filed against Mead Johnson, which sells similar cow's milk-based infant formula products also linked to cases of NEC. However, Enfamil has not been linked to the same problems with Salmonella contamination that have plagued Similac.
"*" indicates required fields