Amazon.com Faces Lawsuit Over Artificial Tears Eye Drops Bacterial Contamination
May 25, 2023
By: Irvin Jackson
A Michigan woman has filed a lawsuit against Amazon.com and the manufacturers of recalled Artificial Tears eye drops, indicating she suffered an infection from bacterial contamination which left her blind in her right eye.
The complaint (PDF) was filed by Beverly Jennings in New Jersey federal court on May 19, naming Amazon.com, Ezricare LLC, Ezrirx LLC, Global Pharma Healthcare Private Ltd., and Aru Pharma, Inc. as defendants.
The case joins a growing number of EzriCare Artificial Tears lawsuits now being pursued by consumers nationwide, who have experienced Pseudomonas aeruginosa infections that have caused a wide range of health problems, including vision problems, bloodstream infections and death. A number of eyedrops class action lawsuits have also been filed against the manufacturers, seeking damages on behalf of all consumers who purchased the Artificial Tears products that were recalled in February 2023.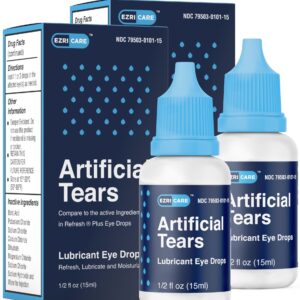 According to the lawsuit, Jennings bought Artificial Tears online through Amazon.com in April, 2022. However, about two months after using the eye drops, she began experiencing pain and redness in her right eye.
Jennings was diagnosed with a neurotrophic ulcer in her right eye and a corneal ulcer in June 2022. However, her symptoms continued to worsen, including eye pain, vision loss, flashes of light and discharge. Vision in her right eye first became fuzzy, then was reduced to just shadows and movement, and eventually she lost vision altogether in that eye.
She was later diagnosed with a Pseudomonas aeruginosa bacterial infection in her right eye.
"By September 21, 2022, Plaintiff lost all vision in her right eye, and she was experiencing consistent pain in her right eye described as a sharp pain to a dull ache," the lawsuit states. "Thereafter, Plaintiff was diagnosed with a dense corneal scar with vascularization in her right eye and complete vision loss."
Artificial Tears Eye Drops Recall
The EzriCare Artificial Tears recall was announced by the U.S. Food and Drug Administration (FDA) on February 2, when the agency warned that at least 55 individuals had suffered eye infections after exposure to bacteria in eye drops, with several resulting in permanent blindness and at least one death from a severe bloodstream infection.
The recall impacted multiple versions of the lubricant eye drops sold in ½ fluid ounce (15 ml) bottles, including Artificial Tears packaged under the brand names EzriCare, as well as Delsam, with the following UPC and NDC codes;
Ezricare (blue box): NDC 79503-0101-15 with UPC 3 79503 10115 7, and
Delsam Pharma (white box): NDC 72570-121-15 with UPC -72570-0121-15
According to a recent report by the U.S. Centers for Disease Control and Prevention (CDC), the recalled Artificial Tears eye drops have been linked to 81 cases of bacterial contamination, including multiple reports of vision loss, four reports of consumers requiring removal of an eyeball, and four reports of deaths.
Lawyers Reviewing EzriCare and Delsam Pharma Eye Drop Lawsuits
As the news about the recalled EzriCare and Delsam Pharma eye drops continues to spread, it is expected that the number of Pseudomonas aeruginosa infection lawsuits over the recalled eye drops will be filed in the coming months.
Lawyers are actively investigating potential eye drop infection lawsuits against the manufacturers and distributors of EzriCare and Delsam Pharma's eye drops for multiple injuries and side effects caused by the contamination, including;
Eye Infection
Partial Blindness
Permanent Blindness
Bloodstream Infection
Other injuries caused by the eye drops
"*" indicates required fields