Lawsuit Alleges Recalled Artificial Tears Eye Drops Caused Vision Loss
March 30, 2023
By: Irvin Jackson
A Minnesota man has filed a lawsuit over vision loss caused by recalled Artificial Tears eye drops, indicating that an antibiotic resistant strain of Pseudomonas aeruginos bacteria in bottles distributed throughout the United States has left him with permanent eye damage.
Riley Kerkhoff filed the complaint (PDF) in the U.S. District Court for the District of New Jersey on March 22, naming Ezricare LLC, EZRIRX LLC, Global Pharma Healthcare Private LTD, and Amazon.Com, Inc. as the defendants.
The claim is one of growing number of eye drops lawsuits filed in the wake of an EzriCare and Delsam Pharma Artificial Tears recall first announced in early February, each involving similar claims that users developed severe infections caused by bacterial contamination that was not discovered until after the bottles were sold to unsuspecting consumers.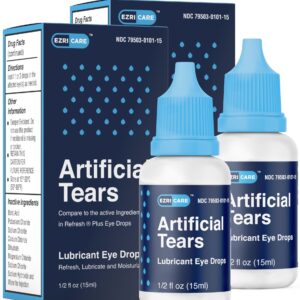 Kerkhoff indicates he purchased two bottles of Artificial Tears online through Amazon.com in November 2022. He used the eye drops for about 45 days before he started to notice swelling, redness and discharge from his eyes.
According to the complaint, Kerkhoff went to the emergency room and was diagnosed with a bacterial infection, which was treated with antibiotics. However, the infection continued to progress and he states that he indicates the recalled Artificial Tears eye drops caused vision loss, which may be permanent.
The lawsuit alleges Ezricare and other defendants failed to properly ensure the Artificial Tears eye drops were safe for consumer use, leading to catastrophic injuries.
"Defendants knew that the risk of exposure to Pseudomonas Aeruginosa bacteria from use of its products was not readily recognizable to an ordinary consumer and that consumers would not inspect the product for bacteria," the lawsuit states. "Defendants did not adequately test and/or give adequate warnings to Plaintiff that the EzriCare Artificial Tears were contaminated with the Pseudomonas Aaeruginosa bacteria or about the dangers of the presence of Pseudomonas Aeruginosa bacteria in their artificial tear products."
Recalled Artificial Tears Eye Infections
The recalled Artificial Tears eye drops have been found to contain Carbapenem-Resistant Pseudomonas Aeruginosa (CRPA), which is bacteria that may result in infections resulting in mild to severe health consequences, including fever, chills, body aches, light-headedness, rapid pulse, heavy breathing, nausea and vomiting, diarrhea and decreased urination.
However, the strain of Pseudomonas aeruginosa linked to the Artificial Tears recall poses a major health risk due to its antibiotic resistance and capability of mutating quickly. In severe cases, Pseudomonas aeruginosa may cause endophthalmitis, which is a rare but serious infection of the eyeball that can cause inflammation and destruction of the tissue throughout the eye, resulting in irreversible blindness.
According to a recent update on the Artificial Tears infection outbreak issued by the U.S. Centers for Disease Control and Prevention (CDC), the agency is aware of at least 68 cases of recalled Artificial Tears eye infections in 16 states, including three deaths, eight reports of vision loss and four reports of infections which resulted in eye removal surgery.
Eye Drop Infection Lawsuits
As new information continues to be released about the history of the eye drops infection outbreak, it is expected that the number of Pseudomonas aeruginosa infection lawsuits over the recalled eye drops will increase in the coming weeks and months.
Lawyers are actively investigating potential eye drop infection lawsuits against the manufacturers and distributors of EzriCare and Delsam Pharma's eye drops for multiple injuries and side effects caused by the contamination, including;
Eye Infection
Partial Blindness
Permanent Blindness
Bloodstream Infection
Other injuries caused by the eye drops
Review a Lawsuit Over Recalled Artificial Tears Eye Drops
Lawyers provide free consultations and claim evaluations to help users determine whether they may be entitled to settlement benefits for vision loss and other eye damage caused by recalled Artificial Tears eye drops.
FIND OUT IF YOU ARE ELIGIBLE
"*" indicates required fields