Eye Drop Infections Linked To More Deaths, Reports of Vision Loss, Eyeball Removals: CDC
March 22, 2023
By: Russell Maas
Following a massive Artificial Tears recall issued last month, due to antibiotic resistant bacteria that contaminated eye drops sold by a number of different companies, federal health officials warn that they have identified at least two more deaths among individuals who developed a severe eye infection, in addition to reports of vision loss and eyeball removal surgery.
The U.S. Center for Disease Control and Prevention (CDC) released an update on the eye drop infections this week, indicating the agency is now aware of at least 68 individuals from 16 different states who have experienced problems after using EzriCare or Delsam Pharma Artificial Tears.
The reported incidents include a total of three deaths, eight reports involving vision loss and four reports involving infections which resulted in eye removal surgery. These numbers represent sharp increases since the eye drop infection outbreak was first identified, and highlight the serious nature of the problems being experienced by users.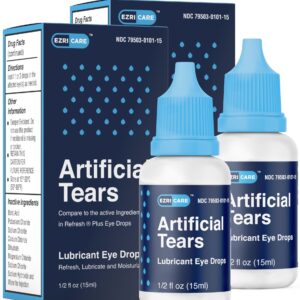 Artificial Tears Vision Loss & Eye Removal Surgery
The reports of eye infections from eye drops gained nationwide attention in late January 2023, when the CDC first acknowledged that it was aware of a multi-state oubreak and instructed consumers to stop using Artificial Tears products. Days later, the manufacturer released a statement about the infections, and a subsequent recall was issued for Artificial Tears sold under the Delsam Pharma and EzriCare brand names.
Initial reports were limited to 11 states, and suggested there was one death caused by a bloodstream infection after a user developed an eye infection. However, this latest CDC update indicates that there have been at least three deaths out of 68 known hospitalizations, which likely only represents a small portion of the actual number of eye drop infections experienced by users.
The CDC warning highlights the serious consequences from these antibiotic-resistant infections, with at least four known cases resulting in enucleation, which involves the complete removal of the eye and all of the surrounding tissue connections. This type of surgery is often a last resort option to treat very serious diseases and injuries.
Given the recent and serious developments, the CDC is asking clinicians to urgently report any carbapenem-resistant Pseudomonas aeruginosa (CRPA) positive specimens to their local or state health departments for information on how to save the isolates.
Artificial Tears Eye Drop Infection Lawsuits
As the number of reported eye drops infections continue to rise, a series of Artificial Tears eye drop lawsuits have been filed in recent weeks, claiming the manufacturers failed to perform proper microbial testing, allowing the products to be sold directly to consumers containing Pseudomonas aeruginosa bacteria.
Lawyers are actively investigating potential eye drop infection lawsuits against the manufacturers and distributors of EzriCare and Delsam Pharma's eye drops for multiple injuries and side effects caused by the contamination, including;
Enucleation (removal of the eyeball)
Eye Infection
Partial Blindness
Permanent Blindness
Bloodstream Infection
Other injuries caused by the eye drops

Did You Experience Eye Drop Infection Problems?
Lawyer provide free claim evaluations to help determine whether Artificial Tears recall settlements may be available.
See If You Qualify
"*" indicates required fields