FDA Releases Scientific Opinions on Testing Procedures for Asbestos in Talc-Based Cosmetics
January 14, 2022
By: Irvin Jackson
After determining that some cosmetics manufacturers are not properly testing for asbestos in talc ingredients, federal health regulators have published a series of opinions and recommendations about testing methods that should be used to detect the cancer-causing contaminant that has been widely found in raw talc.
The U.S. Food and Drug Administration (FDA) issued a white paper (PDF) on January 13, which includes scientific opinions developed by the Interagency Working Group on Asbestos in Consumer Products (IWGACP).
The paper was released in light of "long-recognized shortcomings" testing talc for asbestos, according to the agency, as methods commonly used by the cosmetics industry fail to adequately screen for the substance.
The FDA formed the IWGACP in the fall of 2018, with the group issuing its first preliminary recommendations in February 2020. Since then the group has released an annual survey of the presence of asbestos in cosmetics that include talcum powder.
The group's formation came in response to a number of popular cosmetics being found to contain asbestos, including a Claire's make-up recall in December 2017, and a Johnson's Baby Powder recall issued in October 2018.
At that time, Johnson & Johnson already faced thousands of Baby Powder lawsuits and Shower-to-Shower lawsuits, each involving allegations that the talcum powder products caused the development of cancer, including the asbestos-linked disease mesothelioma, as well as ovarian cancer among women who applied the product around their genitals for years.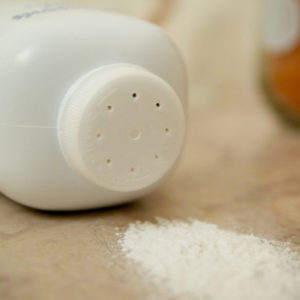 "The FDA has been sampling and testing talc-containing cosmetics for asbestos as part of our overall efforts to help ensure the safety of cosmetics in the U.S. marketplace. We have become aware that methods employed by some industry members to test for asbestos in talc-containing cosmetic products may not always detect the presence of asbestos," Dr. Susan Mayne, director of the FDA's Center for Food Safety and Applied Nutrition, said in an FDA press release. "That's why an interagency working group sought to take a state-of-the-science look at available methods."
The two most popular methods of testing for asbestos by the cosmetics industry include x-ray diffraction (XRD) and infrared spectroscopy, with both requiring polarized light microscopy (PLM) if the screening tests turn out positive. However, the FDA's white paper notes that these two methods have long been known to have shortcomings.
Instead, the researchers in the IWGACP called for the use of transmission electron microscopy (TEM), which the group says is the preferred method of testing to determine if asbestos is present, along with PLM. The paper also details how these methods should be done and how the results should be calculated and tabulated.
The FDA's press release indicates the agency plans to have the white paper peer-reviewed as it considers the scientific opinions and what next steps should be taken in the regulatory process.
"Should the FDA decide to develop recommendations with respect to standards or testing methods for asbestos in talc, it would issue draft guidance for public comment," the press release states. "Likewise, the FDA would propose any related regulations through a public notice and comment process."
Asbestos has been banned in many forms for decades, since exposure to the fibers has been linked to a number of respiratory illnesses and cancers, including mesothelioma, lung cancer, and asbestosis.
Mesothelioma is only known to be caused by asbestos exposure, and the rare cancer is particularly life threatening since there is a long latency period of between 20 and 40 years between exposure and diagnosis, causing it to often be at a very advanced stage and untreatable stage by the time it is discovered.
Now, Johnson & Johnson faces more than 30,000 talcum powder lawsuits in federal courts nationwide. Most of the U.S. talc litigation is currently pending in the federal court system, where the cases are centralized before U.S. District Judge Freda L. Wolfson in the District of New Jersey, as part of an MDL or multidistrict litigation. However, those cases have been put on hold as the company has tried to split off its liability for talcum powder cancer claims into a separate company, which has declared bankruptcy in an effort to shield the company from potentially massive litigation costs.
"*" indicates required fields