Bayer Faces Class Action Lawsuit Over Roundup Liability and Monsanto Acquisition
December 27, 2021
By: Irvin Jackson
A group of more than 250 investors have filed a class action lawsuit against Bayer, alleging that false and misleading information was provided about the billions in liability over Roundup the company faced after acquiring Monsanto.
The complaint indicates that investors were deceived about the link between Roundup and non-Hodgkin's lymphoma, and the risks involved when Bayer bought Monsanto for $63 billion in 2016. According to various media reports, the lawsuit seeks $1.13 billion in damages for investors.
Bayer has faced more than 125,000 Roundup lawsuits brought against Monsanto over the failure to warn about the risks associated with exposure to the glyphosate-based weedkiller, which was identified as a probable human carcinogen in 2015.
Following a string of massive losses in cases that went to trial in 2018 and 2019, Bayer has engaged in efforts to settle the Roundup litigation, and indicated last year that it would pay more than $11.6 billion to resolve pending claims. However, finalization of the settlements has been slow, with many plaintiffs rejecting their individual offers and new claims continuing to be filed by individuals diagnosed with cancer following prior use of the weedkiller.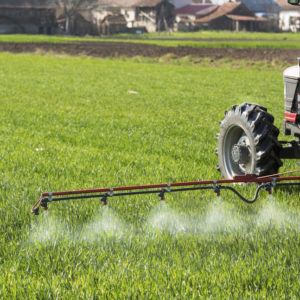 Last month, Bayer indicated that it had reached agreements to settle 98,000 of the Roundup complaints. However, while pursuing an appeal to the U.S. Supreme Court, which it hopes will end its Roundup liability, the company announced earlier this month that it was suspending all settlement negotiations.
Bayer's writ of certiorari asks the Supreme Court to overturn a decision by the Ninth Circuit Court of Appeals, which upheld a $25 million verdict in a case brought by Edwin Hardeman, who developed cancer after spraying Roundup around his home for decades.
Hardeman's case was the first Roundup trial to go before a jury in the federal court system, ending with an $80 million verdict in March 2019. The jury awarded $5 million in compensatory damages for medical bills, lost wages, pain and suffering, with another $75 million added for punitive damages, which were intended to punish Bayer's Monsanto subsidiary.
Following post-trial motions, the punitive damages portion of the award was reduced to $20 million, resulting in a final judgment of $25 million. That verdict was upheld by the Ninth Circuit Court of Appeals, resulting in the Supreme Court petition.
While the U.S. Supreme Court appeal has been seen by many as a "hail Mary" attempt to end its Roundup liability, since the Court only agrees to hear a small number of cases each year, the Justices recently asked the Biden Administration for its opinion about whether the issues presented in the appeal should be considered.
While Bayer maintains that the investor lawsuits are unfounded, it has also faced other lawsuits over its Monsanto acquisition. In March 2020, investor Rebecca Haussmann claimed that Bayer executives went ahead with the purchase of Monsanto in the summer of 2018, despite clear warning signs of looming legal problems and the huge Roundup liability exposure it would bring.
To limit its future liability over Roundup, Bayer recently announced plans to remove the active ingredient glyphosate from Roundup weed killers sold to U.S. residential customers by 2023. The products would still be sold under the Roundup label, but would use a different active ingredient, which has not been linked to a risk of non-Hodgkin's lymphoma. However, glyphosate would still be used in products sold to agricultural businesses and farmers, and in product sold in other parts of the world, Bayer officials said.
Bayer has noted the vast majority of Roundup cancer claims have come from U.S. residential users. However, the company is still expected to face years, if not decades, of future litigation and trials, as prior users develop non-Hodgkin's lymphoma after exposure to the product during the decades it has been on the market without any cancer warnings.
"*" indicates required fields