Tylenol Liver Damage Warnings Strengthened in Canada for all Acetaminophen Drugs
September 16, 2016
By: Irvin Jackson
Canadian health officials are requiring stronger label warnings for Tylenol and other over-the-counter pain medications that contain the active ingredient acetaminophen, in an attempt to address the risk of liver damage linked to the popular drug. 
On September 15, Health Canada announced that it approved revised label standards for non-prescription acetaminophen products, which will allow consumers to more readily identify that a drug contains acetaminophen and that uses plain language to explain the risk of liver damage, accidental overdose and the risks of combining the drugs with alcohol.
Acetaminophen is the most commonly used analgesic painkiller in the world, but carries a serious risk of liver damage. There is a very narrow margin between recommended therapeutic doses and overdoses that may cause serious liver failure, especially if more than the recommended dose are taken or multiple different acetaminophen-based medications are combined.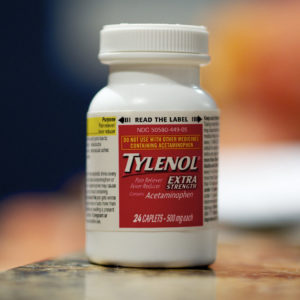 Tylenol and other acetaminophen drugs have been identified in recent years as a leading cause for liver injury, causing an estimated 50,000 emergency room visits each year in the U.S., including 25,000 hospitalizations and over 450 deaths annually. In addition, use of the medication has been linked to a risk of dangerous skin reactions, like Stephens-Johnson Syndrome.
In recent years, efforts have been ramped up to bring the risk of acetaminophen overdoses to the public's attention and to reduce the amount of liver injury cases linked to the popular analgesic, which is also found in other pain killers and a number of cold medications.
Canada conducted its own safety review in 2015, and proposed the new labeling guidelines exactly one year ago.
The new acetaminophen labeling standard calls for clearer instructions that recommend consumers use the lowest effective dose, not exceeding a daily maximum of 4,000 mg for adults in a 24-hour period. In the U.S., in 2011, that maximum daily dose was lowered to 3,000 mg, which means a user should not take more than two tablets of Extra Strength Tylenol every 8 hours.
All over-the-counter medications in Canada that have acetaminophen in them will now display the words "contains acetaminophen" in bold, red text on the front of the package, as many consumers are unaware of the number of drugs that actually use the painkiller. In addition, instructions will call for using acetaminophen no more than five days for pain and three for fever, not using them with alcohol if consuming three or more drinks per day, and will include a new drug facts table.
Health Canada will also recommend that all children's drugs containing acetaminophen include a calibrated dosing device to ensure parents and caregivers are giving children the correct dosage.
The label changes apply immediately to new products, and products already on the market have 18 months to meet the new standards. The Drug Facts table will not become a requirement until 2021.
Tylenol Liver Failure Litigation
In the United States, hundreds of Tylenol lawsuits are pending nationwide involving individuals who suffered liver failure after using the pain medication, alleging that Johnson & Johnson has failed to adequately warn consumers about the risks associated with acetaminophen for decades.
The new acetaminophen labeling requirements in Canada come just days before the first "bellwether" trial is scheduled to begin in the United States, which is designed to help gauge how juries may respond to certain evidence and testimony that may be repeated throughout the litigation. The case involves a wrongful death lawsuit filed by Rana Terry, whose sister, Denice Hayes, suffered liver failure from Extra Strength Tylenol.
Cases pending throughout the federal court system are currently centralized for coordinated discovery and pretrial proceedings before U.S. District Judge Lawrence Stengel in the Eastern District of Pennsylvania, as part of an MDL, or multidistrict litigation.
Each of the complaints raise similar allegations, indicating that Johnson & Johnson built a false reputation that Tylenol is a safe and effective medications by withholding important safety information about the risk of liver damage, which may have caused individuals throughout the United States to suffer severe liver failure, often resulting in death or the need for a liver transplant.
"*" indicates required fields