More Cancer Patients Should Receive Genetic Testing After Diagnosis: Study
June 26, 2023
By: Stephanie Yanovich
Researchers are calling for more patients diagnosed with breast, ovarian, and certain other types of cancer to receive genetic testing to help determine the specific gene variants involved in their cases, which could improve treatment options and provide information that may lead to preventative screenings and early detection among their relatives.
In findings published this month in the Journal of the American Medical Association (JAMA), researchers from Stanford University indicate most people diagnosed with cancer do not receive germline genetic testing, which locates cancer gene variants that may respond more effectively to certain cancer drugs.
It is well established that some cancer drugs, such as PARP (poly-ADP ribose polymerase) inhibitors, which target DNA repair in cancer cells, are more effective in cancer patients with certain gene variants. Genetic testing after a cancer diagnosis can also pinpoint relatives carrying cancer gene variants, potentially leading to preventative screening and earlier cancer detection.
Every year, about 2 million people in the U.S. are diagnosed with cancer. That estimate includes nearly 300,000 women and 2,800 men with breast cancer, making it the most common cancer diagnosis. Almost 20,000 women annually are diagnosed with ovarian cancer, which rarely causes early symptoms and has a high mortality rate.
However, researchers found that male breast cancer and ovarian cancer patients were only tested in about half of all cases, even though those cancer types have strong links to inherited gene variants. Medical standards call for genetic testing in all of these cases to determine a targeted treatment plan, according to the researchers.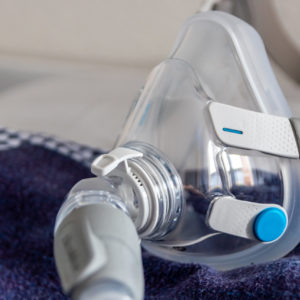 Did You Know?
Millions of Philips CPAP Machines Recalled
Philips DreamStation, CPAP and BiPAP machines sold in recent years may pose a risk of cancer, lung damage and other injuries.
Learn More
Genetic Cancer Testing Rates Were Low Overall, But Especially for Minority Patients
In this latest study, researchers used data from statewide cancer registries in Georgia and California to analyze 1,369,602 adult patients diagnosed with cancer between 2013 and 2019. All patients analyzed had a breast, colorectal, endometrial, ovarian, pancreatic, prostate, or lung cancer diagnosis, as those cancer types have established gene variant links.
Of the patients analyzed, only 6.8% overall, or roughly 93,000, received genetic testing within two years of their diagnosis, the researchers found. They determined that even the groups of cancer patients with the highest genetic testing rates were not receiving enough genetic testing to meet established guidelines.
Male breast cancer patients had the highest genetic testing rate at 50%, while ovarian cancer patients had the second highest rate, at 38.6%. Both types of cancer have mortality rates of up to 96%, and warrant testing in all cases, researchers noted.
Previous studies have suggested a delayed cancer diagnosis or a cancer misdiagnosis can result in less effective treatment, which can dramatically decrease survival chances. A 2020 study found that even a four week delay in treatment, which could occur if a doctor fails to diagnose a patient's cancer properly, can increase risk of death from several types of cancer.
Another 2020 study determined that male breast cancer is often diagnosed too late, resulting in up to a 70% drop in survival chances.
Racial Disparities in Cancer Genetic Testing
Researchers also discovered even lower genetic testing rates among some racial and ethnic groups. Among all patients analyzed with male breast, female breast, and ovarian cancer, only 25% of Asian, Black, and Hispanic patients received testing, compared with 31% of non-Hispanic white patients.
While researchers did not examine the causes behind the low genetic testing rates, they cited prior studies suggesting some cancer patients, especially those of a racial minority, do not receive information about genetic testing from their doctors. Researchers noted genetic testing should be routinely discussed after any cancer diagnosis, as it has become more accessible and affordable, can be completed with a small saliva sample, and is widely recommended in medical literature.
In their findings, the researchers recommended telemedicine and samples sent by mail as possible solutions to improve patient access to genetic testing, especially for those in remote areas. More comprehensive insurance coverage and better awareness for providers and patients could also increase testing rates, they determined.
"We have shown that testing results often come too late to inform cancer management," said lead researcher Steven Katz, MD. "It's not just about getting a test — it's about integrating results into cancer management and prevention for patients and their families to save lives."
"*" indicates required fields