Lawsuit Claims Infant Contracted Salmonella from Contaminated Similac Formula
July 01, 2022
By: Irvin Jackson
A Texas couple indicates their infant child fell ill with salmonella food poisoning after eating contaminated Similac formula, which was recalled from the market earlier this year amid reports of illnesses and deaths among children nationwide.
Clarissa Ornelas and Anthony Bermudez filed the complaint (PDF) this week in the U.S. District Court for the Southern District of Texas, pursuing damages from Abbott Laboratories, Inc., for distributing powdered infant formula manufactured at it's Sturgis, Michigan facility that was contaminated with Salmonella Newport and Cronobacter sakazakii bacteria.
Abbott issued a infant formula recall in February, impacting cans of Similac, Alimentum and Elecare.
Within days of the recall, reports began to surface suggesting the company knew about the infant formula contamination problems at its facility since at least September 2021, when the Minnesota Department of Health began investigating a case involving an infant infected with Cronobacter. However, the company continued to distribute products and babies continued to get sick, and at least one whistleblower has claimed Abbott knew about the problems even earlier.
CONTAMINATED SIMILAC FORMULA LAWSUIT
Was your child diagnosed with salmonella, cronobacter or another illness after begin fed contaminated Similac?
CONTACT A LAWYER
According to the lawsuit filed by Ornelas and Bermudez, A.B. consumed contaminated Similac formula in August 2021 and again in February 2022, both times developing severe salmonella infections which required "hospitalization and extensive medical treatment."
By that time, the lawsuit claims Abbott had known for months there was a problem.
"Defendant Abbott has yet to explain why it waited approximately five months to make this announcement or warn innocent consumers about the inherent and deadly risk of products manufactured at the Sturgis Facility," the lawsuit states.
The case joins a growing number of lawsuits over contaminated Similac that have been filed since the recall, including individual claims for children who developed salmonella poisoning, as well as class action lawsuits, alleging that Abbott's Sturgis, Michigan manufacturing facility ignored industry safety standards and best practices, endangering infants for the sake of profit.
The U.S. Judicial Panel on Multidistrict Litigation (JPML) is scheduled to hear oral arguments later this month over whether the lawsuits should be consolidated before one judge for coordinated discovery and pretrial proceedings, during a hearing set for July 28 at the U.S. Courthouse in Seattle Washington.
Similac NEC Lawsuits Against Abbott
In addition to the contaminated Similac lawsuits, Abbott also faces a hundreds of NEC lawsuits brought by parents of premature infants who developed a devastating gastrointestinal condition after being fed the cow's milk-based formula.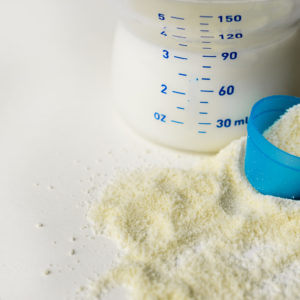 Necrotizing enterocolitis (NEC) is a devastating condition that primarily impacts premature babies, occurring when the walls of the intestines are invaded by bacteria, resulting in destruction of the bowel and often resulting in the need for emergency surgery while the infant is still in the hospital.
These Similac lawsuits allege that Abbott placed its desire for profits before the health and safety of newborn babies, by failing to warn about the risks associated with using their formula among premature and low birth weight infants. Similar allegations have also been presented in Enfamil lawsuits filed against Mead Johnson, which sells similar cow's milk-based infant formula products that have been linked to cases of NEC.
Given similar questions of fact and law presented in these claims, the U.S. Judicial Panel on Multidistrict Litigation (JPML) decided to centralize the NEC lawsuits over Similac and Enfamil earlier this year, transferring that litigation to U.S. District Judge Rebecca R. Pallmeyer in the Northern District of Illinois for pretrial proceedings.
"*" indicates required fields