Diffuse Non-Hodgkin's Lymphoma Lawsuit Filed Over Roundup Exposure
September 26, 2018
By: Irvin Jackson
A Tennessee man indicates that he developed diffuse non-Hodgkin's lymphoma following years of exposure to Roundup, alleging that Monsanto has failed to adequately warn farmers, consumers and the public about the cancer risk associated with their popular weedkiller for decades. 
Gary E. Purdy filed a product liability complaint (PDF) in the U.S. District Court for the Eastern District of Tennessee on September 19, claiming that the manufacturer knew that Roundup creates an unreasonably risk of serious side effects, yet withheld the information.
According to the lawsuit, Purdy began using Roundup in 1990,and was later diagnosed with non-Hodgkin's lymphoma, which recent studies have linked to the active ingredients in Roundup, glyphosate, as well as the surfactant polyethoxylated tallow amine (POEA).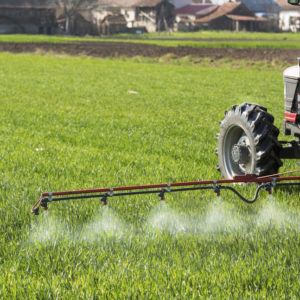 Purdy maintains that he was unaware of the potential Roundup cancer risks until 2015, when the World Health Organization's International Agency for Research on Cancer (IARC) declared glyphosate a probable human carcinogen.
"The original Roundup, containing the active ingredient glyphosate, was introduced in 1974. Today, glyphosate products are among the world's most widely used herbicides," Purdy's lawsuit notes. "For nearly 40 years, consumers, farmers, and the public have used Roundup, unaware of its carcinogenic properties."
The case joins more than 8,000 similar Roundup lawsuits that have been filed against Monsanto nationwide in recent years, each involving similar allegations a cancer diagnosis may have been avoided if warnings and safety instructions had been provided.
Purdy's lawsuit will be consolidated in the federal court system with hundreds of other claims, which are currently centralized for pretrial proceedings as part of a multidistrict litigation (MDL) before U.S. District Judge Vince Chhabria in the Northern District of California.
Judge Chhabria previously determined that the Roundup litigation will be bifurcated, first addressing general causation about the link between the widely used weedkiller and non-Hodgkins lymphoma, as well as other forms of cancer, before addressing case-specific issues about whether Roundup caused cancer for each individual plaintiff.
In July, Judge Chhabria ruled that plaintiffs had enough evidence to proceed to the bellwether trial phase, where a small group of cases will now be selected to go before juries, to help gauge how juries are likely to respond to certain evidence and testimony that will be repeated throughout the litigation. The first bellwether trials are expected to begin in the federal court system in February 2019.
Following the coordinated MDL proceedings, if Roundup settlements or another resolution for the litigation is not reached, thousands of individual cases may ultimately be remanded back to U.S. District Courts nationwide for individual trial dates in the future.
"*" indicates required fields