Dry Shampoo Class Action Lawsuit Filed Over Benzene in Dove, Suave, TRESemmé and Other Aerosol Products
November 07, 2022
By: Russell Maas
Unilever faces a class action lawsuit over dry shampoo recalled late last month, indicating that multiple Dove, Nexxus, Suave, TIGI and TRESemmé spray shampoo products were sold with high levels of benzene, which is a cancer-causing chemical.
The complaint (PDF) was filed by Robert Rullo in the United States District Court District of New Jersey on November 1, raising allegations Unilever knew or should have known its dry shampoo contained benzene, yet it continued to market the aerosol spray cans as safe.
Benzene is an industrial chemical that has long been linked to fatal forms of leukemia and other cancers such as AML, Chronic Myelogenous Leukemia (CML), Acute Lymphocytic Leukemia (ALL), Chronic Lymphocytic Leukemia (CLL), Hairy Cell Leukemia (HCL), Non-Hodgkin's Lymphoma, Multiple Myeloma, Myelodysplastic Syndrome (MDL), Myelofibrosis and Myeloid Metaplasia, Aplastic Anemia and Thrombocytopenic Purpura.
Dove, Nexxus, Suave, TIGI and TRESemmé Dry Shampoo Recall
The U.S. Food and Drug Administration (FDA) announced an Unilever dry shampoo recall on October 21, instructing consumers to stop using certain Dove, Nexxus, Suave, TIGI and TRESemmé dry shampoo products, which contain elevated levels of benzene contamination from the propellant used by the manufacturer.
Dry Shampoo Cancer Lawsuit
Were you or a loved one diagnosed with leukemia or lymphoma following use of Dove, Nexxus, Suave, TIGI or TRESemmé dry shampoo? Lawsuits are being investigated and settlement benefits may be available.
CONTACT A LAWYER
Since the toxic dry shampoo is applied directly to the hair and scalp, health officials warn that benzene could enter an individual's bloodstream through inhalation, orally, and through the skin, which, over time and repeated use, could result in adverse health effects from benzene exposure.
The recall impacted the following Unilever dry shampoo spray products;
Dove Dry Shampoo Volume and Fullness
Dove Dry Shampoo Fresh Coconut
Dove Dry Shampoo Fresh and Floral
Dove Dry Shampoo Ultra Clean
Dove Dry Shampoo Invisible
Dove Dry Shampoo Detox and Purify
Dove Dry Shampoo Clarifying Charcoal
Dove Dry Shampoo Go Active
Nexxus Dry Shampoo Refreshing Mist
Nexxus Inergy Foam Shampoo
Suave Dry Shampoo Hair Refresher
Suave Professionals Dry Shampoo Refresh and Revive
Tresemme Dry Shampoo Volumizing
Tresemme Dry Shampoo Fresh and Clean
Tresemme Pro Pure Dry Shampoo
Bed Head Oh Bee Hive Dry Shampoo
Bed Head Oh Bee Hive Volumizing Dry Shampoo
Bed Head Dirty Secret Dry Shampoo
Bed Head Rockaholic Dirty Secret Dry Shampoo
Unilever Dry Shampoo Class Action Lawsuit
Like thousands of other consumers, Rullo states he purchased the Unilever's Bedhead Product, a TIGI brand dry shampoo in 2021, and regularly used the product without the knowledge of it containing cancerous or toxic chemicals, which were not displayed on the ingredient list, nor disclosed by the manufacturer.
Rullo alleges that Unilever knew or should have known about the risk of benzene contamination in its aerosol dry shampoo products since November 2021, after the online pharmacy Valisure released a report finding elevated levels of benzene in Unilever's Suave antiperspirant products, which resulted in a massive recall, and multiple Suave deodorant lawsuits against the manufacturer.
Rather than acknowledging that its dry shampoo contained the same benzene contamination as the recalled Suave deodorant products, Unilever intentionally delayed issuing a dry shampoo recall for over a year to maximize profits, while putting consumers at risk, according to the complaint.
The class action lawsuit alleges that Unilever failed to fulfill their duty to adequately test its products and disclose to consumers and regulators that its dry shampoo products contained unsafe levels of benzene, pursuing claims for fraudulent concealment, unjust enrichment, violations of the consumer fraud act and breach of warranty. Rullo's complaint seeks dry shampoo settlement benefits for all individuals who purchased the recalled Dove, Nexxus, Suave, TIGI and TRESemmé dry shampoo products, and were unknowingly exposed to benzene.
Aerosol Spray Sunscreen & Deodorant Lawsuits
The dry shampoo recall comes as Unilever and other manufacturers already face a number of individual lawsuits and class action claims over high levels of benzene in aerosol spray products, including sunscreen, deodorant and antiperspirant sprays.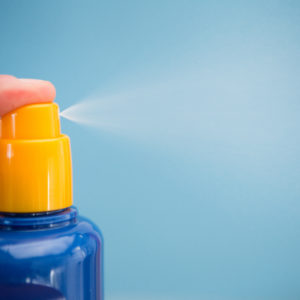 In May 2021, the online pharmacy Valisure issued a report that found benzene in 78 spray sunscreen and after-sun care products in their inventory, indicating that more than a quarter of the sunscreen contained the cancer-causing chemicals at levels that exceed what the FDA considers safe.
Weeks later, Johnson & Johnson issued a massive Neutrogena and Aveeno sunscreen recall, and other companies followed suit with Coppertone sunscreen recalls, Banana Boat sunscreen recalls and other spray sunscreen being removed from the market due to benzene contamiantion.
In November 2021, another report by Valisure found dangerously high levels of benzene in deodorants and body sprays including Suave, Old Spice, Secret and Tag. Shortly after the report was released, the organization also filed a citizen's petition with the FDA, calling for a deodorant recall of the affected products.
Manufacturers have already reached agreements to settle class action claims brought over sunscreen and deodorant products, and dozens of individual cancer lawsuits are being pursued by consumers diagnosed after routinely covering large areas of their body with the benzene-contaminated spray.
Hair Relaxer Side Effects Lawsuits
As more information is learned about toxic side effects of chemicals in many consumers cosmetic products, there have also increasing concerns over the past year about cancer-causing phthalates and endocrine-disrupting chemicals in many popular hair relaxer products, including "Dark & Lovely", "Optimum", "Just for Me" and others.
Following the publication of studies over the past year, there are now a growing number of hair relaxer cancer lawsuits being filed by women diagnosed with uterine cancer, bladder cancer and uterine fibroids.
Kelly

January 22, 2023 at 8:56 pm

My dad was diagnosed with leukemia and renal cell cancer and other and he has used all of these deodorant do my dad have a case

Elizabeth

December 2, 2022 at 5:45 pm

I'm having hair loss since using Dove shampoo
"*" indicates required fields