Farmer Cancer Risks from Roundup Questioned in New Study
November 10, 2017
By: Irvin Jackson
New research appears to challenge the findings of other research, over the potential link between long-time exposure to glyphosate contained in Monsanto's Roundup and other weed killers, and an increased non-Hodgkins lymphoma (NHL) for farmers. 
In a study published in the Journal of the National Cancer Institute on November 9, researchers indicate that they were unable to find any link between Roundup and a cancer risk among farmers and their spouses.
Researchers looked at data on 54,251 licensed pesticide applicators in North Carolina and Iowa, finding that more than 80% of them used glyphosate-based products. They then looked at reported cancer incidence.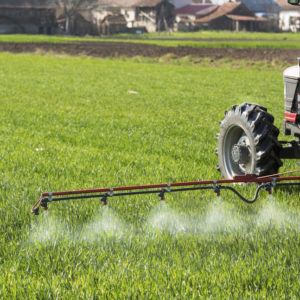 According to their findings, there were 5,779 cancer cases, but glyphosate was not statistically significantly associated with the development of cancer in those cases.
The study did note, however, that there was more than double the risk of acute myeloid leukemia (AML) when glyphosate users were compared with those who did not use glyphosate. Researchers called those findings statistically insignificant, even though the higher rate of AML remained in the same range when researchers looked at those with five years of exposure, or 20 years of exposure.
"In this large, prospective cohort study, no association was apparent between glyphosate and any solid tumors or lymphoid malignancies overall, including NHL and its subtypes," the researchers noted. "There was some evidence of increased risk of AML among the highest exposed group that requires confirmation."
The new findings challenge those of the World Health Organization's International Agency for Research on Cancer, which classified glyphosate as a "probable carcinogen" in 2015, linking Roundup exposure to an increased risk of non-Hodgkin's lymphoma.
The concerns over Roundup side effects have sparked off a worldwide debate, with U.S. and European regulating agencies and Monsanto claiming the IARC's findings were wrong, but independent scientists frequently agreeing with the IARC.
In addition, on August 1, a cache of internal memos and e-mails that are commonly referred to as the "Monsanto Papers" were released to the public, as part of the ongoing discovery process in Roundup litigation. The documents suggest that Monsanto has worked with the EPA to kill or delay reports critical of glyphosate, and its own scientists raised concerns about whether glyphosate may cause cancer. The documents also indicated that Monsanto has edited and ghostwritten both supposedly independent research papers which heralded glyphosate's safety, and meddled with the content of federal safety reviews.
Across the U.S., Monsanto currently faces hundreds of Roundup lawsuits filed on behalf of farmers, landscapers, agricultural workers and others regularly exposed to the weed killer, which allege that they may have avoided a diagnosis of non-Hodgkins lymphoma or other cancer if warnings had been provided.
Since October 2016, the federal cases have been consolidated for pretrial proceedings as part of an MDL, or multidistrict litigation, which is centralized before U.S. District Judge Vince Chhabria in the Northern District of California.
As part of the coordinated litigation, it is expected that a small group of bellwether trials will be prepared for early trial dates to help gauge how juries may respond to certain evidence and testimony that will be repeated throughout the cases. However, if Monsanto fails to reach Roundup settlements or another resolution for the failure to warn cases, hundreds of individual lawsuits may eventually be remanded back to the federal courts where they were originally filed for an separate trial dates.
"*" indicates required fields