FDA To Monitor Roundup Residue Levels In Food Amid Cancer Concerns
February 22, 2016
By: Irvin Jackson
Federal regulators are expected to begin testing food in the United States for residue of glyphosate, the active herbicide included in Monsanto's controversial weed killer Roundup. The move comes amid mounting concerns about a potential link between exposure to Roundup and cancer. 
According to a report published last week on CivilEats.com, FDA officials say they will begin testing certain foods for glyphosate residue this year. The agency will look for the herbicide in soybeans, milk, eggs and other foods for the first time, according to the report.
Roundup is one of the most widely used herbicides containing glyphosate, which was first introduced by Monsanto in the 1970s.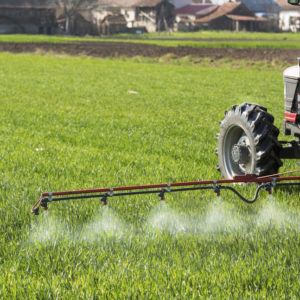 A recent U.S. Geological Survey on glyphosate usage nationwide found that an estimated 2.6 billion pounds of the herbicide has been sprayed on America's agricultural land over the two decades since the mid-1990s, when Monsanto introduced "Roundup Ready" crops that are designed to survive being sprayed with glyphosate, killing the weeds but not the crops.
In all that time, the FDA has never tested for residue or buildup in the food sold to Americans nationwide. In a report published in 2014, the Government Accountability Office (GAO) criticized the FDA for this deficiency in its pesticide program.
The FDA told the GAO that it expected such monitoring to have a start-up cost of about $5 million. The GAO report specifically called for the agency to test for glyphosate residue, among other changes to its pesticide residue testing program.
GAO officials told CivilEats.com that they will monitor the FDA's progress toward monitoring for glyphosate and addressing other concerns highlighted in its report.
Genetically modified crops, such as corn and soybean, are branded as being "Roundup Ready." However, as some weeds have developed resistance to glyphosate, it has forced farmers to use higher and higher quantities of Roundup. The concern level over the herbicide's use increased last year when warnings were issued over the potential increased risk of non-Hodgkins lymphoma and other cancers following exposure to Roundup.
In March 2015, the International Agency for Research on Cancer (IARC), an arm of the World Health Organization (WHO), warned that glyphosate probably causes cancer in humans, raising questions about the safety of Monsanto's widely used Roundup weedkiller.
Monsanto has complained that the IARC's conclusions were agenda-driven and based on "junk science," indicating that it would convene an independent panel to review the Roundup herbicide cancer risks. While the findings of this panel were presented in December, they have not been peer-reviewed or published in a medical journal to date.
Last month the food safety watchdog group U.S. Right To Know criticized the U.S. Department of Agriculture (USDA) for not including glyphosate in its 2014 Pesticide Data Program summary, which was released on January 11. The USDA report concluded that no pesticide residues currently in use pose a safety concern for U.S. consumers.
Right To Know asked how regulators could possibly know that since they did not even test to see what levels of glyphosate were in the food we eat.
Previous EPA Glyphosate Risk Assessments Questioned
The EPA, which has authority over the use of pesticides in the U.S., has previously indicated that Roundup is safe, but that determination has also been the subject of growing criticism following the WHO cancer warnings, and the agency is reportedly planning to re-address glyphosate safety in the coming months.
Some critics have indicated that the the EPA's prior determination that glyphosate herbicides are not endocrine disruptors was based almost entirely on data provided by Monsanto and others within the industry, ignoring independent safety data.
European regulators recently indicated that they believe it is unlikely that side effects of Roundup cause cancer, but did recommend an exposure threshold for human safety, and proposed new controls to keep the chemical's residue out of food. That decision by the European Food Safety Authority (EFSA) in November has also been highly criticized by independent researchers and academics.
Monsanto now faces a growing number of Roundup cancer lawsuits since the WHO ruling, including both individual claims and class action lawsuits. In addition, a growing number of states, cities, and countries worldwide have enacted full or partial glyphosate bans to protect citizens from exposure.
"*" indicates required fields