L'Oreal Urged To Recall Hair Relaxers Due to Cancer Risks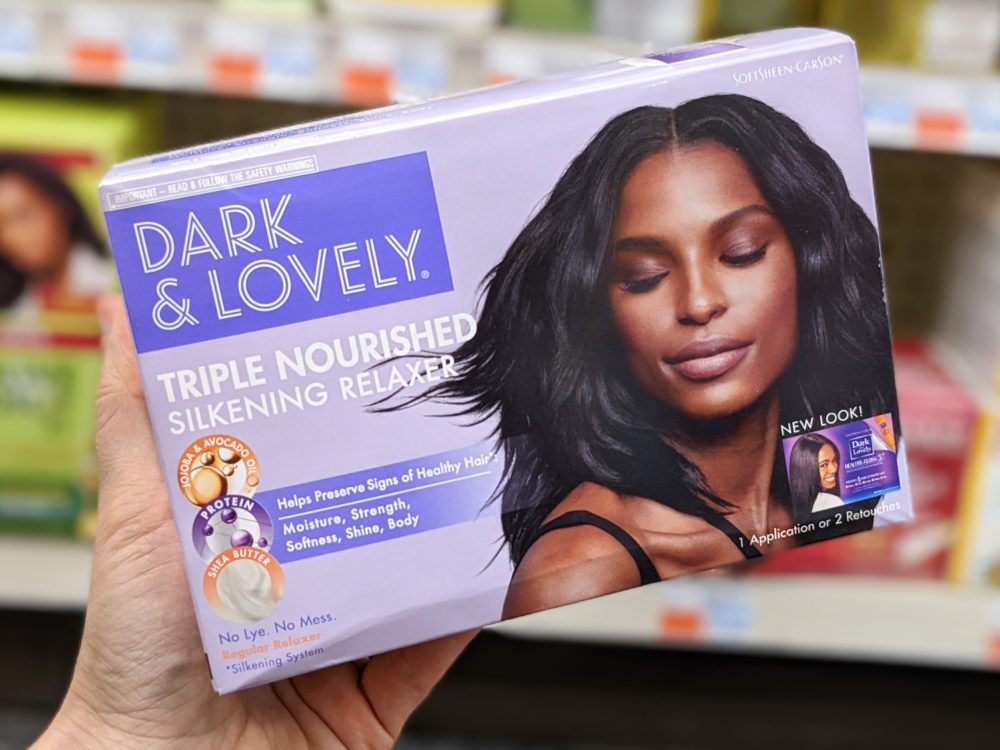 April 24, 2023
By: Irvin Jackson
A feminist health group is calling for L'Oreal to remove its hair relaxers from the market, due to the risk of uterine cancer and other injuries, particularly among black women who have been targeted with advertisements and encouraged by the manufacturer to artificially straighten their hair with dangerous chemicals for decades.
Level Up, a gender justice group in the United Kingdom, has put forward a petition calling for L'Oreal to recall hair relaxers like Dark & Lovely, and other similar products containing lye, which the group says pose serious health risks. The petition, promoted under the hashtag #nomorelyes, has set a goal of 10,000 signatures, and is already more than halfway there.
Following the publication of a study last year, which highlighted a link between use of hair relaxer and uterine cancer, hundreds of product liability lawsuits are now being pursed in the United States against L'Oreal and other manufacturers of widely used products that contain a variety of hormone-disrupting chemicals.
Each of the complaints raise similar allegations, indicating that women were not adequately warned about the risk that use of the hair relaxers may cause uterine cancer, ovarian cancer, uterine fibroids and other complications.
Given the widespread use of the hair relaxers and perms, especially in the Black community, it is widely expected that the litigation will eventually include tens of thousands of lawsuits filed by women nationwide.
HAIR RELAXER COMPENSATION
Level Up has published an open letter to Nicolas Hieronimus, CEO of L'Oreal Group, and Jean Paul Agon, chairman of L'Oreal Group this month, noting that the petition, first launched in August 2021, has received no response from the company.
"Black women should be able to trust that the products we use won't hurt us, but Level Up's 2022 survey found that 95% if Black British women don't trust beauty brands that sell lye-based relaxers," the letter states. "This should come as no surprise since L'Oréal's hair relaxers continue to be sold, including those intended for children, labelled as "no-lye" whilst listing sodium hydroxide (lye) in the ingredients. How can we make informed decisions about products without transparency from manufacturers?"
The letter urges the company to take actions to make the products safer, and ensure consumers are better informed about the potential hair relaxer side effects. It calls for the company to alter the toxic chemicals in the products, or take them off store shelves. The manufacturer has also been urged to disclose the nature of hair relaxing ingredients and their possible risks clear on the products' packaging and labels, and to invest in research about the long-term impacts of hair relaxer products on black women.
Hair Relaxer Cancer Risks
In the U.S., hundreds of women are currently pursuing a hair relaxer lawsuit, pointing to a study published last year that frequent users face a 156% increased risk of developing uterine cancer.
In October 2022, findings were published in the Journal of the National Cancer Institute, which warned that ingredients used in the chemical hair relaxers may cause uterine cancer. Researchers from the National Institute of Environmental Health reviewed data on nearly 34,000 women in the United States between the ages of 35 and 74 who completed questionnaires on their use of multiple hair products, including hair dyes, straighteners, relaxers, or pressing products, and permanents or body waves. A 10 year follow-up on the incident rate of uterine cancer diagnosis was performed.
According to the results, researchers identified 378 cases of endometrial cancer or uterine cancer, finding participants who used hair straightening products at least once had the highest rate of cancer diagnosis compared to any other hair products involved in the study. They also had a higher rate of uterine cancer when compared to women who used no hair straightener products.
May 2023 Hair Relaxer Lawsuit Update
Since each of the U.S. claims raise common questions of fact and law, the U.S. Judicial Panel on Multidistrict Litigation decided earlier this year to consolidate and centralize all hair relaxer cancer lawsuits in an MDL (Multidistrict Litigation), and appointed U.S. District Judge Mary M. Rowland to preside over coordinated discovery and pretrial proceedings out of the Northern District of Illinois.
As part of the coordinated management of the litigation, Judge Rowland is expected to eventually establish a bellwether process, where small groups of representative hair relaxer injury lawsuits will go through case-specific discovery and be prepared for early trial dates, to help gauge how juries are likely to respond to certain evidence and testimony that will be repeated throughout the litigation.
While the outcomes of any early bellwether trials will not have any binding impact on other claims, the average hair relaxer injury payouts awarded by juries for different types of injury, and against the manufacturers of different specific products, is expected to have a large impact on the amounts of any settlement offers that may be made to avoid the need for each individual case to go before a jury.
If the parties fail to negotiate hair relaxer injury settlements following the MDL proceedings before Judge Rowland, each claim may later be remanded back to the U.S. District Court where it originally would have been brought for future trial dates.
---
Find Out If You Qualify for Hair Relaxer Compensation
"*" indicates required fields