Newborn's Necrotizing Enterocolitis (NEC) Injuries Caused By "Human Milk Fortifier", Lawsuit Claims
January 24, 2023
By: Irvin Jackson
Infant formula manufacturers deceived parents and doctors by labeling cow's milk-based products as "human milk fortifier", leading to a newborn's necrotizing enterocolitis (NEC) injuries, according to allegations raised in a lawsuit filed this month by two parents from Illinois.
The complaint (PDF) was brought in the U.S. District Court for the Northern District of Illinois by Kenneth and Erica Meeks Firlit, on behalf of themselves and their minor child, Alexis.
Abbott Laboratories and Mead Johnson are named as defendants in the lawsuit, alleging that the manufacturers have known for decades that their cow's milk-based "human milk fortifier" products, which are sold under the Similac and Enfamil brand names, pose a serious risk for preterm babies.
Despite a growing body of medical research indicating the formula may cause vulnerable infants to develop NEC, which is an ailment that causes portions of the intestines to become inflamed or die, the companies continued to market the products without adequate warnings for parents and the medical community, making misleading statements that suggested the fortifiers were derived from human breast milk, which they are not.
The Firlits joins families nationwide who are now pursuing NEC lawsuits against the makers of Similac and Enfamil, alleging that preterm infants could have avoided serious and often fatal injuries if warnings had been provided about the risks associated with the cow's milk formula, compared to use of a mother's breast milk or donor milk.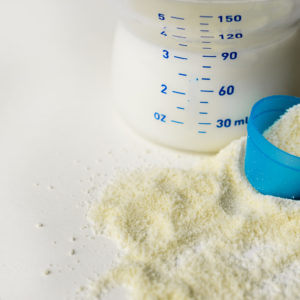 According to the lawsuit, Alexis was born in August 2011. At the time, she weighed only 1 lb. 12 oz. and had only gestated for 26 weeks.
While at first she received pumped breastmilk, over time Alexis was fed an increasing amount of Similac and Enfamil Human Milk Fortifier infant formula products. Less than a month after her birth, she was diagnosed with NEC.
As a result, the lawsuit claims Alexis had to undergo a bedside exploratory laparotomy and bowel resection in September 2011, followed by a second surgery consisting of a subtotal colectomy and ileocolostomy in October 2011.
Two more surgeries followed, with a small bowel resection, lysis of adhesions, another ileostomy and a sigmoid colon fistula surgery in November, and a suction rectal biopsy in December of that year.
The lawsuit claims the manufacturers deceived parents through misleading marketing tactics which suggested their human milk fortifier products were as good as human milk for developing preterm infants, despite knowing the cow's milk-based formulas carried an increased risk of NEC.
"Although Defendants aggressively market their products, including the Products, to make parents believe Defendants' products are safe and necessary for growth of a premature infant, their products are extremely dangerous for premature infants," the Firlits' lawsuit states. "Defendants' cow's-milk-based products, including the Products, substantially increase the chances of a premature infant getting NEC."
February 2023 NEC Lawsuit Update
The Firlits' lawsuit will be consolidated with similar Similac lawsuits and Enfamil lawsuits filed throughout the federal court system against Abbott and Mead Johnson, which have been centralized before U.S. District Judge Rebecca R. Pallmeyer in the Northern District of Illinois, for coordinated discovery and pretrial proceedings.
There are currently about 100 NEC lawsuits pending in the federal court system, each raising allegations that manufacturers of cow's milk-based infant formula and human milk fortifier placed their desire for profits before consumers safety, by specifically marketing products for use by preterm newborns, without providing warnings to hospitals, doctors or families. However, as lawyers continue to investigate and file claims in the coming year, it is ultimately expected that several thousand lawsuits will be brought by families of infants diagnosed with NEC.
In November 2022, a group of 12 cases were selected for a NEC lawsuit bellwether pool, which will go through case specific discovery and prepared for a series of early trial dates expected to begin in 2024.
Although the outcome of these early bellwether trials will not have any binding impact on other claims, they are expected to have a substantial impact on any baby formula NEC settlements the manufacturers may offer to avoid the need for each individual case to be remanded back to U.S. District Courts nationwide for separate trial dates in the future.
"*" indicates required fields