Pasteurized Human Milk As Effective As Mother's Breast Milk in Preventing NEC Linked to Infant Formula Products: Study
March 07, 2023
By: Irvin Jackson
New research indicates giving newborns human milk products which do not come from their own mothers is just as effective as using cow's milk-based infant formula, while avoiding the risks of necrotizing enterocolitis (NEC) from Similac, Enfamil and other similar infant formula products.
NEC is a devastating gastrointestinal disease that mostly impacts preterm infants, where the walls of the intestine are invaded by bacteria, leading to destruction of the bowel and often requiring emergency surgery while the baby is still in the neonatal infant care unit (NICU). This can leave the infant with severe and life-changing injuries, as well as a substantial risk of premature death.
Over the past few decades, a number of studies have established that cow's milk formula like Similac and Enfamil cause NEC at substantially higher rates than is seen among premature babies fed breast milk or donor milk alone, and a number of families are now pursuing Similac NEC lawsuits and Enfamil NEC lawsuits, alleging that inadequate warnings and information have been provided for decades about the risk among pre-term babies.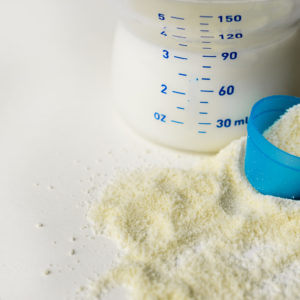 As scrutiny over the safety and effectiveness of infant formula products has increased, a number of recent studies have pointed to the benefits of breastfeeding over formula. However, many mothers are, for various reasons, unable to breastfeed their newborns, particularly if mother or child suffer from certain health problems.
While mother's own milk (MOM) is the preferred source of nutrition for newborns, even preterm infants, in some cases the mother physically cannot provide enough milk for the infant, this could be due to health problems, drugs the mother takes to treat certain conditions, or special nutritional needs of the child.
In this latest study, researchers from the United Kingdom looked at the effects of giving preterm infants an exclusive human milk diet, and the effects on the gut microbiome of preterm infants, which is likely a key factor in the development of NEC. Their findings were published in JAMA Network Open on March 1.
The researchers conducted a randomized clinical trial in four neonatal intensive care units in the U.K. from 2017 to 2020. They conducted microbiome analyses involving 126 preterm infants who were born after less than 30 weeks gestation. Some were given human milk products, while others were given cow's milk-based infant formula.
According to their findings, replacing mother's milk with other human milk products did not negatively affect the preterm infants' gut microbiome.
While twelve infants died during the course of the study, none died of NEC as a primary cause, although one infant from each test group who died were affected by surgical NEC complications.
"The mechanisms of action of human milk in reducing NEC or other morbidities are poorly understood but this study suggests that pasteurized human milk (or products derived from human milk) do not exert a major impact on gut bacteria when used in addition to MOM, in contrast to observational data in term infants where MOM exposure explains the largest differences in microbial patterns," the researchers concluded. "Furthermore, we also demonstrated that gut microbiota in preterm infants is rapidly changing, is NICU-specific and while differences exist before NEC, the sensitivity and specificity of individual microbiomic parameters for subsequent disease is poor."
Breastfeeding Benefits Over Infant Formula
This is one of numerous studies published over the past several decades have extolled the virtues of breastfeeding or human milk products, which have been found to deliver the necessary nutrients a newborn needs to thrive, provides some key immunities already developed by the mother, and helps the infant's digestive tract develop.
Research has consistently shown cow's milk-based baby formula products do not confer the same benefits as breastfeeding and may increase the risk that premature infants develop NEC, which frequently results in severe, life-long injuries or death.
A January 2022 study found that that nutrients in breast milk help the intestinal epithelial layer mature in preterm infants, strengthening their resistance to NEC. However, these nutrients are not present in cow's milk-based infant formula marketed for premature babies, such as the popular Similac and Enfamil product lines.
In July 2022, the American Academy of Pediatrics (AAP) issued a policy statement calling for hospitals and the government to promote breastfeeding as the primary form of nutrition for newborns.
The statement called for medical providers to support and encourage breast feeding with strong policies designed to assist mothers who wish to breastfeed their children, in stark contrast to decades of hospitals allowing infant formula manufacturers to promote their products directly to new patients with free samples and gift baskets.
March 2023 Baby Formula NEC Lawsuit Update
There are currently about 100 product liability lawsuits filed in the federal court system against Abbott and Mead Johnson, the makers of Similac and Enfamil, each involving similar claims that premature infants may have avoided a NEC diagnosis if accurate warnings and information had been provided to families and the medical communities.
Given similar questions of fact and law raised in the complaints, the litigation has been centralized before U.S. District Judge Rebecca R. Pallmeyer in the Northern District of Illinois, for coordinated discovery and pretrial proceedings.
Plaintiffs allege that manufacturers of cow's milk-based infant formula and human milk fortifier specifically have engaged in a decades long scheme to promote use of their products over breastfeeding or human donor milk, providing free samples and products specifically designed for preterm newborns, while ignoring known evidence about the risks associated with their formula.
In November 2022, a group of 12 cases were selected for a NEC lawsuit bellwether pool, which will go through case specific discovery and prepared for a series of early trial dates expected to begin in 2024.
Although the outcome of these early bellwether trials will not have any binding impact on other claims, they are expected to have a substantial impact on any baby formula NEC settlements the manufacturers may offer to avoid the need for each individual case to be remanded back to U.S. District Courts nationwide for separate trial dates in the future.
"*" indicates required fields