Infant Acetaminophen Side Effects Linked to Asthma Risk: Study
November 12, 2012
By: Martha Garcia
New research suggests that babies given acetaminophen, commonly known as Infant Tylenol, may face an increased risk of developing childhood asthma.
The Journal of Allergy and Clinical Immunology published the results of the Copenhagen Prospective Study on Asthma in Childhood (COPSAC) cohort study last month, which involved more than 300 children from birth to age seven. The research found a link between the fever-reducing acetaminophen and an increased risk of asthma in children.
Infants given Tylenol, or other forms of generic infant acetaminophen, were more likely to develop asthma symptoms in early childhood, according to the study conducted at the University of Copenhagen.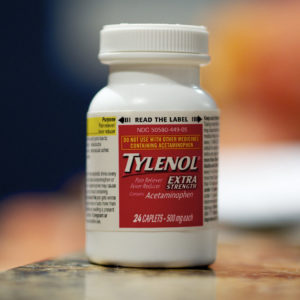 Researchers indicated 19 percent of the children given acetaminophen had asthma related symptoms by age three, symptoms which included breathlessness, wheezing and coughing. A child's risk of developing asthma increased with the number of occasions he or she was given acetaminophen during the first year of life.
The findings suggest a baby's risk of developing asthma symptoms increases nearly 28 percent when the number of days a child received the drug doubled. However, the correlation between acetaminophen and asthma disappeared by the time the children reached the age of seven. At this milestone, nearly 14 percent of the children had already developed asthma and the risk was no longer a factor.
While researchers believe the findings suggest a clear link between the infant acetaminophen and asthma early in life, the study also had its limitation. All the children included in the study had a higher risk than normal for asthma and lung disease because all of their mothers also had asthma.
Typically, children who suffer from asthma often contract more severe respiratory infections as a side effect of the ailment. Often times, after an asthmatic child contracts a cold it can quickly evolve into a more serious ailment such as bronchitis or pneumonia. These children are often more likely to receive acetaminophen during treatment because of its fever reducing abilities.
The Danish scientists hope this study will lead to further research connecting a "plausible biological mechanism" between acetaminophen and asthma in children.
Tylenol and acetaminophen have been commonly used among both children and adults for decades, leading to a widespread belief that the drug carries no risks. However, increasing information has been discovered in recent years about the potential health risks with acetaminophen use.
High doses of acetaminophen have been linked to a risk of liver damage or live failure. Federal health officials have indicated that acetaminophen overdose has been the leading cause of liver failure in the United States in recent years, causing more than 50,000 emergency room visits and hundreds of deaths annually.
Due to the incorrect belief that over-the-counter acetaminophen products carry little or no risk, many individuals are unaware of the risks associated with taking too much of the medication. Recent studies have highlighted how Tylenol is commonly overused, with many consumers unaware of what a normal dose is or using multiple acetaminophen-based medications.
Johnson & Johnson currently faces a number of Tylenol liver failure lawsuits filed by individuals throughout the United States who allege that the drug maker has attempted to minimize the risks associated with acetaminophen and failed to adequately warn patients or the medical community about the risk of serious and potentially life-threatening liver damage or other injuries.
"*" indicates required fields