Instant Pot Lawsuit Filed Over Burns After Nova Plus Pressure Cooker Lid Opened Under Pressure
May 14, 2021
By: Irvin Jackson
According to allegations raised in a recently filed product liability lawsuit, a defective Instant Pot exploded when a Utah woman was able to accidentally open the pressure cooker while the pot was still under pressure, causing the scalding hot contents to be forcefully ejected and severely burn her.
Lucy Perkins filed the complaint (PDF) last month in the U.S. District Court for the District of Utah, indicating supposed "safety mechanisms" on a Nova Plus 60 Instant Pot Programmable Electric Pressure Cooker failed to prevent the accident, alleging economical and safer alternative designs were available.
The lawsuit indicates Instant Brands, Inc. advertised the pressure cooker as being "Convenient, Dependable and Safe", claiming it featured an "innovative new lid design" that would prevent steam valve accidents. To encourage sales and address consumer concerns about the risk of pressure cooker explosions, the manufacturer promised consumers would never have to be afraid of the Instant Pot lid opening under pressure, promising that 10 built-in safety features meant consumers could use the Nova 60 "knowing that it is not going to explode," according to the complaint.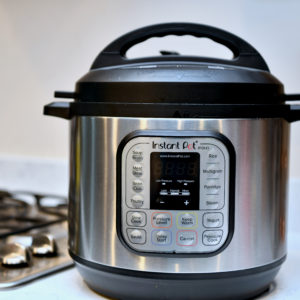 Perkins indicates she purchased the new pressure cooker, Model Nova 60, in November 2018 and was using the Instant Pot in the normal and expected manner about six months later when she suffered the burn injuries. On April 25, 2019, the pressure cooker lid was able to be rotated and opened while the contents inside remained under high pressure, which should not happen if the safety features had worked as intended.
"Plaintiff used her pressure cooker for its intended purpose of preparing meals for herself and/or family and did so in a manner that was reasonable and foreseeable by the Defendant," according to the complaint. "However, the aforementioned pressure cooker was defectively and negligently designed and manufactured by the Defendant in that it failed to properly function as to prevent the lid from being removed with normal force while the unit remained pressurized, despite the appearance that all the pressure had been released, during ordinary, foreseeable and proper use of cooking food with the product; placing Plaintiff, her family and similar consumers in danger while using the pressure cooker."
Electric pressure cookers have become an increasingly popular in U.S. households over the past decade, since the introduction of Instant Pot and other new products which tout safety features that avoid many of the risks associated with older stove-top pressure cookers.
Perkins highlights many of the marketing messages made by Instant Brands to promote their pressure cookers through infomercials, social media websites like YouTube and other platforms. The advertisements and marketing statements made on the manufacturers website mislead consumers into believing its pressure cookers are safe for normal and intended use, according to the lawsuit. However, Perkins claims these safety representations are not only misleading, but flat wrong, since the pressure cooker lit can be rotated and opened while the unit remains pressurized.
The case joins a growing number of similar pressure cooker burn lawsuits filed in recent months, each raising similar allegations about unreasonably dangerous designs and defective safety features on Instant Pots and other modern pressure cookers, including products sold under the Crock-Pot, Ninja Foodi, Tristar and other popular brand names.
The most common pressure cooker injuries involve burns, which can range from first to third degree and typically cover a large percentage of a person's body. These types of burn injuries can leave patients prone to infections and sometimes requiring amputations. However, other injuries linked to pressure cookers have included eye injuries, broken bones and other complications that resulted from electrocutions, spills or explosions.
As more of these electric pressure cookers have been introduced in recent years, the U.S. Consumer Product Safety Commission (CPSC) has issued several pressure cooker recalls over problems where lids were able to be opened while contents are under pressure, allowing hot contents to be expelled and causing a scald or burn injury to individuals in the immediate area.
Most recently, a massive Crock-Pot recall was issued in November 2020, impacting nearly 1 million 6-Quart Express Crock Multi-Cookers with lid locking defects, after at least 99 burn injuries were reported.
"*" indicates required fields