Pressure Cooker Explosion Lawsuits
UPDATES AND PRESSURE COOKER SETTLEMENT INFORMATION
LAWSUIT STATUS: New Cases Being Accepted
Instant Pot, Ninja Foodi, Crock Pot and other modern pressure cookers have been marketed as featuring advanced safety features, which are supposed to prevent presure cooker explosions. However, a number of users have suffered devastating burns and injuries when the lid was able to be removed while contents were still pressurized.
Pressure cooker lawsuits seek financial compensation for injuries that may have been avoided if safety features had not failed. Lawyers are reviewing cases nationwide, and there are no fees or expenses unless a pressure cooker settlement or recovery is obtained.
First, Second and Third Degree Burns
Eye Injuries and Blindness
Disfigurement and Permanent Scarring
Other Injuries
Lawsuits have been filed against the makers of:
Instant Pot
Tristar Power Pressure Cooker
Sunbeam Crock-Pot
Ninja Foodi
NuWave Nutri-Pot
Cuisinart
Bella Cucina
Cooks Essentials
Elite Bistro
and Others
A growing number of serious pressure cooker accidents have been linked to new electric designs, where the pressure cookers exploded when the lid blew off or was able to be removed while the contents were under pressure. These design defects may cause severe burns and other injuries.
STATUS OF PRESSURE COOKER LAWSUITS: Product liability lawsuits have been filed against the makers of Instant Pot, Tristar Power Pressure Cookers, Crock Pot Multi-Cookers and other popular pressure cookers sold since about 2010, which have been linked to reports of:
First, Second and Third Degree Burns
Eye Injuries and Blindness
Disfigurement and Permanent Scarring
Other Injuries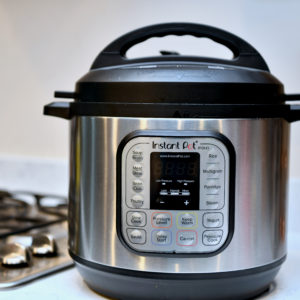 Learn More About
Pressure Cooker Lawsuits
OVERVIEW: Pressure cookers have been used for generations to cook food under pressure, using steam or water-based fluids. The earliest designs were introduced in the 1600s, and stove-top pressure cookers gained popularity in the 1950s and 1960s. However, pressure cooking remained dangerous due to the risk of cooking hot contents under high pressure.
Following the introduction of Instant Pot and other "modern" pressure cookers over the past 10 years, a number of manufacturers have promoted these counter-top products with electric heating elements as "safe", "easy" and "convenient". Many of these modern pressure cookers also can be used as air fryers, slow cookers, rice cookers, egg cookers, canners and with other multi-cooking settings, but they continue to carry serious risks in the kitchen.
To address consumers concerns about pressure cooker explosions, advertisements highlight a number of safety features which are supposed to make the products "fool proof" and "automatic," such as automatically locking lids, anti-block pressure release valves and controls that are supposed to prevent excessive pressure from building up. However, lawsuits allege these safety features were grossly exaggerated and are often defective, failing to prevent catastrophic pressure cooking injuries.
PRESSURE COOKER BURNS AND INJURIES: If a modern pressure cooker fails, the lid may explode off while the contents are still under high pressure. This can cause hot contents to forcefully blow up in the face of consumers, or spray scalding liquids in the kitchen.
While most reports of pressure cooking accidents involve individuals hurt when they mistakenly thought it was safe to remove the lid, some products were sold with defective components that failed to properly seal the lid or allowed excessive pressure to build up in the cooker.
According to allegations raised in lawsuits, pressure cooker lids should never be able to come off until all steam and pressure has been released. However, a number of safety features can fail and make a pressure cooker dangerous, including:
Automated Pressure Control
Lid Locks
Pressure Release Valves
Anti-Block Vents
Pressure Lowering Features
Automatic Shut-Off Temperature Controls
DEFECTIVE PRESSURE COOKERS: Problems have been linked to a number of products sold in recent years, which contained defective components or failed to include safer alternative designs that may have prevented a pressure cooking injury.
In November 2020, a Crock Pot pressure cooker recall was issued for nearly 1 million products sold throughout the United States, due to a risk it may continue to pressurize when the lid is not fully locked, causing the pressure cooker to explode and send scalding hot contents onto consumers. This action was taken after at least 99 reported injuries suffered by consumers.
A Sensio pressure cooker recall was announced in August 2023, affecting about 860,000 Bella, Crux and Cooks electronic and stove-top models. The pressure cookers, sold at major retailers such as Target, Kohl's, Macy's and Lowe's, were recalled following at least 61 reported injuries linked to explosions when the lids were removed.
A number of other manufacturers have "silently" recalled pressure cookers, making design changes in response to reported problems. However, consumers who have the defective and dangerous pressure cookers still in their kitchens have never been informed about the changes or told not to use the products.
Consumers have reported problems with pressure cookers sold by a number of different companies under various brand names, including:
Instant Pot
Tristar Power Pressure Cooker
Sunbeam Crock-Pot
Ninja Foodi
NuWave Nutri-Pot
Cuisinart
Kalorik
Bella Cucina
Cooks Essentials
Elite Bistro
Fagor
Bregville
Ultrex
Prestige
Ginny's
Philippe Richards
Wolfgang Puck
Mirro
and Others
FIND OUT IF YOU QUALIFY FOR A PRESSURE COOKER INJURY LAWSUIT: As a result of the manufacturers' failures to design adequate safety features, pressure cooker injury lawyers are evaluating whether users may be entitled to compensation through an individual claim or class action lawsuits due to pressure cooker injuries.
To request a free consultation and claim evaluation to determine whether you, a friend or family member may be entitled to financial compensation through a lawsuit, submit information about a potential pressure cooker lawsuit for review by a lawyer.
Wayne

June 18, 2023 at 1:49 pm

We have recently had a situation where the power pressure cooker exploded after it started to get to pressure and splattered contents all over the kitchen. Fortunately, no one was in there at the time I would like to find out how I could get a refund for the product or a updated replacement, I do not feel safe using it anymore someone please respond and let me know how to move forward. Thank you.

K.

December 31, 2022 at 9:29 pm

Not a case yet. I got a Ninja Foodi for Christmas. Now I'm afraid to use it. Should I return it? I tossed the wrappings and the box.

Joyce

August 6, 2021 at 3:04 am

I have a insta pot that I have used a few times Havent noticed any problems but how do I know if my is on the recall list. your response is requested
"*" indicates required fields