Johnson & Johnson Talcum Powder Caused Ovarian Cancer, Lawsuit Alleges
June 21, 2019
By: Irvin Jackson
A New Jersey woman has filed a product liability lawsuit against Johnson & Johnson, joining thousands of other women who allege that talcum powder caused ovarian cancer to develop after years of applying the product for feminine hygiene.
The complaint (PDF) was filed by Sheryl J. Lambie in the U.S. District Court for the District of Columbia on June 10, presenting claims for damages against Johnson & Johnson and the Personal Care Products Council, which is the national trade association that represents companies in the personal care and cosmetic industry, including Johnson & Johnson.
Lambie indicates that she used Johnson's Baby Powder and Shower-to-Shower powder products from July 1965 until June 2016, while living in Minnesota and California. The products were used in the manner intended by the defendants, regularly sprinkling the powder around her perineum to "keep odor away", as advertised by Johnson & Johnson for years, causing her to develop ovarian cancer, according to the lawsuit.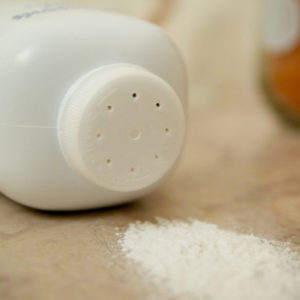 The case joins more than 12,000 other Johnson's Baby Powder lawsuits and Shower-to-Shower lawsuits pending in courts nationwide, which make similar allegations that Johnson & Johnson and Personal Care Products Council have known for decades about the potential link between talcum powder and ovarian cancer, yet failed to warn consumers.
"Since 1982, there have been more than twenty-seven (27) additional epidemiologic studies providing data regarding the association of talc and ovarian cancer," the lawsuit notes. "Nearly all of these studies have reported an elevated risk for ovarian cancer associated with genital talc use in women."
Given similar questions of fact and law raised in complaints filed throughout the federal court system, all talcum powder ovarian cancer lawsuits are consolidated for pretrial proceedings as part of a multidistrict litigation (MDL), which is centralized before U.S. District Judge Freda L. Wolfson in the District of New Jersey.
A number of cases have already gone to trial at the state level, with several resulting in large verdicts for plaintiffs diagnosed with ovarian cancer or mesothelioma. Earlier this month, a jury awarded a $325 million verdict for failing to warn about the risk of mesothelioma from talcum powder. In addition, last year a Missouri jury returned a landmark $4.7 billion verdict for 22 women diagnosed with ovarian cancer.
Johnson & Johnson is appealing each of the prior verdicts, and previously indicated that it intends to continue to fight the cases at trial. However, it was recently reported that the company reached settlements to resolve at least three talcum powder cancer claims that were either in the middle of trial or set to begin in the coming weeks.
If Judge Wolfson determines that plaintiffs have sufficiently reliable evidence about the link between talcum powder and cancer to proceed to trial under federal rules, it is expected that a small group of "bellwether" cases will be set for trial in the U.S. District Court for the District of New Jersey. However, unless the parties are able to negotiate additional talcum powder settlements or otherwise resolve the litigation, it is expected that large numbers of cases will eventually be remanded back to different federal district courts for individual trial dates in the future.
"*" indicates required fields