Product Liability Lawsuits Over Tylenol Liver Failure Centralized in MDL
April 02, 2013
By: Irvin Jackson
A federal multidistrict litigation (MDL) has been established for all Tylenol liver failure lawsuits, centralizing complaints filed in U.S. District Courts throughout the country before Judge Lawrence F. Stengel in the Eastern District of Pennsylvania. 
Following oral arguments late last month, the U.S. Judicial Panel on Multidistrict Litigation (JPML) issued a Transfer Order (PDF) on April 1, consolidating all product liability lawsuits filed on behalf of users of Tylenol who allege that they suffered liver damage and liver failure due to the side effects of acetaminophen, the active ingredient in Tylenol.
There are currently at least 27 Tylenol lawsuits pending in seven different U.S. District Courts, with 21 of those already in Pennsylvania. All of the complaints involve similar allegations that Johnson & Johnson failed to adequately warn consumers about the liver toxicity of Tylenol, which has been linked to a risk of liver failure and a possible need for individuals to undergo a liver transplant.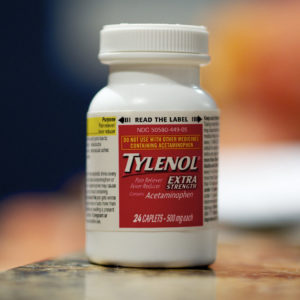 The FDA has indicated that acetaminophen overdose is a leading cause of liver failure in the U.S., resulting in more than 50,000 emergency room visits, 25,000 hospitalizations and over 450 deaths annually.  In a 2002 FDA advisory committee meeting, experts found that there were between 1,000 and 2,000 acetaminophen-induced liver failures each year.
In recent years, efforts have been ramped up to bring acetaminophen overdose side effects to the public's attention and to reduce the amount of liver failure cases linked to the popular analgesic, which is also found in other pain killers and a number of cold medications.
In July 2011, McNeil announced that it was lowering the maximum recommended dosage on Tylenol and other acetaminophen-based products from 4,000 mg per day to 3,000 mg per day. The decision came after the FDA announced new limits on acetaminophen levels in prescription painkillers like Vicodin and Percocet. But over-the-counter painkillers and drugs with acetaminophen went unaffected.
Centralizing the Tylenol litigation before one judge is designed to reduce duplicative discovery in a large number of cases, eliminate conflicting rulings from different judges and to serve the convenience of the parties, witnesses and the courts.
Johnson & Johnson opposed centralization, claiming that the company has appropriately warned consumers about the risks of Tylenol liver damage for years, and arguing that any product liability cases will depend largely on the facts in individual cases.
The JPML disagreed, saying that individual health situations are often a major factor in MDLs created over drug liability claims.
"*" indicates required fields