NEC Formula Lawsuit Alleges Similac, Enfamil Marketed With Misleading Information to Deceive Mothers
April 29, 2022
By: Irvin Jackson
Abbott Laboratories and Mead Johnson & Company have engaged in years of misleading and deceptive marketing for their infant formulas, which has led many parents to allow their prematurely born children to be fed Similac and Enfamil, despite known health risks, according to a recently filed necrotizing enterocolitis (NEC) lawsuit.
The complaint (PDF) was filed by Christina Humphreys in the U.S. District Court for the Eastern District of Tennessee on April 25, on behalf of herself and her minor child, identified only as B.C., who was diagnosed with NEC shortly after being fed the formula after birth.
A growing body of research published in recent years has found that the risk of a premature newborn NEC diagnosis is substantially greater after being fed Similac or Enfamil, compared to babies who receive breast milk alone. However, Humphreys alleges the manufacturers failed to adequately warn families and medical providers about the risk, and purposefully provided false and misleading information about the safety of cow-based milk products for premature infants.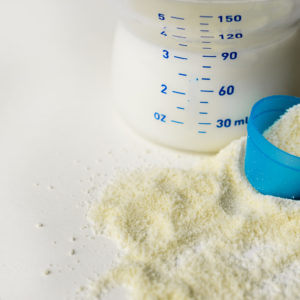 According to the NEC formula lawsuit, B.C. was born prematurely in April 2012, and was fed infant formula products like Similac and Enfamil, due to marketing that suggested it was safe. However, shortly after consuming the cow's milk-based formula, B.C. developed NEC, which has caused severe complications and left the child with long-term negative health effects.
Formula NEC Risk Information Concealed
NEC is a devastating intestinal disease that primarily impacts premature babies, where the wall of the intestines is invaded by bacteria, leading to destruction of the bowel and often resulting in the need for emergency surgery while the infant is still in the neonatal intensive care unit (NICU).
Although Abbott and Mead Johnson knew for years that NEC is substantially more likely among premature babies fed the formula instead of breast milk, Humphreys indicates that they engaged in deceptive and misleading advertising for Similac and Enfamil, which made the products appear safer than what they really are. The marketing also made breast feeding look more difficult and unnecessary than it is in reality.
This false advertising was done through direct marketing directly to parents and through deceptive information provided to hospitals, the lawsuit claims. The manufacturers also provide coupons, reward programs, free samples and other infant-related products as additional inducement to unsuspecting parents, according to the complaint.
The lawsuit highlights one advertisement titled "The Judgement Stops Here," which was a documentary-styled ad that called for mothers not to judge one another's infant feeding choices.
"However, the ad is manipulative, deceptive, and violative of the (International Code of Marketing of Breastmilk Substitutes) in that it pus breast milk and formula on an even playing field and attempts to chastise any judgment that might be cast in favor of what is clear scientific judgment," the lawsuit states. "In other words, the ad attempts to insulate the formula maker from criticism or judgment, when criticism is wholly appropriate from a scientific standpoint, under the guise of reducing judgment for moms who primarily use infant formula."
Similac and Enfamil Formula Lawsuits
Humphreys now joins a number of families nationwide pursuing a NEC formula lawsuit against Abbott Laboratories and Mead Johnson, alleging that the companies placed the desire for profits before the health and safety of premature infants.
Given similar questions of fact and law presented in these claims, the U.S. Judicial Panel on Multidistrict Litigation (JPML) decided to centralize the NEC lawsuits over Similac and Enfamil earlier this month, transferring the litigation to U.S. District Judge Rebecca R. Pallmeyer in the Northern District of Illinois for pretrial proceedings.
A separate motion has been filed to centralize all Similac lawsuits filed over recent problems with bacterial contamination, which has resulted in massive recalls in recent months. The JPML is expected to decide sometime this summer whether separate pretrial proceedings should be coordinated for these claims, or whether they should also be overseen by Judge Pallmeyer.
"*" indicates required fields