Centralization Sought For Class Action Lawsuits Over Old Spice, Secret Aerosol Sprays
December 15, 2021
By: Irvin Jackson
As Procter & Gamble faces a growing number of class action lawsuits over Old Spice and Secret deodorants, which were recalled last month after benzene was found in the aerosol sprays, the manufacturer has requested that all claims pending throughout the federal court system be consolidated before one judge for centralized pretrial proceedings.
In early November, the independent testing pharmacy Valisure released a report that found high levels of benzene in Old Spice, Secret, Suave, and Tag deodorants and body sprays, resulting in a citizen's petition that called for the FDA to recall the affected products.
Acknowledging the problems with benzene in their deodorant, Procter & Gamble announced an Old Spice and Secret recall on November 23, pulling nearly twenty different aerosol spray products from the market.
Since then, the company has faced a class action lawsuits filed on behalf of consumers nationwide, who unknowingly paid for a product that endangered their health and left them with an increased cancer risk.
On December 13, Procter & Gamble filed a motion to transfer (PDF) with U.S. Judicial Panel on Multidistrict Litigation (JPML), calling for the claims to all be consolidated in the Southern District of Florida for pretrial proceedings. The same court is currently handling consolidated proceedings for similar lawsuits over a Johnson & Johnson Aveeno and Neutrogena sunscreen recall, which was also caused by the discovery of high levels of benzene in certain aerosol sprays.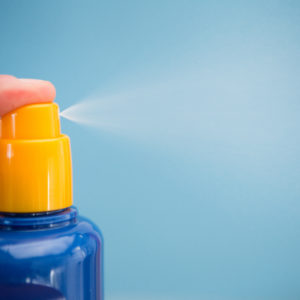 Learn More About
Leukemia, lymphoma and other cancer may be caused by benzene in Neutrogena, Aveeno, Coppertone and other sunscreens.
Learn More About this Lawsuit
"That MDL was triggered by an announcement by the same online pharmacy that it detected trace levels of benzene in Johnson & Johnson's aerosol sunscreen products," the motion notes. "The reasons that made centralization in the Southern District of Florida appropriate in J&J Aerosol Sunscreen apply with equal force here."
According to the motion, at least 11 cases have already been filed against Procter & Gamble over the Old Spice and Secret aerosol sprays, which are pending in eight different U.S. District Courts. Centralizing the class action lawsuits over Old Spice and Secret aerosol sprays would help avoid duplicative discovery, prevent contradictory rulings from different judges, and serve the convenience of the parties, witnesses, and courts, according to Procter & Gamble.
Benzene is an industrial chemical associated with the development of several fatal forms of cancer, leukemia and other conditions, such as AML, Chronic Myelogenous Leukemia (CML), Acute Lymphocytic Leukemia (ALL), Chronic Lymphocytic Leukemia (CLL), Hairy Cell Leukemia (HCL), Non-Hodgkin's Lymphoma, Multiple Myeloma, Myelodysplastic Syndrome (MDL), Myelofibrosis and Myeloid Metaplasia, Aplastic Anemia and Thrombocytopenic Purpura.
The FDA categorizes benzene as a Class I Solvent, which should not be used in the making of drug products because of its toxicity. However, if a product must contain benzene, it should be limited to 2 parts per million (ppm).
In addition to claims of false and misleading advertising, the Old Spice and Secret benzene lawsuits filed against Proctor & Gamble also claim that the manufacturer failed to adequately screen its aerosol deodorant spray products for harmful chemicals, exposing consumers all across the nation to cancer causing chemicals.
"*" indicates required fields