Ozempic Class Action Lawsuit Over Gastroparesis Risk Filed in Canada
November 06, 2023
By: Irvin Jackson
Novo Nordisk faces a class action lawsuit over Ozempic in Canada, presenting claims similar to a growing number of complaints now being filed in the U.S., indicating that the maker of the popular diabetes and weight loss drug failed to adequately warn about the risk of gastroparesis, also known as stomach paralysis.
The complaint (PDF) was filed last month by Suzanne Talbot in the Supreme Court of British Columbia, indicating that side effects of Ozempic caused a blockage in her biliary system, resulting in severe pain, chronic diarrhea, heartburn and hospitalization.
Ozempic (semaglutide) was initially introduced for the treatment of people with Type 2 diabetes. However, amid aggressive advertisements that promoted the weight loss benefits, Ozempic has been increasingly prescribed as a diet drug in recent years, leading the drug maker introduced a higher dose version, known as Wegovy, which is specifically approved for weight loss use.
Failure to Warn About Ozempic Side Effects
Although the drug has been marketed as safe and effective, concerns have emerged in recent months about painful and debilitating gastrointestinal problems from Ozempic and Wegovy, primarily involving a medical condition known as gastroparesis, which results from delayed emptying of the stomach.
As a result of the drug maker's failure to sufficiently disclose the risk, a number of former users are now pursuing Ozempic lawsuits and Wegovy lawsuits in both the U.S. and Canada, each raising similar allegations that they developed painful and debilitating stomach problems, which could have been avoided if false and misleading information had not been provided for users and the medical community.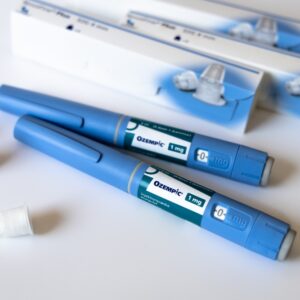 Find Out If You Have a Lawsuit
Talbot's lawsuit indicates she began taking Ozempic in 2021, and used the drug on a regular basis until 2023. After starting the prescription, Talbot began suffering from chronic diarrhea, heartburn, shortness of breath and pain, resulting in her admission to the hospital.
These conditions worsened over time until she was diagnosed with a biliary blockage in August 2023.
"Healthcare professionals indicated to the Plaintiff that the blockage was linked to her Ozempic use. Shortly following that hospital admission, the Plaintiff ceased her use of Ozempic," Talbot indicates. "Subsequent to stopping Ozempic, the Plaintiff continued to experience concerning signs and symptoms, including pain, heartburn, and shortness of breath, and the Plaintiff continues to experience concerning signs and symptoms today."
The lawsuit claims that Novo Nordisk was aware of the problem for years, since at least 2018, but failed to warn the medical community or patients about the risks of Ozempic gastroparesis.
Ozempic Gastroparesis Risks
In July, a CNN investigation outlined reports linking Ozempic and stomach paralysis, indicating that researchers have similar problems have been associated with other drugs in the same class in recent years.
In 2017, researchers with the Mayo Clinic conducted a study involving a similar diabetes medication known as Victoza, which found that the drug caused significantly slower digestion in users, taking about 70 minutes for half the food they ate to leave their stomachs, compared to four minutes for people who did not take the drug. However, the study found that people's bodies tended to adjust over time.
The American Society of Anesthesiologists (ASA) issued a warning about using Ozempic and Wegovy before surgery this summer, indicating that the lack of gastric emptying linked to the drugs could put patients at risk of vomiting and aspiration while under the effects of anesthesia.
The first known Ozempic gastroparesis lawsuit was filed in early August, alleging Novo Nordisk knew about the risks, but failed to provide patients and healthcare providers with adequate warning. However, it is widely expected that or thousands of similar claims may be brought in the coming months and years, as well as Mounjaro lawsuits over similar gastrointestinal risks associated with these similar medications.
Image Credit: Editorial credit: myskin / Shutterstock.com
---
Find Out If You Qualify for Ozempic or Wegovy Compensation
"*" indicates required fields