PFAS Chemicals Contaminate Almost Half of U.S. Tap Water Supply: Report
July 10, 2023
By: Irvin Jackson
The findings of a new study indicate cancer-causing toxic chemicals, known as per- and polyfluoroalkyl substances (PFAS), are present in almost half of the tap water consumed in the United States.
Commonly referred to as "forever chemicals", PFAS were first introduced into the manufacturing industry in the 1940's, because of their ability to resist heat, grease, stains, and water. However, the chemicals are known to persist in the environment and human body for decades, posing a variety of serious side effects, including cancer, liver damage, thyroid disease, decreased fertility, high cholesterol, obesity, hormone suppression, and other health risks.
In a report published in the August 2023 issue of the journal Environmental International, scientists with the U.S. Geological Survey (USGS) report that PFAS are present in about 45% of the nation's drinking water, with urban area tap water being the most contaminated.
PFAS Water Contamination Concerns
While PFAS chemicals have been widely used in a number of consumer products, most of the tap water contamination problems stem from high levels of the chemicals in aqueous film-forming foam (AFFF), which has been used by firefighters during training and responses exercises, especially around airports and military bases.
As a result of heath risks associate with exposure, PFAS water contamination lawsuits are being filed by individuals living in many areas of the U.S., claiming they developed ulcerative colitis or cancer from high volumes of PFAS chemicals being dumped into the ground water surrounding chemical manufacturing plants and around military bases, airports and other training facilities.
In recent years, hundreds of firefighting foam lawsuits have also been filed by former civilian and military firefighters diagnosed with various forms of cancer after direct exposure to the chemicals, and a number of municipal water systems are also pursuing claims against the chemical manufacturers over clean-up costs.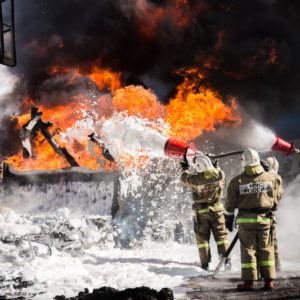 In this latest study, researchers with the USGS tested 716 samples of tap water collected from residences, businesses and drinking water systems across the U.S. between 2016 and 2021. These included both unregulated private wells and regulated public water supplies in all 50 states, the District of Columbia, Puerto Rico and the U.S. Virgin Islands and tested them for PFAS concentrations.
According to the findings, at least one PFAS chemical was detected in 45% of the samples, with the most common being perfluorooctanoic acid (PFOA), perfluorobutanesulfonic acid (PFBS) and perfluorohexanoic acid (PFHxA). Those three were detected in about 15% of all samples.
The samples indicate about 20% of private wells were contaminated with at least one PFAS chemical, while double the number of public water supply samples, 40%, were found to contain PFAS.
However, the researchers warn that small public water supplies and private wells may be disproportionately affected by PFAS contamination due to the problem with accurately surveying private and small community water supplies nationwide.
EPA Plans New PFAS Exposure Limits for Drinking Water
The study comes after a recent report by the U.S. Environmental Protection Agency (EPA) issued in March, which proposed new drinking water standards for some PFAS, after the agency determined the chemicals needed to be more strictly regulated.
The regulations consist of non-enforceable, health-based Maximum Containment Level Goals (MCLGs) the EPA will urge drinking water systems to meet, as well as Maximum Containment Levels (MCLs), which will be enforceable.
The Safe Drinking Water Act requires the EPA to put an MCL in place if it determines a substance may have adverse health effects in public water systems, and if there is a meaningful opportunity to reduce the health risks for people drinking that water. The EPA has determined all of those standards are met by the affected PFAS chemicals.
July 2023 PFAS Water Contamination Lawsuit Update
Last month 3M Company confirmed it had agreed to pay up to $12.5 billion to cities and communities nationwide to settle thousands of PFAS water contamination lawsuits brought by municipalities. However, manufacturers of PFAS chemicals still face hundreds of firefighting foam lawsuits nationwide, brought by individuals diagnosed with cancer after direct contact with the chemicals during their careers as either military or civilian firefighters.
In late May, the parties were directed to select 28 personal injury claims for a second bellwether pool, involving plaintiffs who say they were exposed to AFFF through drinking water contamination, which will be scheduled for early trial dates to help gauge how juries are likely to respond to certain evidence and testimony that will be repeated throughout the litigation.
These cases will include eight kidney cancer claims, eight testicular cancer claims, eight thyroid disease claims and four ulcerative colitis claims. In addition, they will be limited to individuals alleging they were exposed to contaminated water near Peterson Air Force Base, Colorado Springs Municipal Airport, the Willow Grove Naval Air Station Joint Reserve Base and the Naval Air Warfare Center in Warminister.
The outcome of these early bellwether trials will not have any binding impact on other claims. However, if they proceed, it is expected that the amount of any AFFF lawsuit payout awarded by juries may influence PFAS water contamination settlements and future firefighter cancer negotiations as well.
"*" indicates required fields