U.S. Lawmakers Introduce PFAS Bill to Help Farmers Clean Up and Monitor Contaminated Fields
October 25, 2022
By: Irvin Jackson
A new bill introduced by U.S. lawmakers from Maine seeks to provide financial assistance for farmers, to help monitor their fields and combat the environmental impacts of per- and polyfluoroalkyl substances (PFAS), commonly referred to as "forever chemicals", which have been linked to myriad of adverse health effects.
The Maine delegation to Congress, including Senators Susan Collins and Angus King, and Representatives Chellie Pingree and Jared Golden, along with New Hampshire Senator Jeanne Shaheen, introduced the Relief for Farmers Hit with PFAS Act (PDF) in the U.S. House and Senate earlier this month.
If passed, the bill would give farmers the chance to receive grants to help pay for monitoring and testing for PFAS levels on their farms, as well as help them clean up PFAS contamination and, if necessary, to relocate if their land is too contaminated.
PFAS are often referred to as "forever chemicals," since they are known to persist and build up in the environment and human body. The chemicals have been used for decades, due to their ability to resist heat, grease, stains and water.
Over the past several decades, PFAS have been used in a variety of consumer products, including food packaging materials, pizza boxes, popcorn bags, non-stick cooking pans and other items. However, large volumes of the chemicals have also been released into the environment from the use of PFAS in firefighting foam, especially near military bases, airports and other training locations.
Direct exposure to the chemicals has been linked to the development of testicular cancer, kidney cancer, liver cancer, pancreatic cancer, bladder cancer and other injuries among fire fighters, who often are covered in the chemicals while using aqueous film-forming foam (AFFF), which has been widely used during training and response exercises to combat fuel based fires. As a result of the chemical manufacturers failure to warn about the exposure risks, hundreds of firefighting foam cancer lawsuits and PFAS water contamination lawsuits are now being pursued throughout the federal court system.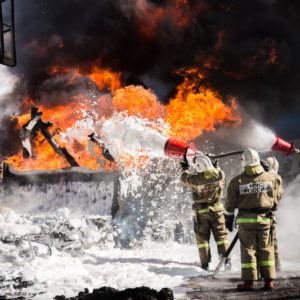 However, PFAS contamination has also impacted drinking water supplies and the environment in numerous communities nationwide. The state of Maine has been particularly vocal and active in passing PFAS regulations to combat the problem.
In a press release issued by Senator Collins on October 21, she notes that farmers in Maine have been hit particularly hard by PFAS contamination problems, especially among dairy farms. She notes that one dairy farm had levels of PFAS that were 153 times higher than Maine standards in 2016.
Collins points out that many of the Maine farms contaminated with PFAS got that way because farmers were told that wastewater sludge which contained vast amounts of the chemicals was safe and effective to use as fertilizer for their fields, resulting in farmers literally sowing contamination into their own lands.
"This is not just a problem in Maine—PFAS contamination has been discovered on farms in New Mexico and Michigan, and this problem will only become more evident as testing becomes more readily available," Collins wrote. "Thus far, the federal government's response has failed to keep pace with this growing problem."
The bill, if passed, would provide grants to farmers and funds for state programs which would be used for more PFAS testing of soil and water, blood monitoring for those exposed to high levels of PFAS, equipment to help farms address PFAS contamination, relocation of commercial farms if PFAS contamination has made the land no longer viable, and other PFAS remediation programs.
The bill would also provide educational programs for farmers dealing with PFAS contamination and would fund additional research on soil and water remediation programs. In addition, it would create a task force at the U.S. Department of Agriculture (USDA) which would be tasked with identifying other USDA programs being affected by PFAS contamination.
"Maine is leading the nation in cleaning up forever chemicals and supporting our farmers whose lands have been impacted, but we can do more," Maine Governor Janet Mills said in a statement. "This funding championed by the Congressional Delegation will help Maine and other states take even more aggressive action to identify and address PFAS contamination statewide, preserving the health of our people and the health of our farmland."
Widespread PFAS Contamination
Earlier this month, a study published in Environmental Science & Technology Letters revealed there are more than 57,000 PFAS contamination sites nationwide, mostly located at industrial facilities.
Researchers with the American Chemical Society integrated several nationwide data sets for the first time to create a single map of presumptive PFAS contamination sites nationwide, in order to help with the increasing research and regulations focused on the chemicals, many of which are toxic and linked to cancer and other adverse health effects.
However, the researchers noted there may be many more PFAS contamination sites than their list covers, due to a lack of publicly available information on firefighter training sites, airplane and railroad accidents, and sludge operations like those Collins said contaminated farmers' fields.
October 2022 PFAS Water Contamination Lawsuits Update
Given common questions of fact and law raised in lawsuits being filed against 3M Company, Dupont and other manufacturers of PFAS chemicals and fire safety equipment, consolidated pretrial proceedings have been established in the federal court system, where claims brought nationwide are all centralized before one judge in the U.S. District Court for the District of South Carolina, for coordinated discovery and a series of early trial dates to help gauge how juries are likely to respond to certain evidence and testimony that will be repeated throughout the litigation.
There are currently about 3,000 product liability lawsuits over toxic PFAS effects pending nationwide, each involving similar allegations that the companies failed to warn about the long-term health risks from exposure to the chemicals.
Earlier this year, the Court selected a PFAS water contamination lawsuits for the first bellwether trial, which will go before a jury in 2023. While the outcome of the first trials will not be binding on firefighters or other plaintiffs, they will be closely watched and may influence future settlement negotiations over the PFAS cancer risks.
"*" indicates required fields