PFAS Water Contamination Led to Kidney Cancer Diagnosis, Lawsuit Claims
August 29, 2023
By: Irvin Jackson
Contamination of New Jersey's drinking water supply by chemicals used in firefighting foam products led to a woman developing kidney cancer, according to a product liability lawsuit filed against a number of chemical and safety equipment manufacturers.
The complaint (PDF) was brought by Richelle Boyle in South Carolina federal court on August 17, naming 3M Company, DuPont, Chemguard and numerous other chemical companies as defendants, indicating that they are responsible for widespread PFAS water contamination that resulted from aqueous film-forming foam (AFFF) products sold to combat fuel-based fires.
AFFF has been used for decades by the branches of the U.S. military and local firefighting departments. However, the foams contain a number of chemical compounds known as per- and polyfluoroalkyl substances (PFAS), which persist in both the environment and human body for extremely long periods of time, earning them the nickname "forever chemicals".
As a result of runoff from training and response exercises, large volumes of the chemicals have contaminated drinking water in communities nationwide, especially near military bases, airports and other training locations.
Studies have linked exposure to the chemicals to an increased risk of various types of cancer, and there are several thousand AFFF lawsuits now being pursued against more than a dozen chemical and safety equipment manufacturing companies. The claims include allegations that AFFF caused testicular cancer, prostate cancer, kidney cancer, bladder cancer, pancreatic cancer, thyroid cancer and other injuries.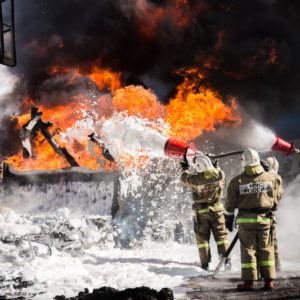 According to Boyle's complaint, she was exposed to toxic levels of AFFF and PFAS in her drinking water while she lived at various locations throughout New Jersey, indicating that the products had caused widespread water contamination.
The lawsuit indicates that from about 1978, when she was first born, to 2019, Boyle ingested water from Aqua New Jersey, which provides drinking water to the Blackwood and Gloucester Township Municipal Utilities Authority. She also indicates she was exposed to contaminated water from the Glassboro Water Department as well.
"Water supplied by the aforementioned water providers is contaminated by Defendants' fluorochemical products, evidenced by publicly-available testing results," the lawsuit states. "Throughout her life, Plaintiff has regularly and unknowingly ingested Defendants' fluorochemical products through the contaminated drinking water supplied by the aforementioned water providers."
Boyle was diagnosed with kidney cancer in March 2018, which she blames on the high levels of PFAS in the New Jersey drinking water systems that stems from the widespread use of firefighting foam chemicals in the area. She has since undergone a partial nephrectomy to treat the condition.
Last year, the U.S. Department of Defense conducted an assessment of PFAS contamination on U.S. military bases, indicating 24 installations, with a total population of 175,000, exposed residents to PFAS in drinking water. However, some environmental groups have contested that number, saying at least 116 military instillations are contaminated, exposing more than 640,000 residents to toxic AFFF and PFAS.
August 2023 AFFF Firefighter Foam Lawsuit Update
Given common questions of fact and law presented in thousands of lawsuits against AFFF manufacturers over the cancer risks, coordinated pretrial proceedings have been established in the federal court system before U.S. District Judge Richard M. Gergel in the District of South Carolina, where the claims are currently centralized for discovery and a series of early bellwether trials.
Earlier this year, Judge Gergel directed the parties to select a group of 28 representative personal injury claims for an AFFF injury bellwether pool, involving plaintiffs who say they were exposed to chemicals that contaminated drinking water.
These cases will include eight kidney cancer claims, eight testicular cancer claims, eight thyroid disease claims and four ulcerative colitis claims. In addition, they will be limited to individuals alleging they were exposed to contaminated water near Peterson Air Force Base, Colorado Springs Municipal Airport, the Willow Grove Naval Air Station Joint Reserve Base and the Naval Air Warfare Center in Warminister.
While the outcome of these claims will not have any binding impact on the other individual lawsuits the average AFFF lawsuit payout may influence how much manufacturers may pay to settle lawsuits filed by Mitchell and other plaintiffs in the future.
In addition to individual lawsuits, the manufacturers also faced thousands of AFFF water contamination lawsuits by cities, states and municipalities nationwide.
In June 2023, 3M Company agreed to pay over $12.5 billion in an AFFF water contamination settlement, to resolve claims brought by local water suppliers. However, there have not been any reported settlements in AFFF lawsuits brought by former military service members or firefighters, and none of those individual claims have yet gone before a jury.
"*" indicates required fields