Lawsuit Blames Recalled Philips CPAP Foam For Causing Wife's Lung Cancer Death
May 09, 2022
By: Irvin Jackson
A wrongful death lawsuit claims that it took less than two years of breathing toxic foam particles released by a recalled Philips CPAP device for an Oregon woman to develop stage 4 lung cancer, which ultimately took her life.
Doug Shiffler filed the complaint (PDF) last month in the U.S. District Court for the District of Utah, pursuing claims on behalf of himself and his deceased wife, Joleen. The lawsuit names Koninklijke Philips, its U.S. subsidiaries as defendants, as well as Wm. T. Burnett Foam, LLC, which manufactured the sound abatement foam used inside the sleep apnea machine.
According to the lawsuit, Joleen Shiffler was prescribed, and purchased, a Philips DreamStation CPAP Auto device in January 2018 to treat her sleep apnea. By November 22, 2020, less than two years later, she was dead of stage 4 lung cancer. The lawsuit notes she had no other risk factors or lung issues before she began using the device.
Less than a year after her death, Doug Shiffler discovered that her CPAP device was part of a massive recall, and the manufacturer acknowledged that a polyester-based (PE-PUR) sound abatement foam inside the devices may break down and degrade, releasing black particles or debris directly into the sleep apnea machine's air pathways, exposing users to a number of toxic chemicals and gases that may cause DNA damage resulting in cancer from CPAP foam.
Hundreds of former users have already come forward to pursue a Philips CPAP device lawsuit, reporting that cases of cancer, lung damage and other respiratory problems were caused by exposure to the foam particles, which directly entered the device's air pathways, tubing and face masks.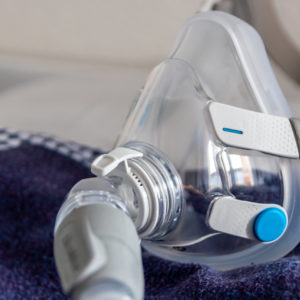 Philips CPAP Recall Lawsuit
Weeks after the recall, an FDA inspection found evidence that Philips knew about the problem with the degrading sound abatement foam since at least 2015, identifying emails exchanged with the foam supplier that discussed the problem. However, no investigation was initiated or corrective actions were taken until the massive recall was announced in June 2021.
"Defendants failed to provide adequate instructions or warnings regarding the risks of harm from the subject device at issue in this Complaint which were known by Defendants or should reasonably have been known by Defendants," Shiffler's lawsuit states. "Defendants' failure to provide adequate instructions or warnings regarding the defective condition of the subject device rendered it unreasonably dangerous and/or not reasonably safe."
The lawsuit also includes claims against Wm. T. Burnet Foam, LLC and related subsidiaries, which manufactured and sold raw foam material used inside the sleep apnea device to reduce sounds and vibrations caused by the machine while users are sleeping. In addition to including allegations that the machine was unreasonably dangerous and defectively designed, Shiffler alleges that the Burnett polyurethane foam was defective and prone to premature degradation, especially when used in a moist environment like a CPAP device.
The complaint will be centralized with other product liability lawsuits and class action lawsuits filed throughout the federal court system, which are currently consolidated before Senior U.S. District Judge Joy Flowers Conti in the Western District of Pennsylvania for coordinated discovery and pretrial proceedings.
In the coming years, it is expected that Judge Conti will establish a bellwether program where small groups of representative CPAP lawsuits will be prepared for early trial dates, to help gauge how juries are likely to respond to certain evidence and testimony that is likely to be repeated throughout the claims.
Debbie

May 11, 2022 at 8:12 am

I also use a phillips cpap machine and i wonder if it is causing me nasal, ear and throat problems.
"*" indicates required fields