Plant Linked to Abbott Infant Formula Recall Under Investigation by DOJ
January 23, 2023
By: Irvin Jackson
Following a massive Similac recall issued nearly a year ago, which left babies nationwide with serious and potentially life-threatening infections, the U.S. Department of Justice has launched an investigation into practices at an Abbott Laboratories manufacturing facility in Michigan, where powdered formula became contaminated with Cronobacter sakazakii and Salmonella Newport bacteria.
Problems at the plant were first disclosed to consumers in February 2022, when Abbott Laboratories warned that lots of Similac, Alimentum and EleCare formula shipped to families nationwide may have been contaminated with bacteria. It has since been discovered that the manufacturer may have been aware of the contaminated formula months earlier, but allowed families to continue to feed the formula to their babies.
Late last week, Abbott officials confirmed that the company is cooperating with a criminal investigation by the Justice Department's consumer protection division, which is looking into the Sturgis manufacturing plant.
Abbott now faces dozens of Similac recall lawsuits brought by families of infants nationwide who were diagnosed with Salmonella, Cronobacter or other infections linked to bacteria at the manufacturing facility, and serious questions are being raised about why the problems were not addressed much earlier.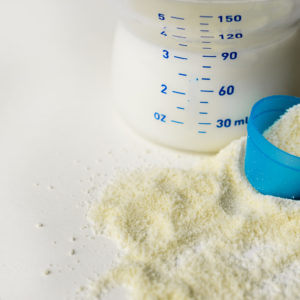 Shortly after the recall, it became apparent that Abbott and the FDA knew about the Similac contamination problems since at least September 2021, when the Minnesota Department of Health began investigating a case involving an infected infant. However, the formula continued to be distributed, remained on store shelves and families nationwide continued to feed the contaminated products to infants for another several months.
Abbott was forced to close the Sturgis, Michigan, plant where the formula was contaminated for several months last year, due to widespread safety problems, which shut down production at one of the major sources of infant formula in the United States. This contributed to a nationwide shortage of infant formula that impacted families nationwide throughout 2022.
The Justice Department has released no information on the investigation, as is the standard practice for criminal investigations. The investigation follows an FDA report issued in September, the 10-page report indicated the agency failed to properly respond to the massive infant formula recall.
February 2023 Similac Lawsuit Update
Problems with Similac formula have resulted in two separate coordinated proceedings in the federal court system, including one multidistrict litigation (MDL) established before U.S. District Judge Matthew F. Kennelly in the Northern District of Illinois for all Similac, Alimentum and EleCare recall lawsuits. A separate MDL proceeding has been established before U.S. District Judge Rebecca R. Pallmeyer for the Similac NEC lawsuits, as well as Enfamil NEC lawsuits brought over problems linked to the competing cow's milk formula.
While early pretrial proceedings before Judge Kennelly are still being established in the litigation over contaminated baby formula, Several Similac NEC lawsuits before Judge Pallmeyer have been selected for bellwether trials, which will be held to help the parties evaluate how juries will respond to certain evidence and testimony about the risks associated with use of cow's milk formula among premature infants, which has been linked to necrotizing entercolotis (NEC).
Although the outcome of these bellwether trials will not be binding on other plaintiffs pursuing lawsuits against Abbott, they may have a large impact on the amount of Similac settlements the manufacturer may pay to avoid the need for each individual lawsuit to go before a separate jury.
"*" indicates required fields