Stomach Cancer Risks with Nexium, Prilosec, Other PPIs Add to Concerns Over Long-Term Use
October 05, 2018
By: Irvin Jackson
Although recent focus on the side effects of Nexium, Prilosec and other similar proton pump inhibitor (PPI) medications have been on the risks of kidney failure, there is growing concern about the risk of stomach cancer from the heartburn drugs, raising questions about whether the manufacturers should have known about the problem decades ago. 
Late last year, researchers from Hong Kong published a study in the medical journal Gut, which suggested that that long-term use of proton pump inhibitors could increase the risk of gastric cancer after treatment for Helicobacter pylori infections. However, at about the same time, Swedish researchers also appear to have come to similar conclusions.
In the Swedish study, published in BMJ Open, researchers found that maintenance use if drugs like Nexium and Prilosec were linked to a threefold increased risk of gastric cancer. The increase was found among both sexes and all age groups, however, those under the age of 40 were particularly vulnerable, with a risk 22 times higher than peers who did not take the drugs.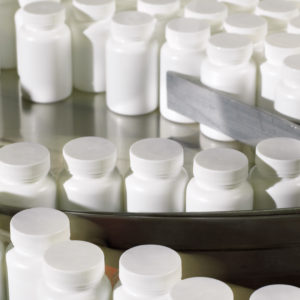 "Long-term PPI use might be an independent risk factor for gastric cancer," the researchers warned. "This challenges broad maintenance PPI therapy, particularly if the indication is weak."
In a letter published in Gut following the publication of the two studies, Professors Helge Lyder Waldum and Dr. Reidar Fossmark, of Norway, warned that it is unclear how widespread PPI-associated gastric cancer may be. They indicated that they have tried to warn the medical community for decades that such a risk existed, raising questions about why the manufacturers of the blockbuster drugs have not conducted the same studies or seen the same warning signs, despite years of collected data.
"For 30 years, we have worked with the role of gastrin and the risk of PPI treatment with respect to gastric cancer and published more than 200 papers and letters in this field. However, our publications have for one reason or another been overseen and not discussed," they wrote. "On the other hand, since we always have concluded that PPI treatment in the long term would cause gastric cancer, it is strange that producers of PPIs have not done studies to dismiss our results."
Researchers said that the stomach cancer risk with Nexium, Prilosec and Prevacid should have been anticipated as early as the late 1980s. This would suggest that manufacturers knew or should have known about the potential side effect for decades, but failed to provide adequate warning to patients or the medical community.
"We conclude that the carcinogenic effect by PPI treatment is due to hypergastrinemia, which should have been realised decades ago before exposing so many patients to a risk of a serious disease," Waldum and Fossmark wrote.
Long-Term PPI Use Questioned
Nexium, Prilosec, Prevacid and Protonix are all among the most widely recognized brand name drugs on the market, and are all part of the same class known as proton pump inhibitors. Many of the drugs are now widely available over-the-counter and regularly used by millions of Americans.
Since the drugs have been aggressively promoted without indication of any serious side effects, many users and doctors assume the medications are safe, and the medications are typically taken for long periods of time without any effort to reduce or stop the need for the medication. However, experts have expressed concern that many users continue to take the drugs, even though there may be no real medical need any longer.
In addition to concerns about the stomach cancer problems from Nexium, Prilosec and other PPIs, serious questions have emerged in recent years about the potential kidney side effects. Published studies and adverse event reports have identified a potential increase in the risk of acute kidney injury, acute interstitial nephritis, chronic kidney damage and kidney failure among users of the heartburn drugs.
In December 2014, the FDA required new warnings for the first time about a form of kidney damage associated with proton pump inhibitors, known as acute interstitial nephritis (AIN), which involves a sudden inflammation of the kidneys, which can lead to more severe problems.
More recent studies have highlighted the potential link between Nexium and kidney problems, suggesting that the popular drugs make also cause users to experience acute kidney injury, chronic kidney disease and end-stage kidney failure, often resulting in the need for dialysis treatment or a kidney transplant.
Last year, a study published in the medical journal JAMA Internal Medicine also found an increased risk of chronic kidney disease with the heartburn medications, indicating that users of Nexium, Prilosec and other PPI may be 50% more likely when compared to non-users.
These findings were supported by another study published in April 2016, in which researchers with the Department of Veterans Affairs found that users of Nexium, Prilosec or other PPIs may be 96% more likely to develop kidney failure and 28% more likely to develop chronic kidney disease after five years of use.
The concerns over stomach cancer come as PPI drug makers face a growing number of Nexium lawsuits, Prilosec lawsuits, Prevacid lawsuits, Protonix lawsuits and Dexilant lawsuits, each raising similar allegations that users and the medical community were not adequately warned about the potential kidney side effects.
As heartburn drug injury lawyers continue to review and file cases, it is ultimately expected that thousands of kidney injury cases may be filed in the coming months and years.
Given similar questions of fact and law raised in the complaints, consolidated pretrial proceedings have been established in the federal court system, where all lawsuits are centralized before U.S. District Judge Claire C. Cecchi in the District of New Jersey to reduce duplicative discovery into common issues, avoid conflicting pretrial rulings and serve the convenience of the parties, witnesses and the courts.
Sandra

October 11, 2018 at 9:14 pm

Trying alternative treatment prior to long term use. Ginger chews, natural foods. Also have your Thyroid Labs done to make sure you do not have HYPOTHYROIDISM. TSH over 4.2, T3 100-200 and T4 4.6-12 ug/dL . When your Thyroid values are high it may be a stomach problem. Taking SYNTHROID will often relieve stomach issues!
"*" indicates required fields