Rite-Aid Bankruptcy Filing Cites Cost of Opioid Lawsuits
October 19, 2023
By: Irvin Jackson
Rite-Aid Corporation filed for Chapter 11 bankruptcy protection this week, claiming the cost of opioid epidemic lawsuits and revenue losses in recent years requires the company to reorganize.
The pharmacy chain giant filed a petition for bankruptcy (PDF) on October 15 in the U.S. Bankruptcy Court for the District of New Jersey, after being one of the only major pharmacies still facing unresolved lawsuits over its role in the opioid abuse epidemic, which is likely to result in hundreds of millions of dollars in settlement costs or verdicts.
Many communities continue to battle problems with opioid addiction and abuse, which many say was sparked by illegal marketing tactics by drug manufacturers and pharmacies, who convinced doctors to begin prescribing what were supposed to be cancer pain medications for any type of "off-label" pain management.
Among adults, opioids now account for more than 70% of drug overdose deaths, with overdoses involving fentanyl, a narcotic painkiller 50-100 times more powerful than morphine, accounting for many in recent years.
Other Pharmacies Reached Opioid Settlement Agreements
As opioid lawsuits poured in from not only individuals, but states and local communities as well, drug companies, and the retail pharmacy chains that filled often questionable and illegal prescriptions, began to reach opioid settlement agreements for landmark amounts.
Late last year, CVS and Walgreens jointly agreed to pay $10.7 billion to resolve state and local government claims, with CVS agreeing to pay $5 billion, and Walgreens agreeing to pay $5.7 billion. Purdue Pharma, Johnson and Johnson and other drug distributors and manufacturers have also had to reach multi-billion-dollar settlements to resolve their claims as well.
However, Rite-Aid officials say the company is already $3.3 billion in debt, and faces Department of Justice charges over what federal prosecutors say were illegal prescription sales of opioids, which could cost the company hundreds of millions more in fines.
Rite-Aid operates more than 2,000 retail pharmacies nationwide, employing about 40,000 employees. Its subsidiaries, Bartell Drugs and Health Dialog are also included in the filing. However, the company also indicates it will sell off Elixir, its pharmacy benefit management subsidiary, which influences which drugs insurers will cover, as part of the reorganization process.
The company has already agreed to sell Elixir to MedImpact Healthcare Systems, Inc. which will keep the company afloat during the bankruptcy proceedings.
Plaintiffs Agree to Sever Rite-Aid Tylenol ADHD Lawsuits
Rite-Aid is also one of several major pharmacy chains involved in a number of Tylenol lawsuits, which claim the use of over-the-counter acetaminophen products during pregnancy can increase the risk of autism or attention deficit hyperactivity disorder (ADHD).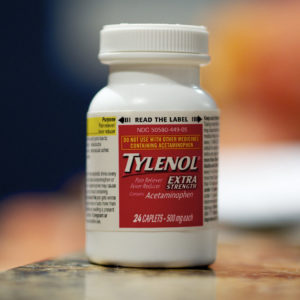 Given common questions of fact and law over the adequacy of the Tylenol pregnancy warnings, the U.S. Judicial Panel on Multidistrict Litigation (JPML) established coordinated pretrial proceedings late last year, centralizing all lawsuits brought throughout the federal court system before U.S. District Judge Denise Cote in the Southern District of New York, as part of a federal multidistrict litigation (MDL).
The day Rite-Aid filed for bankruptcy plaintiffs sent a letter to Judge Cote (PDF), saying that there were only a few lawsuits involving the pharmacy directly, and that plaintiffs intended to meet and confer with the company's bankruptcy counsel and discuss severing the corporation from the litigation.
The agreement would affect 20 cases where Rite-Aid is named as one of the defendants. However, there is one case where Rite-Aid is the sole defendant. Plaintiffs say they will agree to that case being put on hold "indefinitely".
For the remaining cases, it is expected that Judge Cote will then establish a "bellwether" process, where a small group of representative cases will be selected for early trial dates, to help gauge how juries may respond to certain evidence and testimony that will be repeated throughout the litigation.
Although the outcome of such bellwether trials will not be binding on other families pursuing lawsuits, the average payouts awarded by juries may influence the amount of any Tylenol settlements that pharmacies, Johnson & Johnson and other drug makers may offer families in the future, to avoid the need for each individual case to go to trial in the coming years.
"*" indicates required fields