Roundup Exposure At Palm Tree Nursery, Blueberry Farm Caused Diffuse Large B-Cell Lymphoma, Lawsuit Claims
October 13, 2016
By: Irvin Jackson
An agricultural worker has filed a lawsuit against Monsanto over failure to warn about the risks with Roundup exposure, indicating that he developed a form of non-Hodgkins lymphoma after years of applying the popular weedkiller to palm trees and blueberry fields. 
The complaint (PDF) was filed late last month in the U.S. District Court for the Southern District of Florida by Litton Walker, Jr., indicating that Monsanto failed to provide adequate warnings for decades, as agricultural workers applied ever-increasing amounts of the herbicide to their fields.
Walker indicates that he was exposed to Roundup regularly between 1975 and 2016, applying the glyphosate-based weedkiller to Palm trees, and then on a blueberry farm. In January 2006, Walker indicates that he was diagnosed with a form of non-Hodgkins lymphoma, known as diffuse large B-Cell lymphoma from Roundup.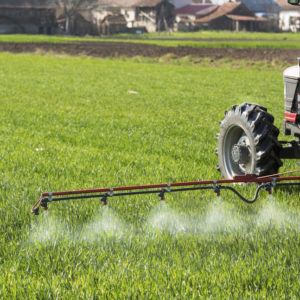 According to the lawsuit, Walker and other agricultural workers were unaware of the link between Roundup and cancer until last year, when the World Health Organization's International Agency for Research on Cancer (IARC) determined that glyphosate contained in the product is likely a cancer-causing agent. In particular, the IARC report linked the side effects of Roundup to an increased risk of non-Hodgkins lymphoma.
"The IARC Working Group found an increased risk between exposure to glyphosate and NHL and several subtypes of NHL, and the increased risk persisted after adjustment for other pesticides," the complaint filed by Walker states. "The IARC Working Group also found that glyphosate caused DNA and chromosomal damage in human cells."
The case joins a growing number of Roundup cancer lawsuits filed throughout the United States, typically involving individuals diagnosed diffuse large B-cell lymphoma or another form of non-Hodgkins lymphoma following regular and consistent exposure to Roundup as a farm or agricultural worker. The plaintiffs allege that the manufacturer recklessly promoted Roundup and pushed greater and greater use of the chemical, without disclosing the potential health risks.
A recent U.S. Geological Survey on glyphosate usage nationwide found that an estimated 2.6 billion pounds of the herbicide has been sprayed on America's agricultural land over the two decades since the mid-1990s, when Monsanto introduced "Roundup Ready" crops that are designed to survive being sprayed with glyphosate, killing the weeds but not the crops.
The lawsuits over Roundup allege that plaintiffs may have avoided a diagnosis of non-Hodgkin's lymphoma or other cancers if they had been warned about the Roundup risks for farmers, landscapers and others in the agricultural industry, as safety precautions could have been taken or other products could have been used to control the growth of weeds.
Walker's lawsuit will be transferred to the recently established federal Roundup MDL, or multidistrict litigation, as complaints filed in U.S. District Courts nationwide have been centralized before U.S. District Judge Vince Chhabria in the Northern District of California, for coordinated discovery and pretrial proceedings. Following litigation before Judge Chhabria, if Roundup cancer settlements or another resolution for the cases are not reached, Walker's complaint and others filed nationwide may be remanded back to the federal courts where they were originally filed for individual trial dates.
Image Credit: test caption
"*" indicates required fields