Roundup Class Action Lawsuit Targets Lowe's For Selling Dangerous Weedkiller To Consumers
August 19, 2019
By: Irvin Jackson
A class action lawsuit has been filed against Lowe's Home Centers, alleging that the store failed to warn consumers about known or potential Roundup health risks, including non-Hodgkins lymphoma and other side effects linked to the glyphosate-based weedkiller.
James Weeks filed the complaint (PDF) in the U.S. District Court for the Central District of California on August 6, naming Lowe's Home Centers and up to 100 unnamed companies as defendants. The lawsuit seeks class action status to pursue damages for all purchasers of various Roundup products in California.
According to the Roundup class action, Lowe's had a duty to inform consumers about the potential risks associated with the widely marketed weedkiller, but failed to do so at it's retail locations. The lawsuit indicates the company is provided a Safety Data Sheet (SDS) by the manufacturer, which indicates known risks. However, while the Safety Data Sheet warned that inhalation and skin contact are likely routes of exposure to the active ingredient, glyphosate, the label only warns of potential eye irritation.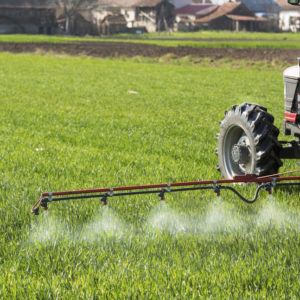 In addition, the lawsuit notes there is no warning that glyphosate is probably a cancer-causing agent, a determination made by the World Health Organization's International Agency for Research on Cancer (IARC) in 2015.
"Despite its knowledge of the SDS, Defendant does not warn consumers they may be exposed to glyphosate through inhalation and skin contact," the lawsuit states. "Defendant further omits proper use instructions, e.g. advising consumers to use a gas mask respirator when using Roundup. Reasonable consumers, like Plaintiff, who have purchased Roundup would not have done so had they known of its carcinogenic risks, or had Defendant provided a warning on how to minimize these risks."
The lawsuit asks the Court to require Lowe's to pay restitution to any California residents who purchased Roundup products at its stores.
The complaint was filed just one day before the U.S. Environmental Protection Agency (EPA) issued a guidance, indicating it will not approve products which carry a label warning required by the state of California to alert consumers that Roundup may cause cancer.
The EPA claims the label requirement, part of California's Proposition 65 list of hazardous agents, is false and misleading since it does not agree with the IARC's findings.
Monsanto and Bayer face increasing pressure to settle Roundup lawsuits filed by more than 18,500 individuals nationwide diagnosed with non-Hodgkins lymphoma after exposure to glyphosate in the weedkiller, as well as class action claims like this one.
After failing to convince U.S. juries that the weedkiller is safe, the company has been engaging in court ordered mediation to resolve failure to warn lawsuits pending throughout the U.S. Court system and Bayer's stock price has dropped substantially in recent months, signaling the extent of liability investors expect the company may have to pay to resolve the litigation.
Brian k

September 8, 2021 at 10:33 pm

Cancer from working at Lowe's..Leukemia, Lymphoma also
"*" indicates required fields