Roundup Lawsuit Blames Cancer On Visits To City Parks Sprayed With The Weedkiller
February 21, 2019
By: Irvin Jackson
A Washington state woman indicates that she developed non-Hodgkin's lymphoma from Roundup weedkiller applications in a park near her home, indicating that Monsanto has withheld information about the potential cancer risks associated with their product for decades. 
The complaint (PDF) was filed last week by Brandy Rhodes, of Vancouver, Washington, in the U.S. District Court for the Western District of Washington.
Monsanto currently faces nearly 10,000 similar Roundup lawsuits being pursued by individuals nationwide, but nearly all of the other cases involve claims brought by agricultural workers, farmers, landscapers, groundskeepers and other consumers who directly sprayed the weedkiller. Rhodes indicates that she developed non-Hodgkins lymphoma from secondary exposure to Roundup sprayed near her home.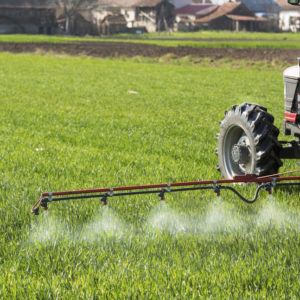 "Ms. Rhodes was exposed to Roundup for approximately six years while residing in La Center, Washington. The city of La Center routinely applied Roundup to the parks and greenery near Ms. Rhodes' residence and the parks she visited with her children," the lawsuit states. "In or about December, 2005, Ms. Rhodes was diagnosed with Stage IIA Nodular Sclerosing Hodgkin's Lymphoma."
The circumstances highlight growing concerns in a number of cities and communities that have liberally applied Roundup for years. Amid recent concerns that Monsanto's herbicide is a human carcinogen, a number of municipalities have banned use of Roundup in parks, school grounds and other areas.
Although Monsanto has previously indicated that Roundup is safe, the World Health Organization's International Agency on Research for Cancer (IARC) declared glyphosate, the active ingredient in Roundup, to be a probable human carcinogen in 2015.
Roundup bans have been enacted or are under consideration in communities in California, Hawaii, Massachusetts and Maryland, with dozens of other governments considering similar action nationwide. In addition, several countries outside the U.S. have already taken steps to prevent or reduce use of the glyphosate-based weedkiller.
Roundup Lawsuits
According to allegations raised in Rhodes' complaint and other lawsuits pending nationwide, Monsanto knew or should have known that exposure to Roundup weedkiller applications was inherently dangerous and unsafe, yet concealed information from consumers and federal regulators.
Given common questions of fact and law raised in the lawsuits, a number of "bellwether" trials are set to go before juries this year, to help the parties gauge how juries are likely to respond to certain evidence and testimony likely to be repeated throughout the litigation.
In August 2018, the first trial in the country resulted in a $78 million judgment for a former California school groundskeeper, who was granted an early trial date because he is dying from non-Hodgkins lymohoma.
In the federal court system, where all claims have been centralized as part of a multidistrict litigation (MDL) before U.S. District Court Judge Vince Chhabria in the Northern District of California, a series of early trial dates are set to begin later this month. In addition, more than a dozen other claims are set to go to trial in California and Missouri state court throughout 2019.
While the outcomes of these bellwether trials are not binding on Alexy and other plaintiffs, if Monsanto fails to reach Roundup settlements or otherwise resolve the litigation, hundreds of individual cases may be set for trial in the coming years.
"*" indicates required fields