Roundup Settlements Will Not Be Limited To U.S. Citizens Under Agreement Reached in Discrimination Lawsuit Against Monstanto
November 06, 2023
By: Irvin Jackson
Bayer and Monsanto have announced that future Roundup settlements can include individuals from outside of the United States, including migrant farm workers who developed cancer after exposure to the weed killer while working in the country.
According to a press release issued by the Lawyers' Committee for Civil Rights Under Law on October 25, the agreement came as part of a discrimination lawsuit settlement reached with Elvira Reyes-Hernandez, who worked with Roundup on farms in Virginia for years before developing non-Hodgkins lymphoma.
Reyes-Hernandez filed the discrimination complaint earlier this year, after she was excluded from participating in a Roundup settlement program, due to her lack of U.S. citizenship.
Over the past eight years, Bayer and its Monsanto subsidiary have faced more than 120,000 Roundup lawsuits, each raising similar allegations that former users developed non-Hodgkin's lymphoma after exposure to the weedkiller, either when using the product in an agricultural setting or around the homes.
After getting hit with a series of massive verdicts in 2018 and 2019, Bayer agreed to pay billions in Roundup settlements to resolve individual injury lawsuits, establishing settlement programs with individual law firms that determined how much financial compensation individual claimants could receive, based on objective criteria. However, the manufacturer required that any non-U.S. citizens be disqualified from the settlements.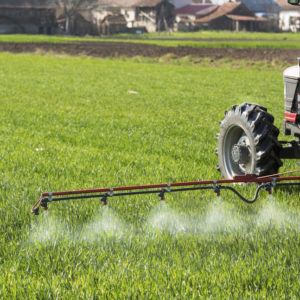 In January, Reyes-Hernandez filed a complaint (PDF) in the U.S. District Court for the Western District of Virginia, indicating that Monsanto improperly discriminated against her by refusing to allow her claim to be settled as part of an established settlement program. Although she was diagnosed with non-Hodgkin's lymphoma after years of working with the herbicide on tree farms, which initially qualified her claim, Monsanto then excluded her from the settlement since she was not a U.S. citizen.
"The Settlement Program offered to Plaintiff was part of Bayer's larger effort to resolve all Roundup product liability litigation, for which it had set aside approximately $9 billion. Ms. Reyes-Hernandez accepted the settlement offer—in exchange for releasing her claims—and signed on," the lawsuit states. "Then the Defendants reneged. It turns out that Monsanto and Bayer were restricting the Settlement Program to United States citizens only."
Her lawsuit notes that this stance would prevent many of those who were most severely impacted by Roundup exposure from seeking to resolve the claims through settlement. However, an agreement reached to resolve the discrimination lawsuit will not only allow Reyes-Hernandez to participate in the Roundup settlement plan, but also allow other farmworkers who are not U.S. citizens to obtain financial compensation for non-Hodgkins lymphoma caused by Roundup.
"Fieldworkers as a group are exposed to Roundup at a high rate and yet are much less likely to have insurance to pay for their medical bills if they get sick and usually don't have access to an attorney to pursue a settlement," Katy Youker, director of the Economic Justice Project at the Lawyer's Committee for Civil Rights Under Law, said in the press release. "This agreement is a significant benefit that will insure that non-citizens can participate in future Roundup settlements."
November 2023 Roundup Lawsuit Update
While Bayer and Monsanto have paid billions of dollars to resolve claims, there are still thousands of claims moving forward through the U.S. court systems involving individuals who rejected early settlement offers. In addition, new Roundup lawsuits continue to be filed as individuals continue to be diagnosed with non-Hodgkins lymphoma following prior exposure to the weedkiller.
At least three Roundup cases have gone to trial over the past few weeks, resulting in combined verdicts of more than a half billion dollars in new judgments in a three separate venues.
In early October 2023, a St. Louis jury awarded $1.25 million in damages from Roundup, for a plaintiff who developed non-Hodgkins lymphoma after using the weedkiller as part of a neighborhood restoration project. That was followed only a few weeks later by a $175 million Roundup verdict in Philadelphia, involving a man who developed cancer after two decades using the weed killer in his garden.
Finally, last week a San Diego jury returned a $332 million Roundup award for a former land surveyor who developed the cancer after using Roundup on lawns and gardens for 35 years. In addition to compensatory damages, the verdict included a massive punitive damages award, which was added to punish the manufacturers for withholding information from consumers for decades.
A steady stream of additional trials are expected to begin in the coming months, unless Bayer and Monsanto increase settlement offers to many of the holdouts.
In addition to the state court litigation pending in Missouri, California, Pennslyvania and other states, hundreds of unsettled claims remain centralized in the federal court system before U.S. District Judge Vince Chhabria in the Northern District of California, where several large waves of claims are being prepared for remand to different federal district court for trial in the coming years.
"*" indicates required fields