FDA Found Traces Of Roundup Pesticide In Several Common Foods, Kept Quiet: Reports
May 04, 2018
By: Irvin Jackson
Recently uncovered internal documents suggest that federal regulators have found residue of Roundup pesticide in many of the common foods eaten by Americans. 
The documents were published online by the non-profit U.S. Right To Know, detailing how the FDA has struggled to test food for the presence of glyphosate, the active ingredient in Roundup, and how widespread residue from the pesticide has been found to be. The group obtained the documents through a Freedom of Information Act request.
The testing began in February 2016, after the World Health Organization's International Agency for Research on Cancer (IARC) declared glyphosate a possible cancer causing agent in 2015, and linked Roundup exposure to an increased risk of non-Hodgkin's lymphoma.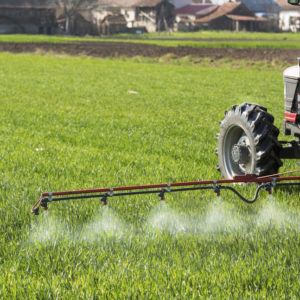 The FDA tested for several months, but reportedly halted its testing program in late 2016, due to numerous problems determining the proper testing methodologies, and a lack of equipment sensitive enough to detect it.
An email (PDF) sent by FDA chemist Richard Thompson in January 2017 discusses the search for the proper testing procedures, but that email also reveals how pervasive the FDA already knows glyphosate to be.
"I used broccoli because it's the only thing I have on hand that does not have glyphosate in it," Thompson wrote. "I have brought wheat crackers, granola cereal, and corn meal from home and there's a fair amount in all of them."
Another email noted that grain corn had glyphosate at levels of 6.5 per million (ppm), which exceeds the legal limit of 5 ppm. However, to date, the FDA has not released a report, warnings or data on the amount of glyphosate it has found in the nation's food. Some FDA officials have said the agency expects to release a report in early 2019.
Early in the testing, U.S. Right To Know leaked preliminary findings indicating that the FDA found high levels of glyphosate in honey, and was having trouble finding honey that did not contain any glyphosate residue.
Additional data obtained by U.S. Right to Know back in 2016 indicated that the scientific research company Abraxis conducted an investigation in 2015 finding levels of glyphosate levels in honey as high as 107 parts per billion (ppb). However, an FDA investigation, led by chemist Narong Chamkasem and University of Iowa chemist John Vargo, indicates that they detected levels as high as 653 ppb. That is more than 10 times the 50 ppb limit allowed in the European Union.
Monsanto now faces a growing number of Roundup lawsuits filed throughout the United States, typically involving individuals diagnosed with a form of non-Hodgkin's lymphoma following heavy exposure to the herbicide as a farm or agricultural worker. The complaints allege that the manufacturer recklessly promoted Roundup and pushed greater and greater use of the chemical, without disclosing the potential health risks.
However, over the last two years, a number of lawsuits have also been filed against food manufacturers who labeled their products as either "All Natural" or "100% Natural" after they were found to contain traces of glyphosate or involved the use of GMOs.
The complaints allege that the presence of glyphosate or the use of genetically modified crops, often made specifically to handle heavy Roundup application, make the all natural claims misleading.
"*" indicates required fields