Similac Alimentum Lawsuit Claims Baby Fell Ill After Being Fed Contaminated Infant Formula
May 09, 2022
By: Irvin Jackson
A Colorado mother has filed a lawsuit against Abbott Laboratories, alleging that her baby fell ill after being fed contaminated Similac Alimentum infant formula, which was later recalled after it was confirmed that Cronobacter and Salmonella entered the powder during the manufacturing process.
Taylor Diebert filed the complaint (PDF) in Colorado federal court on May 5, pursuing damages on behalf of herself and her minor child, identified only with the initials B.D.
The lawsuit comes weeks after the infant formula manufacturer issued a massive recall for Similac, Alimentum and EleCare products made at a Michigan manufacturing facility, which have caused infants nationwide to suffer serious side effects, often resulting in the need for repeated medical treatment or hospitalization.
Within days after the recall was first announced in February, reports began to surface that suggested Abbott knew about the Similac contamination problems at its facility since at least September 2021, when the Minnesota Department of Health began investigating a case involving an infant infected with Cronobacter.
Since then, parents throughout the U.S. have been filing Similac Alimentum lawsuits and class action claims over injuries caused by the bacterial contamination, indicating that Abbott ignored industry safety standards and best practices, endangering infants for the sake of profit.
SIMILAC ALIMENTUM LAWSUIT
Did you child experience problems after being fed Similac Alimentum or another potentially contaminated infant formula?
CONTACT A LAWYER
According to Diebert's lawsuit, she gave B.D. Similac Alimentum after receiving a sample from her pediatrician's office.
"Within less than 24 hours of the Plaintiff's infant taking the adulterated product, her child suffered immediate and severe injury as a result of consuming the tainted product," Diebert's lawsuit states. "Plaintiff's infant child became irritable and displayed problems sleeping after consuming the tainted product necessitating medical intervention."
The lawsuit indicates B.D.'s stool became discolored and bloody and the child has suffered injuries that will continue into the future.
Similac NEC Lawsuits Against Abbott
Lawsuits related to the contaminated formula come as Abbott already faces dozens of baby formula lawsuits brought by parents of premature infants who developed a devastating gastrointestinal condition, known as necrotizing enterocolitis (NEC), alleging that the manufacturer has withheld information for decades about the risks associated with Similac and other cow's milk formula.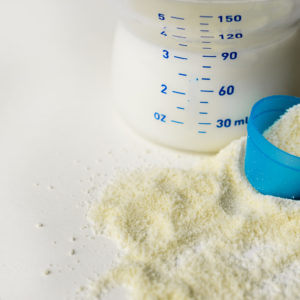 The Similac NEC lawsuits allege that Abbott placed its desire for profits before the health and safety of newborn babies, by filing to warn about the risks associated with using their formula among premature and low birth weight infants. Similar allegations have also been presented in Enfamil lawsuits filed against Mead Johnson, which sells similar cow's milk-based infant formula products that have been linked to cases of NEC.
Given similar questions of fact and law presented in these claims, the U.S. Judicial Panel on Multidistrict Litigation (JPML) decided to centralize the NEC lawsuits over Similac and Enfamil earlier this month, transferring the litigation to U.S. District Judge Rebecca R. Pallmeyer in the Northern District of Illinois for pretrial proceedings.
A separate motion has been filed to centralize all Similac bacterial contamination lawsuits filed as a result of the recent recall, which the JPML is likely to consider sometime this summer.
"*" indicates required fields