Centralization Sought for Lawsuits Over Recalled Similac, Alimentum and EleCare Formula
April 18, 2022
By: Irvin Jackson
As Abbott Laboratories faces a growing number of lawsuits over recalled Similac, Alimentum and EleCare formula products, which have been blamed for sickening babies nationwide in recent month, a motion has been filed which calls for all cases brought throughout the federal court system to be consolidated before one judge for coordinated pretrial proceedings.
A massive baby formula recall was issued by Abbott in February, after the company admitted that it may have distributed cans of Similac, Alimentum and Elecare that were contaminated with Salmonella Newport and Cronobacter sakazakii bacteria.
Within days, reports began to surface that suggested the company knew about the Similac contamination problems at its facility since at least September 2021, when the Minnesota Department of Health began investigating a case involving an infant infected with Cronobacter. However, the company continued to distribute products and babies continued to get sick.
Soon after the recall was announced, parents began filing individual and class action lawsuits, alleging that Abbott's Sturgis, Michigan manufacturing facility ignored industry safety standards and best practices, endangering infants for the sake of profit.
Similac Formula Recall Lawsuit
Was your baby sickened after being fed Similac, Alimentum or EleCare formula?
CONTACT A LAWYER
Arturo Andaluz was one of the first plaintiffs to join the litigation, filing a Similac, Alimentum and EleCare formula class action lawsuit on March 25, indicating that his child was one of those sickened after consuming the tainted infant formula.
The complaint raised allegations that Abbott failed to take steps that could have prevented the problems, failing to perform due diligence in testing and quality control for formula that was intended for use among the most vulnerable members of society, which mirrors claims raised in dozens of other lawsuits brought in different U.S. District Courts nationwide.
On April 14, Andaluz filed a motion to transfer (PDF) with the U.S. Judicial Panel on Multidistrict Litigation, calling for all of the baby formula recall lawsuits to be consolidated in the U.S. District Court for the Southern District of Florida before Judge Beth Bloom for coordinated discovery and pretrial management.
The motion indicates that there are at least 17 other similar cases pending in federal courts across the country, and Similac recall lawyers expect that number to grow in the coming weeks and months.
"Mr. Andaluz fed his infant child Defendant's recalled formula, his sole source of nutrition. Soon after, his child suffered serious injury requiring medical intervention," the motion states. "Subsequent inspections suggest Defendant had on multiple occasions disregarded industry practices, as well as applicable statutes and regulations, with respect to manufacture, processing, packing, and holding of Similac, Alimentum and EleCare powdered infant formulas."
Similac Lawsuits Against Abbott
The recall lawsuit come as Abbott already faces dozens of baby formula lawsuits brought by parents of premature infants who developed a devastating gastrointestinal condition, known as necrotizing enterocolitis (NEC), alleging that the manufacturer has withheld information for decades about the risks associated with Similac and other cow's milk formula.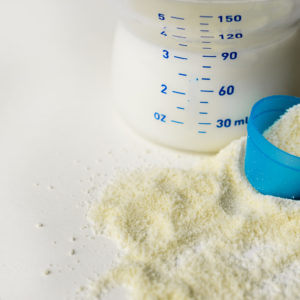 Last week, the U.S. Judicial Panel on Multidistrict Litigation decided to centralize the NEC lawsuits over Similac and Enfamil before U.S. District Judge Rebecca R. Pallmeyer in the Northern District of Illinois. However, this motion calls for a separate federal multidistrict litigation to be established.
Given common questions of fact and law stemming from the recalled Similac, Alimentum and EleCare, Andaluz argues that consolidating the lawsuits before one federal judge will prevent duplicative discovery, contradictory rulings, and serve the convenience of the court, parties and witnesses. However, if settlements are not reached during pretrial proceedings or following any early bellwether trials, each individual case may later be remanded back to the U.S. District Court where it was originally filed for trial.
"*" indicates required fields