Similac Formula Recall Lawsuits Consolidated as MDL in Illinois Federal Court
August 08, 2022
By: Irvin Jackson
The U.S. Judicial Panel on Multidistrict Litigation (JPML) has determined that all federal Similac formula recall lawsuits will be centralized before one judge in the U.S. District Court for the Northern District of Illinois, for coordinated discovery and pretrial proceedings involving claims brought by families of infants nationwide sickened by the contaminated formula.
Abbott Laboratories recalled Similac, Alimentum and Elecare formula products earlier this year, after disclosing that powdered formula manufactured at a Michigan facility may be contaminated with Salmonella Newport and Cronobacter sakazakii bacteria. However, lawsuits now allege that the company knew for months about the problems, and exposed infants to a risk of severe and life-threatening illnesses by continuing to distribute it's formula.
The Similac recall litigation will join a similar consolidation that has already been established in the Northern District of Illinois, but under a different judge, for all necrotizing enterocolitis (NEC) lawsuits brought by parents of premature infants who developed a devastating gastrointestinal illness caused by cow's milk-based infant formula products.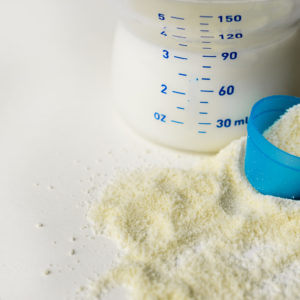 Within days after Abbott first announced the Similac formula recall, parents began filing individual and class action lawsuits, alleging that Abbott's Sturgis, Michigan manufacturing facility ignored industry safety standards and best practices, endangering infants for the sake of profit.
In April, one plaintiff filed a motion to consolidate the formula recall lawsuits as part of a multidistrict litigation (MDL) in the U.S. District Court for the Southern District of California, indicating that there were already at least 17 similar cases pending in courts nationwide at that time.
Abbott Laboratories supported centralization, but wanted the lawsuits consolidated in the Northern District of Illinois, where the company is headquartered, instead.
Following oral arguments heard late last month, a transfer order (PDF) was issued late last week, indicating that the Similac recall lawsuits will be assigned to U.S. District Judge Matthew F. Kennelly in the Northern District of Illinois, for coordinated and consolidated pretrial proceedings.
"After considering the argument of counsel, we find that centralization of these actions in the Northern District of Illinois will serve the convenience of the parties and witnesses and promote the just and efficient conduct of the litigation," the JPML wrote in the order. "All actions can be expected to share factual questions arising from alleged contamination of certain powdered infant formulas manufactured at Abbott's manufacturing facility in Sturgis, Michigan."
Similac NEC Lawsuits Against Abbott
This litigation will be managed separately from a different Similac MDL that has already been established before U.S. District Judge Rebecca R. Pallmeyer in the Northern District of Illinois, for all Similac lawsuits and Enfamil lawsuits involving premature babies who developed NEC after being fed any version of the cow's milk-based infant formula.
Although Abbott and other companies have marketed cow's milk formula as safe and effective for premature infants, research has found that it increases the risk of NEC, which is a devastating disease that occurs when the wall of the under-developed intestine is invaded by bacteria, leading to destruction of the bowel and often resulting in the need for emergency surgery while the baby is still in the NICU.
As a result of the NEC risk from Similac and other cow's milk formula products, the American Academy of Pediatrics (AAP) recently issued an updated policy statement urging parents to avoid feeding newborns infant formula, and calling for infants to be fed breast milk exclusively for the first six months of life.
While the NEC formula lawsuits and Similac recall lawsuits will both be coordinated out of the Northern District of Illinois, discovery and pretrial proceedings in the two separate proceedings will likely proceed on different schedules, which are expected to involve "bellwether" programs to schedule small groups of representative cases for early trial dates to help gauge how juries are likely to respond to certain evidence and testimony that will be repeated throughout the claims. However, if Similac settlements are not reached following the MDL proceedings, each individual claim may be remanded back to separate U.S. District Courts nationwide for future trial dates.
"*" indicates required fields