Similac Infant Formula Lawsuit Claims "Human Milk Fortifier" Caused NEC Diagnosis for Premature Baby
June 16, 2023
By: Irvin Jackson
A New York mother has brought a lawsuit against Abbott Laboratories, Inc., alleging that Similac "Human Milk Fortifier" caused her premature child to develop necrotizing enterocolitis (NEC), a devastating intestinal disease associated with the use of the cow's milk-based infant formula.
The complaint (PDF) was filed by Tess Wallace last month in the U.S. District Court or the Northern District of Illinois, indicating that the manufacturer has known about the risks associated with use of Similac among premature infants, but continued to market the product without adequate warnings for parents and the medical community.
Necrotizing enterocolitis (NEC) primarily impacts premature babies, occurring when harmful bacteria breaches the walls of the intestines, causing portions of the tissue to become inflamed or die. The condition often results in the need for emergency surgery while the baby is still in the NICU, and many infants do not survive NEC.
Although the product used by Wallace was marketed as a "Human Milk Fortifier", it actually contains cow's milk, regardless whether it is in powder or concentrated liquid form, and the lawsuit indicates Abbott has implemented a systematic, powerful and misleading marketing campaign that was intended to deceive parents into believing that it's formula and fortifier products were safe substitutes for breast milk, which is not the case.
Wallace now join other families of preterm infants nationwide who are now pursuing a NEC lawsuit against the Similac makers, with a number of similar claims also being pursued against Mead Johnson over problems linked to their competing cow's milk infant formula products, marketed under the brand name Enfamil, alleging that the desire for profits has been placed ahead of the safety of babies, and driven many families away from safer breastfeeding or donor milk alternatives.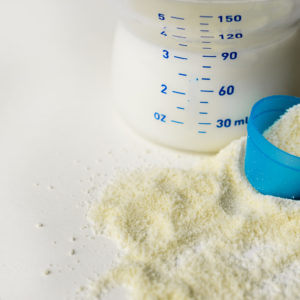 Wallace indicates her daughter, identified with the initials M.C. in the complaint, was born prematurely in 2020, and was fed Similac human milk fortifier. As a direct result of exposure to the cow's milk-based product, the lawsuit indicates the child developed necrotizing enterocolitis, requiring serious medical interventions.
The lawsuit highlights how Abbott Laboratories has deceptively worked to convince new parents and many healthcare professionals that Similac fortifier is just as safe and effective as real human milk for preterm infants, despite years of scientific research warning that giving newborn's cow's milk increases their NEC risk.
"Notwithstanding strong scientific and medical evidence establishing the serious dangers that cows' milk-based formulas and fortifiers pose for premature infants, Defendant Abbott has marketed its cows' milk-based products as an equally safe alternative to breast milk, and indeed has promoted its products as necessary for additional nutrition and growth," Wallace's lawsuit states. "Defendant has specifically marketed its cows' milk-based formulas and fortifiers as necessary to the growth and development of premature infants, when in fact, Abbott's products pose a known and substantial risk to these babies."
June 2023 Infant Formula NEC Lawsuits
The case brought by Wallace will be consolidated with other lawsuits brought throughout the federal court system, which have been centralized as part of a baby formula MDL (multidistrict litigation) before U.S. District Judge Rebecca R. Pallmeyer in the Northern District of Illinois, since each of the claims brought against the makers of Similac and Enfamil raise similar questions of fact and law.
As part of the coordinated management of the litigation, Judge Pallmeyer has established a "bellwether" program, where a group of 12 NEC lawsuits brought against the two infant formula manufacturers are going through case-specific discovery, and will be prepared for a series of early trial dates, which are designed to help gauge how juries will respond to certain evidence and testimony that will be repeated throughout the litigation.
Although the outcome of these early bellwether trials will not have any binding impact on other claims, they are expected to have a substantial impact on any baby formula NEC injury settlements the manufacturers may offer to avoid the need for each individual case to be remanded back to U.S. District Courts nationwide for separate trial dates in the future.
Image Credit: test caption
"*" indicates required fields