Following Similac Recall, FDA Announces Strategy to Prevent Infant Formula Shortages
March 30, 2023
By: Irvin Jackson
A little more than a year ago, a massive Similac recall was issued after an alarming number of children began to fall ill due to cronobacter and salmonella contamination, which led to a national infant formula shortage.
The recall not only raised serious safety concerns among parents nationwide, but also exposed weaknesses in the infant formula supply chain, leaving families with infants scrambling to obtain formula products their children needed.
This week, the U.S. Food and Drug Administration announced a national strategy to prevent infant formula shortages from occurring again.
Similac Recall Sparked National Infant Formula Shortage
Abbott Laboratories recalled Similac, Alimentum and Elecare formula products in February 2022, after discovering powdered formula manufactured at a Michigan facility was contaminated with Salmonella Newport and Cronobacter sakazakii bacteria.
Widespread distribution of the contaminated formula has been blamed for causing hundreds of infant illnesses nationwide, and subsequent investigations have revealed Abbott ignored industry safety standards and best practices at its facility for years, endangering children for the sake of profits.
Shortly after the Similac recall, individual and class action lawsuits started to be brought, and it is ultimately expected that several thousands Similac, Alimentum and EleCare Recall lawsuits may be included in the litigation.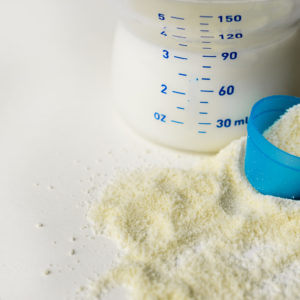 While the illnesses and safety issues were major concerns, another serious problem linked to the recall was the nation's reliance on one company's infant formula products. This resulted in the Food and Drug Omnibus Reform Act of 2022 (FDORA) being signed into law, which directed the FDA and other agencies to develop an immediate strategy to shore up the U.S. infant formula market.
Infant Formula Shortage Prevention Plan
The FDA announcement highlights key elements of the agency's immediate national strategy, with plans for a long-term strategy still in the works. It includes requirements that manufacturers develop and implement redundancy risk management plans which should identify supply chain risks for infant formula and medical foods, and to have strategies developed to deal with potential disruptions so that production can continue.
The strategy also calls for enhanced inspection of infant formula manufacturers, which includes hiring and training more inspectors, speeding up the review of new infant formula products; and developing forecasting models which will allow the FDA to be prepared for and mitigate problems which could disrupt the infant formula supply chain.
In addition, the FDA will coordinate with other U.S. agencies on issues like tariffs and market concentration, to head off potential bureaucratic issues to ensure continuous, safe production of infant formula. The agency will work with the U.S. Department of Agriculture, specifically, to build more resilience into the Special Supplemental Nutrition Program for Women, Infants, and Children (WIC).
The agency will also continue to develop its strategy to prevent future cronobacter infant formula contamination, which the FDA first announced in November 2022.
"Safety and supply go hand-in-hand. We witnessed last year how a safety concern at one facility could be the catalyst for a nationwide shortage. That's why we are looking to both strengthen and diversify the market, while also ensuring that manufacturers are producing infant formula under the safest conditions possible," FDA Commissioner Robert M. Califf, said in the press release. "Now, with this strategy, we are looking at how to advance long-term stability in this market and mitigate future shortages, while ensuring formula is safe."
This immediate national strategy is a stepping stone towards a long-term national strategy, which the FDA will develop with the aid of the National Academies of Science, Engineering and Medicine. That plan will include this current strategy and will look for ways to spur new infant formula manufacturing and products to bolster the overall national infant formula supply.
April 2023 Similac Recall Lawsuit Update
Problems with Similac formula have resulted in two separate coordinated proceedings in the federal court system, including one multidistrict litigation (MDL) established before U.S. District Judge Matthew F. Kennelly in the Northern District of Illinois for all Similac, Alimentum and EleCare recall lawsuits. A separate MDL proceeding has been established for all Similac lawsuits and Enfamil lawsuits brought over the risk of necrotizing entercolotis (NEC) caused by cow's milk formula products, which are centralized before U.S. District Judge Rebecca R. Pallmeyer.
While early pretrial proceedings before Judge Kennelly are still being established in the litigation over contaminated baby formula, Several Similac NEC lawsuits before Judge Pallmeyer have been selected for bellwether trials, which will be held to help the parties evaluate how juries will respond to certain evidence and testimony about the risks associated with use of cow's milk formula among premature infants, which has been linked to NEC.
Although the outcome of these bellwether trials will not be binding on other plaintiffs pursuing lawsuits against Abbott, they may have a large impact on the amount of Similac settlements the manufacturer may pay to avoid the need for each individual lawsuit to go before a separate jury.
"*" indicates required fields