Similac Recall Class Action Lawsuit Filed Over Contaminated Infant Formula
February 08, 2023
By: Irvin Jackson
A Pennsylvania woman has filed a class action lawsuit over a Similac recall issued last year, indicating she and other similarly situated parents were duped into unknowingly feeding their children contaminated infant formula.
The complaint (PDF) was filed on January 27 in the U.S. District Court for the Northern District of Illinois by Zaiema Rouland, on behalf of herself and other parents nationwide.
Rouland seeks class action status for the Similac recall lawsuit, which was brought against Abbott Laboratories, alleging the manufacturer knew it was selling potentially contaminated infant formula but chose profits over babies' safety.
Abbott Laboratories recalled Similac, Alimentum and Elecare formula products in February 2022, after disclosing that powdered formula manufactured at a Michigan facility was contaminated with Salmonella Newport and Cronobacter sakazakii bacteria.
At least two infant deaths and hundreds of illnesses have been reported by parents who fed the recalled formula to their children, and subsequent investigations have revealed Abbott ignored industry safety standards and best practices at its facility for years, endangering children for the sake of profits.
Shortly after the Similac recall, individual and class action lawsuits started to be brought, and it is ultimately expected that several thousands Similac, Alimentum and EleCare Recall lawsuits will be included in the litigation.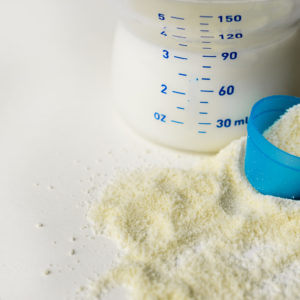 While Rouland does not indicate her child or children got sick eating the contaminated infant formula, she and other parents would not have purchased Similac, if they had known it was being manufactured in an unsafe way, according to the lawsuit.
"Under the circumstances that existed, no sales of the Contaminated Products should have taken place. Furthermore, Abbott should have alerted or otherwise warned consumers that harmful bacteria was discovered at the Sturgis Facility in September 2021, but it concealed this fact for nearly five months," Rouland's lawsuit states. "Throughout this time period, Abbott fraudulently misrepresented that the Contaminated Products were safe for consumption."
The lawsuit indicates Rouland and other consumers paid full price for contaminated infant formula, which likely had no real value, given they were supposed to provide nutrition for their children, not a risk of food poisoning. Therefore, she seeks a full or partial refund for herself and other consumers who purchased recalled Similac products from April 1, 2021, to the present.
February 2023 Similac Recall Lawsuit Update
Problems with Similac formula have resulted in two separate coordinated proceedings in the federal court system, including one multidistrict litigation (MDL) established before U.S. District Judge Matthew F. Kennelly in the Northern District of Illinois for all Similac, Alimentum and EleCare recall lawsuits. A separate MDL proceeding has been established before U.S. District Judge Rebecca R. Pallmeyer over necrotizing entercolotis (NEC) claims for the Similac NEC lawsuits, as well as Enfamil NEC lawsuits brought over problems linked to the competing cow's milk formula.
While early pretrial proceedings before Judge Kennelly are still being established in the litigation over contaminated baby formula, Several Similac NEC lawsuits before Judge Pallmeyer have been selected for bellwether trials, which will be held to help the parties evaluate how juries will respond to certain evidence and testimony about the risks associated with use of cow's milk formula among premature infants, which has been linked to NEC.
Although the outcome of these bellwether trials will not be binding on other plaintiffs pursuing lawsuits against Abbott, they may have a large impact on the amount of Similac settlements the manufacturer may pay to avoid the need for each individual lawsuit to go before a separate jury.
"*" indicates required fields