Similac Recall Issued For Ready-to-Feed Liquid Formula Due to Risk of Spoilage
October 17, 2022
By: Irvin Jackson
Abbott has issued another baby formula recall, impacting dozens of lots of Similac and Pedialyte Ready-to-Feed liquid products for infants, due to a risk that some bottles were not sealed correctly and the contents may have spoiled.
The Similac liquid formula recall was announced by the FDA on October 14, indicating that if infants consume the "ready to eat" formula they may face a risk of gastrointestinal symptoms, such as diarrhea or vomiting. However, the manufacturer maintains that no reports involving injury or illness have been identified.
The recall comes as Abbott faces ongoing investigations and criticism from the handling of a prior Similac recall issued earlier this year, over the widespread contamination of powdered formula manufactured at a facility in Michigan, which contained cronobacter and salmonella bacteria that caused infants nationwide to develop severe and sometimes life-threatening illnesses.
Similac Liquid Formula Recall
According to Abbott, this latest Similac formula recall impacts only a small percentage of bottles, estimated at about 1%, which were not sealed properly during the manufacturing process, and may spoil as a result. The formula was produced at a facility in Columbus, Ohio.
The recall includes certain lots of 2 fluid ounce/59 milliliter bottles of Similac Pro-Total ComfortTM, Similac 360 Total Care, Similac 360 Total Care Sensitive, Similac Special Care 24, Similac Stage 1, Similac NeoSure, Similac Water (sterilized) and Pedialyte Electrolyte Solution. The recalled products were sold in the U.S., Canada, Puerto Rico, Panama, the Dominican Republic, Bermuda, Curacao, Trinidad & Tobago, Haiti, Columbia and Jamaica.
Parents and caregivers are being urged not to use any product listed in the affected recall. The company indicates that the recall affects less than a day's supply of infant formula sold in the U.S. and said the recall should not exacerbate the ongoing infant formula shortage.
Consumers with questions can call Abbott Customer Relations at 1-800-986-8540 or can visit similacrecall.com for more information.
Abbott Infant Formula Manufacturing Problems
In February 2022, Abbott was forced to close its Sturgis, Michigan plant where Similac, Alimentum and EleCare formula was contaminated, due to widespread safety problems, which cut off production at one of the major sources of infant formula in the United States. This contributed to a nationwide shortage of infant formula earlier this year. The plant subsequently struggled to reopen due to flooding and a host of quality control issues.
In September, the FDA issued a 10-page report highlighting a number of deficiencies identified at the Abbott facility in Michigan, indicating it had failed to properly respond to the outbreak and problems at the facility.
Earlier this month, Senator Elizabeth Warren wrote a scathing letter to Abbott's CEO, accusing the company of using "scorched earth" legal tactics to conceal information regarding contaminated Similac formula revealed in previous complaints, sometimes dating back years. Warren claimed the company has used heavy-handed tactics to seal court records so that other parents and caregivers remained unaware Abbott's infant formula products had a history of contamination problems.
Warren pointed out that between September 2019 and September 2021, Abbott found contamination in five samples from its Sturgis, Michigan facility, yet the first recall warning about the problems was not issues until February 2022. Warren also noted that Abbott has used legal strategies to assist in its cover-up, preventing parents from learning about the problems with cronobacter in its products.
Abbott now faces dozens of Similac contamination lawsuits brought by families of infants nationwide who were diagnosed with Salmonella, Cronobacter or other infections linked to bacteria at the Michigan manufacturing facility, and serious questions are being raised about why the problems were not addressed much earlier.
Similac Lawsuits Against Abbott
This latest recall also comes as Abbott faces hundreds of necrotizing enterocolitis (NEC) lawsuits, brought by parents of premature infants who developed a devastating gastrointestinal disorder after being fed the cow's milk formula.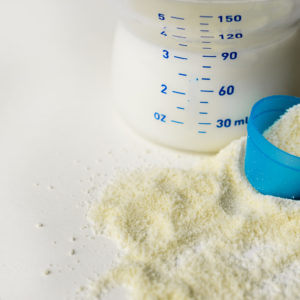 Although Abbott and other companies have marketed cow's milk formula as safe and effective for premature infants, research has found it increases the risk of NEC, which occurs when the wall of the under-developed intestine is invaded by bacteria.
As a result of the NEC risk from Similac and other cow's milk formula products, the American Academy of Pediatrics (AAP) recently issued an updated policy statement urging parents to avoid feeding newborns infant formula, and calling for infants to be fed breast milk exclusively for the first six months of life.
Parents claim in the lawsuit that Abbott has engaged in a long-strategy of placing its desire for profits before consumer safety.
"*" indicates required fields