More Similac Recalled As Lawsuits Over Salmonella, Cronobacter and Other Infection Risks Continue to Mount
February 28, 2022
By: Russell Maas
As Abbott Laboratories faces a growing number of lawsuits over Similac, Alimentum and Elecare formula that was contaminated with Cronobacter, Salmonella and other bacteria, the company announced this week that it is recalling more powder formula, after learning about another infant's death.
The Similac formula recall was first announced on February 17, impacting only certain products made at the company's manufacturing facility in Sturgis, Michigan. However, Abbott posted an update on February 28, announcing that one lot of Similac PM 60/40 not previously included in the recall may also be contaminated.
Similac PM 60/40 was recalled after Abbott learned about the death of an infant who tested positive for Cronobacter sakazakii, after only consuming that version of the powdered formula. This raises serious concerns that the company may have failed to properly recall all Similac, Alimentum and Elecare products that are contaminated.
SIMILAC RECALL LAWSUIT
Was your child diagnosed with Cronobacter, Salmonella or another infection after being fed Similac, Alimentum or Elecare?
Contact A Lawyer
The move comes only days after a complaint (PDF) filed by a number of different Illinois families alleged that Abbott Laboratories failed to use reasonable care screening its powdered formula for bacteria, which exposed their children to a risk of serious and potentially life-threatening blood infections.
The infant formula lawsuit seeks class action status to pursue damages for children exposed to the recalled Similac, indicating that Abbott Laboratories failed to put adequate quality control measures in place at the Sturgis, Michigan facility, which allowed Salmonella Newport, Cronobacter sakazakii and other bacteria to contaminate a large number of different products.
Allegations raised in the complaint mirror those presented in other baby formula lawsuits filed in recent weeks, indicating that Abbott has been receiving reports of illnesses linked to Similac, Alimentum and Elecare for months before the first recall was issued. The lawsuit notes that early FDA and U.S. Centers of Disease Control and Prevention (CDC) findings suggest Abbott was aware several environmental samples taken at the plant yielded positive results for Cronobacter sakazakii as early as September 2021, and that the manufacturer actually destroyed possibly contaminated products without issuing warnings to consumers.
The U.S. Food and Drug Administration (FDA) issued an infant formula warning on February 17, indicating that it was aware of at least three confirmed illnesses and one death. However, it does not appear this included the additional death linked to Similac PM 60/40 this week.
Parents have been told to immediately stop using the recalled Similac and to be aware of common symptoms of Salmonella Newport or Cronobacter sakazakii, which could initially present as poor feeding, irritability, temperature changes, jaundice, grunting breaths, abnormal body movements, lethargy, rash or blood in the urine or stool.
Similac Formula NEC Lawsuits
The growing number of Salmonella and Cronobacter infection lawsuits comes as Abbott Laboratories is already dealing with dozens of Similac formula lawsuits brought by families of premature infants who developed a severe and life-threatening gastroinstestinal illness after being fed the products in the NICU, known as necrotizing enterocolitis (NEC).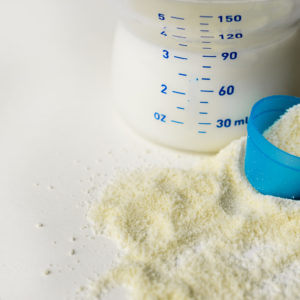 In recent years, a number of studies have highlighted a link between baby formula and NEC for preterm infants, resulting in sudden intestinal perforations that allow bacteria to leak through, causing abdominal infections and intestinal tissue to die off. Common symptoms of NEC include swollen, red or tender belly, difficulty feeding, constipation, dark or bloody stools, body temperature changes, green vomit,  apnea, bradycardia (slowed heart rate) and hypotension (low blood pressure), among others. If not fatal, often times NEC survivors experience long term side effects from surgery to remove dead bowels, resulting in a lifetime of bowel complications.
According to allegations raised in the litigation, Abbott Laboratories withheld warnings and information from parents and medical providers for decades, placing desire for profit before consumer safety. Similar claims are also being pursued against Mead Johnson in Enfamil NEC lawsuits brought by families of babies who received this competing cow's milk formula instead of breast milk.
Given common questions of fact and law raised in complaints filed in recent weeks throughout the federal court system, Abbott Laboratories filed a motion to create a Similac MDL, which would centralize the litigation before one judge for coordinated discovery and pretrial proceedings. The U.S. Judicial Panel on Multidistrict Litigation (JPML) is expected to schedule oral arguments on the motion during an upcoming hearing session next month.
"*" indicates required fields