Pediatricians Warn Toddler Formula Is Often Unnecessary, Despite "Questionable Marketing Practices"
October 24, 2023
By: Irvin Jackson
Formula products marketed for older toddlers fail to provide nutritional benefits for most children, according to new recommendations issued by a national organization representing pediatricians nationwide, which warns that manufacturers often use "questionable marketing practices" to convince parents to buy the unnecessary toddler formula.
The American Academy of Pediatrics (AAP) issued the new clinical guidelines this week in a report published in the group's medical journal Pediatrics, focusing on infant formula designed for children between six months and 36 months old.
The group warns that recent years have seen a rise in the popularity of toddler formulas, but the AAP says that has come with marketing that has led to misperceptions about their benefits for childhood nutrition.
"The category of 'formulas' directed at older infants and toddlers 6 to 36 months of age has increased in prominence over the last years but is characterized by lack of standardization in nomenclature and composition as well as questionable marketing practices," the AAP researchers reported. "There has been uncertainty and misrepresentation regarding some of the roles of these beverages in ensuring adequate childhood nutrition."
Older Toddler Infant Formula Problems
Infant formula aimed at older toddlers first began to reach U.S. markets in the 1990s, primarily targeting children between one and three years old. However, pediatricians now say that these products, which were marketed as a transition step to weaning children off of formula or breast milk, not only provide few actual benefits, but also often lack the nutrition toddlers need to thrive, critics say.
Often referred to as "transition formulas", "follow-on" or "follow-up" formulas, pediatricians say these products are confusing for parents and care givers due to the different names, ingredients, and supposed benefits.
The products tend to be more expensive than cow's milk and while the AAP researchers indicate that toddler formula can offer some Vitamin D and E benefits over unfortified cow's milk, the vast majority of cow's milk sold in the U.S. is already fortified.
The researchers indicated that the toddler formula products are not necessary for a child's development. However, in special cases children may need the additional nutrition, such as due to gastrointestinal issues. They also may be lactose intolerant or have other issues which prevent them from drinking regular milk products.
In those cases, the AAP recommends parents rely on their doctor's recommendations.
"In general, with a nutritionally adequate solid food intake that includes sources of bioavailable iron and zinc, cow milk is entirely adequate to meet a toddler's needs," the pediatricians determined. "For breastfed toddlers in this age group, human milk is also adequate, although generally a vitamin D supplement should be provided."
Older Infant Formula Deceptive Marketing
The clinical guidelines indicate that the marketing of infant formula for older toddlers "potentially discourages continued breastfeeding" and tries to make parents concerned that their children are not getting certain micronutrients that could be supplied by the formula products.
However, they note that the World Health Assembly deemed specialty formula for older infants as unnecessary as early as 1986. In addition, the AAP itself has recommended breastfeeding through the age of two if possible.
"Experience with infant formula marketing is that many consumers mistakenly believe that promoted properties have been tested and scientifically proven," the researchers wrote. "Claims of improved brain development or immune function have incorrectly shown to influence parents' belief that OIYCFs (older infant-young child formulas) are healthier than cow milk and promotes their intention to provide OIYCFs to their children."
The AAP's recommendations call for infants younger than 12 months to be fed either human milk or standard infant formula. For those 12 months and older, pediatricians recommend a varied diet with fortified foods, and note that toddler infant formulas have no specific role in the routine care of healthy children, and are more expensive than just buying cow's milk.
The group also recommended changes to marketing of these toddler formula products, calling for "clear and unambiguous" distinctions between these products and standard infant formula.
They also called for more education for parents and for medical care providers to do focused nutritional assessments for children.
Infant Formula Safety Concerns and NEC Lawsuits
The new recommendations for older toddler formula products comes amid increasing concerns about infant formula for the youngest of children, particularly preterm infants.
In recent years, many pediatricians, including the AAP, have warned about the effects of cow's milk-based infant formula products on preterm infants, warning that they can significantly increase the risks of necrotizing enterocolitis (NEC).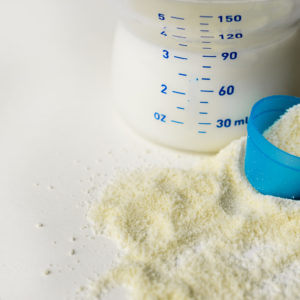 NEC is a devastating gastrointestinal disease, which primarily impacts premature babies, occurring when harmful bacteria breaches the walls of the intestines, causing portions of the tissue to become inflamed or die. The condition often results in the need for emergency surgery while the baby is still in the NICU, and many infants do not survive NEC.
In many cases, NEC is triggered the use of cow's milk infant formula products among premature babies, and the manufacturers of Similac and Enfamil now face a growing number of baby formula NEC lawsuits, alleging that they failed to adequately disclose the risk to parents and medical providers for decades.
Similar to concerns over the older toddler formula products' marketing, over the past few years, a number of prominent health organizations have raised concerns about the aggressive marketing of Similac, Enfamil and other formula products, which promote the cow's milk-based formula as an equally effective alternative to a mother's breast milk.
False and misleading statements have been blamed for driving many families away from breastfeeding, and suppressed demand for human donor milk, while also increasing the incidence of NEC from infant formula.
These allegations have been mirrored in a number of Similac lawsuits and Enfamil lawsuits filed in recent years.
Each of the NEC injury lawsuits raise similar allegations, indicating that manufacturers of cow's milk-based infant formula and human milk fortifier specifically marketing products for use by preterm newborns, without providing warnings to hospitals, doctors or families. However, as parents and hospitals now better understand the risk information that manufacturers have known for some time, there has been increasing adoption of human donor milk and increased efforts to encourage breast feeding.
"*" indicates required fields