Tylenol Use During Pregnancy May Increase Risk of Autism And ADHD Diagnosis In Children
October 31, 2019
By: Martha Garcia
Children whose mothers used Tylenol during pregnancy may face a higher risk of developing ADHD and autism, according to the findings of a new study.
In a study published this week in the medical journal JAMA Psychiatry, Johns Hopkins University researchers report that children with the highest levels of acetaminophen metabolites in their cord blood at the time of birth have a higher risk of developmental disorders.
Researchers studied 996 mother-infant pairs from the Boston Birth Cohort who were enrolled at birth and followed up at the Boston Medical Center from October 1, 1998, to June 30, 2018. The Boston Birth Cohort only includes babies who were single births, were not conceived with in vitro fertilization, and were born without major birth defects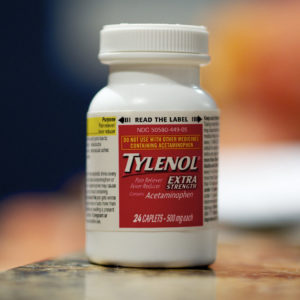 Three cord blood acetaminophen metabolites were measured in each infant umbilical cord plasma sample collected at birth.
One-quarter of children were diagnosed with attention-deficit hyperactivity disorder (ADHD), 6% were diagnosed with Autism spectrum disorder only, 4% were diagnosed with both ADHD and Autism, and 30% of children were diagnosed with other developmental disabilities. One-third of children had normal neurodevelopment with no disabilities.
All of the cord blood samples contained some detectable levels of acetaminophen metabolites. However, cord blood biomarkers and fetal exposure to acetaminophen were linked with significantly increased risk of childhood ADHD and autism.
When researchers compared the children with the highest levels of acetaminophen in the cord blood samples to those with the lowest levels, children with the highest levels were more likely to have neurodevelopment disorders. Those children were nearly three times as likely to have been diagnosed with ADHD and nearly four times as likely to have autism.
Autism spectrum disorder is a developmental disability characterized by problems with social interactions and communication. Children with autism often complete repetitive and restrictive behaviors. New research indicates the number of children being diagnosed with autism is increasing, with one in every 59 children now on the spectrum.
ADHD is a brain disorder that can affect daily function and can cause inattention, hyperactivity, and impulsivity.
Tylenol, also known generically as acetaminophen, lingers in the system. Researchers were able to estimate maternal acetaminophen use before delivery. However, because the levels were measured at birth, it doesn't indicate long-term exposure throughout the pregnancy. Researchers can't say how often the mother's took Tylenol or at what points during pregnancy.
The study did have its limitations. Researchers couldn't distinguish whether the higher risk of developmental disabilities is from the acetaminophen use or from the reason a mother was using it to begin with. For example, if a mother was sick and had a high fever or some type of infection, which could affect the fetus.
The researchers said their study appears to corroborate previous findings by other researchers. One recent study published in January 2018 linked Tylenol use to language delays in girls.
In that study, published in European Psychiatry, girls whose mothers took more than six acetaminophen tablets were nearly six times more likely to suffer language delays, the researchers determined. Girls whose mothers urinary concentrations of acetaminophen were highest were more than 10 times more likely to suffer language delays than the urinary concentration of girls whose mothers' concentrations were the lowest, the findings indicate.
"Our findings support previous studies regarding the association between prenatal and perinatal acetaminophen exposure and childhood neurodevelopmental risk and warrant additional investigations," study authors wrote.
Odilia

October 19, 2022 at 9:32 am

My son alonso was diagnosed in kindergarten I knew something was wrong he couldn't sit still it was like some one was inside him and wouldn't let him be normal but I could see in his eyes and spirits that he just wanted to relax and breath but adhd had such a hold of him that it was heart breaking to watch and not know how to deal with it

Jeanette

August 2, 2022 at 6:35 pm

When I was pregnant with my daughter now 26 the doctors were saying that Tylenol was the safest thing to take for pain while pregnant. My daughter was diagnosed with ADHD and put on medication which made a big difference with her focus. However, as a mom prescription medication is the last thing you want to try. My daughter continues to take ADHD medication as a adult.

Patricia

July 30, 2022 at 6:05 pm

Hi, I too, used Tylenol when I was pregnant with my child. When my child was born, I didn't notice it at first, until I started teaching my kid words, and she couldn't say them. She was delayed in speech, and in other areas like grasping a pencil or crayon, didn't start walking until she was about 2 years old with stridrites on. Her cognitive thinking was a concern. She was diagnosed with ADHD,[Show More]Hi, I too, used Tylenol when I was pregnant with my child. When my child was born, I didn't notice it at first, until I started teaching my kid words, and she couldn't say them. She was delayed in speech, and in other areas like grasping a pencil or crayon, didn't start walking until she was about 2 years old with stridrites on. Her cognitive thinking was a concern. She was diagnosed with ADHD, some autism and mild intellectual disability. My child was prescribed a number of medication which was very heartbreaking for me as her mother. Those meds were not right for her so we ended up with Concerta ER, which has worked. But, I don't want my child to be on medication, the rest of her life.

Diana

July 25, 2022 at 5:30 pm

I was pregnant with twins - I took Tylenol frequently for back pain and sciatic nerve pain. Because I was high risk due to twin pregnancy I was very cautious about what I put into my body, but all the doctors said Tylenol was ok during pregnancy. My daughter was diagnosed on the Autism spectrum at age 2. We have dedicated years and a lot of money to speech therapy, occupational therapy, physic[Show More]I was pregnant with twins - I took Tylenol frequently for back pain and sciatic nerve pain. Because I was high risk due to twin pregnancy I was very cautious about what I put into my body, but all the doctors said Tylenol was ok during pregnancy. My daughter was diagnosed on the Autism spectrum at age 2. We have dedicated years and a lot of money to speech therapy, occupational therapy, physical therapy, behavioral therapy, and special education. If this is true about Tylenol causing this, I definitely would love to help with this lawsuit! Thank you.

jesse

June 22, 2022 at 10:40 pm

i got diagnosed adhd and my mom took tylenol when she was pregnent with me i was prescribed 60mg xr adderall i was prescribed ritalin when i was 7 years old what should i do

Aarika

June 15, 2022 at 3:42 pm

I had horrible back pain during pregnancy and my doctor told me the only "safe" thing I could take was Tylenol. My daughter has autism. She will be 19 in October.

kristin

June 12, 2022 at 11:10 am

My child has had developmental delays since she was 8 months old. She is now 15 fixing to be 16 and they still can not find any thing wrong I have been fighting with Shan children hospital for the last 5 years to have her tested to find out what is going on with her .she has the mind set of a 8 to 10 year old and know one can tell me why. I believe she has atusim and other things wrong I wish[Show More]My child has had developmental delays since she was 8 months old. She is now 15 fixing to be 16 and they still can not find any thing wrong I have been fighting with Shan children hospital for the last 5 years to have her tested to find out what is going on with her .she has the mind set of a 8 to 10 year old and know one can tell me why. I believe she has atusim and other things wrong I wish I could get her the help she need befor she becomes an adult my time is running out quickly.

Jennifer

June 12, 2022 at 9:18 am

I took plenty of Tylenol while I was pregnant with both my kids...! My daughter has ADHD...! She was just recently diagnosed so we with it...! If this is true about Tylenol causing this, I definitely would love to help with this lawsuit...! Thank you,

Tabitha

May 26, 2022 at 10:38 am

My oldest, my son, has ADD and my daughter is extreme ADHD. I of course, like everyone else, took tylenol while pregnant. The OB said it was safe.🥺

Niesha

May 24, 2022 at 4:18 pm

my son was recently diagnosed with ADHD

Cori

May 21, 2022 at 9:24 am

2 of my children I took tylenol both have disabilities

Vauny

May 20, 2022 at 1:11 am

I have 3 children. My oldest son is 15 and has ADHD, my daughter suffered seizure when she was 13 months and still are unexplained, and my youngest son is 11 and has severe ADHD possible Autism, he has ODD and Anxiety. I took tylenol during all my pregnancies due to massive headaches backaches and more and I was told by my OBGYN only take tylenol. Omg. My poor kids.

Holly

May 17, 2022 at 1:32 pm

I have 2 boys 15 and 7 with severe forms of autism. No speech. My daughter has adhd. I don't like to take anything during pregnancy. Especially after my 1st child was diagnosed with autism. For it to happen multiple times was devastating and life altering. I definitely trusted tylenol was safe for me and my children. I never thought it could be the 1 reason for such heartbreaking disabilit[Show More]I have 2 boys 15 and 7 with severe forms of autism. No speech. My daughter has adhd. I don't like to take anything during pregnancy. Especially after my 1st child was diagnosed with autism. For it to happen multiple times was devastating and life altering. I definitely trusted tylenol was safe for me and my children. I never thought it could be the 1 reason for such heartbreaking disabilities in my children

Cheryl

May 16, 2022 at 8:49 pm

I have two boys my 1st son he is 12 he has intellectual disability, adhd, autism, wears glasses, he is at a kindergarten level, my 9 yr old has sensory issues, severe adhd, I took Tylenol through my entire pregnancy my doctor said it was safe said I will be ok, but now this makes sense!

Samara

May 16, 2022 at 10:49 am

I seen the news about Tylenol causing Autism and ADHD in children that mother took Tylenol while pregnant I am one of those mothers that was prescribed Tylenol while I was pregnant and my child is diagnosed as Autistic with ADHD

Kelly

May 15, 2022 at 12:31 pm

I constantly had a headache while I was pregnant with my son and the only thing my DR said I could take was Tylenol so I did all through my pregnancy. Really it became almost daily I had to take it to relieve my headache. My son was diagnosed with ADHD when he was 3-4 yrs old amd has been on medication for it ever since. He will be 13 in July.

Sarah

May 14, 2022 at 4:50 pm

I took Tylenol and my daughter has ADHD pretty badly! She is teased by other kids at school. She takes methylphenidate, and I hate that she has to!!

Heather

May 7, 2022 at 12:58 am

My son was born July 17,1988, in Johnstown Pennsylvania. While I was pregnant I took Tylenol or acetaminophen on a regular basis at the advice of my obgyn clinic for back pain , fevers, pain from swelling, and anything else. They said it was safe for pregnant women. My son was a fussy baby and had colic symptoms 5 hours a night for 5 or 6 months. He was diagnosed with asthma around 2/3 months and [Show More]My son was born July 17,1988, in Johnstown Pennsylvania. While I was pregnant I took Tylenol or acetaminophen on a regular basis at the advice of my obgyn clinic for back pain , fevers, pain from swelling, and anything else. They said it was safe for pregnant women. My son was a fussy baby and had colic symptoms 5 hours a night for 5 or 6 months. He was diagnosed with asthma around 2/3 months and was put on proventil and later given a breathing nebulizer machine. He crawled around 4 months and walked by 8 months. He seemed hyper by 6 months and definitely was by 1. He was constantly getting hurt simply because he had no fear. He'd be overly happy sometimes and quiet and withdrawn others. When he went in to pre school and kindergarten he was in trouble most of the time. In 94 we moved to Thomaston Georgia and he was sent home from 1st grade with a note saying he couldn't return to school until he was tested for ADHD. I had no idea what that was. But low and behold he was diagnosed with 5 types of ADHD , manic depression aka bi polar. Later diagnosed with OCD and Oppositional defiance disorder. He took some many meds and when he was 14 a psychologist told him nobody could make him take his meds and he's been in and out of prison ever since. Appalled that I took something I thought was safe and it might be the cause of my son's disgunctional life.

Teri

December 20, 2021 at 3:47 am

My 35-yo daughter has mental retardation with some autistic features. In the '80s, MDs advised using Tylenol for headaches or other pain for pregnant women, which was the OTC pain killer I had been using all of my adult life anyway. My oldest son, in his early to mid-20s, once told me he felt like he had a little bit of what my daughter had, and that really took me by surprise. I had thought[Show More]My 35-yo daughter has mental retardation with some autistic features. In the '80s, MDs advised using Tylenol for headaches or other pain for pregnant women, which was the OTC pain killer I had been using all of my adult life anyway. My oldest son, in his early to mid-20s, once told me he felt like he had a little bit of what my daughter had, and that really took me by surprise. I had thought he was just being lazy with homework and as a result he struggled in school.

Kathleen

November 14, 2021 at 11:51 am

I have 4 children. During all 4 pregnancies I took Tylenol quite a few times as advised by my doctor. My 6 year old daughter (born July 2015) has adhd, sleep disorders, developmental delay, language/speech delay and his highly bipolar. My 4 year old son (born August 2017) has astigmatism in both eyes and slightly adhd. My 3 year old daughter (born October 2018) doesn't talk, can barley feed hersel[Show More]I have 4 children. During all 4 pregnancies I took Tylenol quite a few times as advised by my doctor. My 6 year old daughter (born July 2015) has adhd, sleep disorders, developmental delay, language/speech delay and his highly bipolar. My 4 year old son (born August 2017) has astigmatism in both eyes and slightly adhd. My 3 year old daughter (born October 2018) doesn't talk, can barley feed herself with spoon or fork, can't dress herself or anything and doesn't sleep much at all. As of right now we have none of these concerns with my 18 month old

Linda

October 7, 2021 at 1:34 pm

I was pregnant with my fourth child in 1990, and took Tylenol for a toothache on the advice of my doctor. I took it every 4 hours for at least a few weeks, if not longer. My daughter was born in February of 1991, and has been severely disabled her whole life, with seizure disorder, cortical blindness, and autism. She has needed round-the-clock care for her whole life. She is now 30.

Mrs.T

May 30, 2021 at 12:38 am

My son was born in 2009. I had taken Tylenol numerous times during my pregnancy for back aches and headaches. My son was diagnosed with autism and cerebral palsy. As much research as I have done on this matter I continue to see Tylenol being linked to autism. My concerns growing. I believe there is a problem and Tylenol makers are trying to dodge a bullet. But as the research keeps showing proof I[Show More]My son was born in 2009. I had taken Tylenol numerous times during my pregnancy for back aches and headaches. My son was diagnosed with autism and cerebral palsy. As much research as I have done on this matter I continue to see Tylenol being linked to autism. My concerns growing. I believe there is a problem and Tylenol makers are trying to dodge a bullet. But as the research keeps showing proof I believe there is merit in this issue. Please contact me for further discussion. Not to mention I gave my son children's Tylenol when he got his immunization. -Heartbroken Mom wants Answers-

josephine

January 3, 2020 at 4:13 pm

My second son was born in 2008. I had sever sciatica during my first trimester and was advised to take Tylenol for the pain. I recall taking several doses regularly for at least two months. My son is 11 and had severe ADHD, from which developed depression, and he was ultimately involuntarily hospitalized in a pediatric psychiatric hospital last year.

Ashley

November 6, 2019 at 3:21 am

My son was born 2/2008 While pregnant with him I was advised multiple times to really Tylenol for pain. I had severe right flank pain, as well as terrible round ligament pain. Tylenol became a lifeline. My son was diagnosed severe adhd in late 2013/early 2014. It's so hard handling him some days. We recently moved, and his new pediatrician even stated how he noticed he has "true" adhd, and that he[Show More]My son was born 2/2008 While pregnant with him I was advised multiple times to really Tylenol for pain. I had severe right flank pain, as well as terrible round ligament pain. Tylenol became a lifeline. My son was diagnosed severe adhd in late 2013/early 2014. It's so hard handling him some days. We recently moved, and his new pediatrician even stated how he noticed he has "true" adhd, and that he could bring 10 kids in his office, that chances only one has real adhd. We tried everything from changing diets, therapy, even going as far as giving caffeine hoping to calm him, even for a few hours. Nothing worked. This ended up with him having constant psychiatry appointments and more medicine than any young child should have to take.

Hykeem

November 5, 2019 at 1:35 pm

My son Osearin L Davis was diagnosed with autism and Adhd in Jun 2018, He was born Sep 5 2014. After reading this Article, I spoke with my sons Mother. She then confirmed to me, that She was advised by Medical personnel, that it was ok for her to take Tylenol/Dayquil (for pain early on/ for a slight fever). Which she had then taken (dayquil) the day before (about 24 hours) going into labor and giv[Show More]My son Osearin L Davis was diagnosed with autism and Adhd in Jun 2018, He was born Sep 5 2014. After reading this Article, I spoke with my sons Mother. She then confirmed to me, that She was advised by Medical personnel, that it was ok for her to take Tylenol/Dayquil (for pain early on/ for a slight fever). Which she had then taken (dayquil) the day before (about 24 hours) going into labor and giving birth to him. We now believe that there was a considerable amount of Acetaminophen in his chord blood left over from the dayquil, and that is more than likely what led him to have adhd and autism. Please contact me, even if you feel we may be mistaken, - Father seeking answers- -Mother seeking closure-
"*" indicates required fields