Tylenol Autism Lawyers Appointed to Leadership Positions in MDL Over Acetaminophen Pregnancy Risks
November 22, 2022
By: Irvin Jackson
Exposure to Tylenol or acetaminophen during pregnancy has been linked to autism risk
Families nationwide are pursuing lawsuits against the drug makers over failure to warn
Federal judge presiding over the litigation has appointed a group of 22 Tylenol autism lawyers to serve in leadership positions during the litigation
Each individual plaintiff will still maintain their own lawyer to establish that the specific child's diagnosis of autism was caused by Tylenol
A group of lawyers has been appointed to serve in various leadership roles in the recently established federal multidistrict litigation (MDL) for all lawsuits against the makers of Tylenol and other acetaminophen products, over the failure to disclose information about the pregnancy risks associated with the popular pain medication.
Given common allegations raised in Tylenol autism lawsuits brought by families nationwide, coordinated pretrial proceedings were established last month in the U.S. District Court for the Southern District of New York, where the claims are centralized before Senior U.S. District Judge Denise Cote for discovery and a series of early "bellwether" trials designed to help the parties gauge how juries may respond to certain evidence and testimony that may be repeated throughout thousands of claims.
In an order (PDF) issued this week, the court appointed a total of 22 plaintiffs' attorneys to leadership positions, including three co-lead counsel, one liaison counsel, a nine-member Plaintiffs Executive Committee (PEC) and 12 members of a Plaintiffs' Steering Committee (PSC). These Tylenol autism lawyers will take certain actions during the MDL proceedings that benefit all families pursuing claims agains the drug makers.
Lawsuits Allege Information About Acetaminophen Pregnancy Risks Withheld from Consumers
While each individual plaintiff will maintain their own attorney as well, the lead lawyers in the federal MDL will conduct discovery into common issues that apply to all claims, argue motions before the court and work with the drug makers to negotiate potential settlements during the litigation.
Given the widespread use of Tylenol during pregnancy, it is ultimately expected that thousands of claims will be brought against Johnson & Johnson, Walmart, CVS, Walgreens, Costco and other manufacturers of store-brand acetaminophen in the coming months, involving allegations that exposure to the drug before birth caused children to develop autism or attention deficit hyperactivity disorder (ADHD).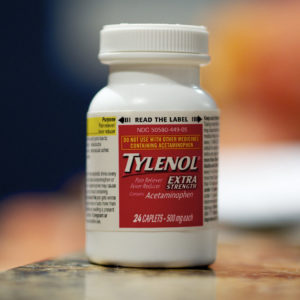 The litigation comes in the wake of recent studies highlighting the risk that prenatal exposure to Tylenol increases the autism and ADHD risks.
In October 2019, a study published in the medical journal JAMA Psychiatry found children with the highest levels of acetaminophen metabolites in their blood at birth had the highest risk of the developmental disorders.
According to additional research published in the European Journal of Epidemiology in June 2021, children exposed to Tylenol during pregnancy were 19% more likely to have autism spectrum disorders and 21% more likely to have ADHD symptoms compared to non-exposed children.
Due to the potential acetaminophen pregnancy risks, researchers from Columbia University warned that doctors should re-evaluate the role of the pain medication for pregnant women in 2020, after finding that prenatal exposure may lead to impaired neurodevelopment in the fetus.
Tylenol MDL Leadership Structure
Earlier this month, Judge Cote adopted a proposed plaintiffs' attorney leadership structure, and accepted applications from individual Tylenol lawyers interested in serving until November 14.
The Tylenol MDL lawyers will form various sub-committees to divide work during the massive litigation, including a "Law & Briefing Committee", "Early Vetting/Bellwether Selection Committee", "Discovery Committee", "Science and Expert Committee", "Federal/State Court Liaison Committee" and a "Settlement/Lien Resolution Committee."
The appointments were announced at an initial status conference last Thursday, which also covered a census of cases, pending motions to dismiss, and the start of discovery proceedings, as well as other issues necessary to move the litigation forward. Each of the 22 attorneys were appointed for a one-year term, subject to renewal by the Court.
December 2022 Tylenol Lawsuit Update
Throughout the remainder of 2022 and early 2023, the organizational structure of the Tylenol MDL will be established, and is expected to include a process that will allow families of children diagnosed with autism or ADHD to file complaints through a court-approved short form complaint, where specific allegations from a master complaint can be adopted.
Following generic discovery into information about the link between Autism and Tylenol, including the exchange of internal documents produced by the drug makers, it is expected that Judge Cote will establish a "bellwether" process in the MDL, where attorneys will prepare a small group of representative claims for case-specific discovery and a series of early trial dates.
While the outcome of these bellwether trials will not have any impact on other plaintiffs, they are expected to have a big impact on the average Tylenol autism settlement amount that the drug makers may offer in the future to resolve each individual claim. However, if the litigation does not settle, Judge Cote may later remand each individual claim back to the U.S. District Court where it was originally filed for a separate trial date.
Does Your Child Qualify for a Tylenol Autism Lawsuit?
Lawyers provide free consultations and claim evaluations to help families determine if their child may be entitled to a Tylenol lawsuit payout over autism or ADHD diagnosed following exposure to acetaminophen during pregnancy. There are no fees or expenses unless a recovery is obtained.
CONTACT A LAWYER
"*" indicates required fields