Tylenol Overdose Common in Children, Canadian Researchers Say
June 13, 2012
By: Staff Writers
Children commonly overdose on Tylenol and its active ingredient, acetaminophen, according to a new report by Canadian researchers, which may increase the risk of severe liver damage. 
In the latest of a string of studies involving the risks associated with Tylenol overdose, researchers published a report in the Canadian Medical Association Journal that found acetaminophen to be the most common cause of acute liver failure in children. However, the researchers noted that such overdoses could be easily avoided.
The report includes a case study involving a 22-day old infant, whose parents accidentally overdosed him following a circumcision. The child was treated with N-acetylcysteine, which counteracts liver toxicity.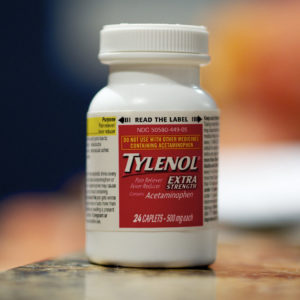 The report was released just days after a study published in the Journal of General Internal Medicine found that nearly half of adults are at risk of accidentally overdosing on acetaminophen by taking more than one medication that contains the pharmaceutical ingredient. In addition, nearly a quarter showed a tendency to overdose on a single, over-the-counter acetaminophen product by exceeding the four grams per day recommended maximum dosage.
Acetaminophen is a pain killer and anti-inflammatory medication found in a number of over-the-counter and prescription drugs. It is also widely marketed for use among infants and children for the treatment of fever, aches and pain.
The FDA has indicated that side effects of acetaminophen are a leading cause of liver failure in the United States, resulting in more than 50,000 emergency room visits, 25,000 hospitalizations and over 450 deaths annually. 
Due to the risks associated with receiving too much acetaminophen, an FDA advisory panel was convened in May 2011 to make recommendations about new warnings or other regulatory actions. Stronger warnings about the potential risk of liver failure from acetaminophen have also been added to all products over the past year, including clearer indications about what products contain acetaminophen as the active ingredient to avoid the risk of overdose.
In December, the FDA warned that new acetaminophen products for children have different potencies than older drugs and said parents should read label instructions carefully.
Johnson & Johnson currently faces a number of Tylenol lawsuits involving liver failure filed on behalf of individuals throughout the United States, which allege that the drug maker sold the popular painkiller for years without providing adequate warnings about the risks associated with exceeding the maximum daily dose or the risk of liver problems from Tylenol overdose.
"*" indicates required fields