Third Circuit Rejects Johnson & Johnson Request for Rehearing Over Talcum Powder Bankruptcy Scheme
March 23, 2023
By: Irvin Jackson
The U.S. Court of Appeals for the Third Circuit is refusing to reconsider its recent decision to throw out Johnson & Johnson's talcum powder bankruptcy filing, setting the stage for thousands of Baby Powder lawsuits and Shower-to-Shower lawsuits brought by women diagnosed with ovarian cancer to resume moving forward.
Following a series of massive jury verdicts, where Johnson & Johnson was ordered to pay millions for failing to warn about the risk of ovarian cancer, mesothelioma and other injuries that may result from exposure to asbestos particles in its talc-based products, the company attempted to pursue a controversial bankruptcy scheme early last year, by transferring all liability it faced into a new entity, LTL Management, LLC, which then immediately filed for bankruptcy.
The move drew immediate criticism from legal experts as an abuse of the U.S. bankruptcy system, since Johnson & Johnson has billions in assets on hand. However, the filing resulted in a stay on all proceedings in more than 30,000 talcum powder lawsuits previously filed, and prevented women from filing new claims as cases of ovarian cancer continue to be diagnosed.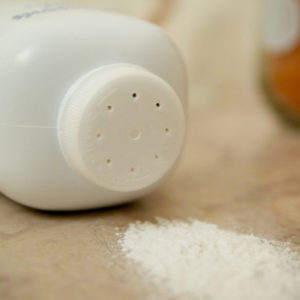 In response to challenges raised by plaintiffs and a number of public interest groups, the Third Circuit Court of Appeals removed LTL Management from bankruptcy in January 2023, finding that the subsidiary has no real financial distress, since it has access to up to $61.5 billion through the parent company, Johnson & Johnson.
Third Circuit Rejects Talcum Powder Bankruptcy Rehearing Request
Johnson & Johnson filed a petition for rehearing before the entire Third Circuit, seeking to overturn the decision of the original three-judge panel. However, in an order (PDF) issued on Wednesday, the petition was denied.
The brief denial indicates none of the eligible judges in the Court were in favor of reconsidering the decision to throw out Johnson & Johnson's talcum powder bankruptcy filing.
Johnson & Johnson has indicated it will petition the U.S. Supreme Court to review the case. However, legal experts all consider the move a "hail Mary", which is unlikely to be granted by the highest appeals court in the country, which only agrees to consider a small number of claims each year.
The Supreme Court has also shown that it is not eager to review mass tort litigation decisions in recent years, rejecting another request by Johnson & Johnson earlier this year to overturn a $302 million vaginal mesh verdict, and last summer the Court twice rejected appeals by Bayer and Monsanto to overturn key Roundup cancer lawsuit rulings.
If the Supreme Court rejects the upcoming petition as well, Johnson & Johnson will have to decide whether it wants to start offering talcum powder settlements to women diagnosed with ovarian cancer, or face the potentially much higher cost of fighting tens of thousands of claims in federal courts nationwide, with many likely to end in massive jury verdicts against the manufacturer.
U.S. Bankruptcy Judge Michael Kaplan, in New Jersey, who was overseeing the initial filing, has already indicated he intends to lift the bankruptcy stay on the litigation as soon as Johnson & Johnson's appeal efforts are exhausted, which will allow active litigation to resume in the federal court system, and previously postponed trial dates to move forward.
March 2023 Talcum Powder Cancer Lawsuit Update
Most talcum powder lawsuits are currently pending in a federal multidistrict litigation (MDL), which was established in the U.S. District Court for the District of New Jersey in 2016. After the original judge presiding over the cases decided to retire earlier this year, U.S. District Judge Michael A. Shipp was recently appointed to preside over the federal talcum powder MDL.
Once the bankruptcy stay is lifted, it is likely that Judge Shipp will reschedule a series of bellwether trials that were set to begin in early 2022, but postponed when Johnson & Johnson filed the recently rejected bankruptcy petition.
Defending against the talc ovarian cancer claims has already cost Johnson & Johnson $1 billion, on top of Baby Powder settlements and verdicts which have amounted to another $3.5 billion, according to its bankruptcy filing. Prior estimates have suggested Johnson & Johnson will need to pay over $10 billion to resolve all lawsuits involving cancer caused by their products. However, if each case goes before a jury, the company could be responsible for substantially more in individual talcum powder lawsuit payouts awarded at trial.
"*" indicates required fields