Brimonidine Tartrate Eye Drops Recall Issued Over Broken Caps, Sterility Concerns
March 08, 2023
By: Russell Maas
Amid continuing concerns about an ongoing eye infection outbreak linked to contaminated Artificial Tears products, another manufacturer has issued an eye drops recall for Brimonidine Tartrates solutions commonly used to treat glaucoma, warning that defective seals could lead to bacteria entering the bottles.
The U.S. Food and Drug Administration (FDA) announced the Brimonidine Tartrate Ophthalmic Solution eye drops recall on March 2, indicating the defective caps sealing the eye drops bottles may have developed cracks during the manufacturing process, creating sterility and bacterial concerns.
The announcement comes only weeks after a nationwide recall of EzriCare and Delsam Pharm Artificial Tears products was announced by the FDA, after dozens of severe infections were linked to eye drops that contained antibiotic resistant strain of Pseudomonas aeruginosa.
While it has yet to be determined exactly how the bacteria entered the recalled Artificial Tears products, federal health officials have warned that introducing any bacterial contamination directly to the eyes can result in serious eye infections which can cause vision loss and spread through the bloodstream.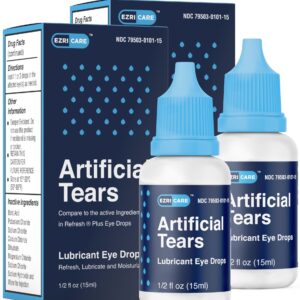 The eye drops recalled in this latest FDA announcement are an alpha-adrenergic receptor, which are used to reduce elevated intraocular pressure in patients with pen-angle glaucoma or ocular hypertension.
According to the recall notice, officials warn several lots of Brimonidine Tartrate Ophthalmic Solution 0.15% may have developed cracks in the lids that seal the product. Officials stated this defect in the eye drop packaging presents a sterility risk which could allow bacteria to enter the eye drops, which could cause eye infections leading to other injuries.
The recall includes Brimonidine Tartrate Ophthalmic Solutions 0.15% sold in 5mL, 10mL and 15mL size soft bottles marked with UPC codes (01)0(03) 60505056415, (01)0(03) 60505056422 and (01)0(03) 60505056439. They have an expiration date of either February 2024 or April 2014.
The products were manufactured by Apotex Corp. and were distributed for sale at the consumer level nationwide in the US between April 05, 2022 and February 22, 2023.
Apotex has announced that it is notifying all of its recipients which include wholesalers, distributors, warehousing chains, mail order pharmacy and long-term care pharmacies to stop using the products immediately, and providing instructions on how to return all of the recalled product.
Customers are being instructed to immediately quarantine the recalled eye drops and return them to their place of purchase. For additional questions or concerns regarding the recall, customers may contact Inmar Rx Solutions at 1-855-275-1273.
2023 Contaminated Eye Drops Recalls
Several eye drop recalls have been issued since the beginning of the year. The first public warnings about the Artificial Tears eye drops infection outbreak were announced in late January, when the U.S. Centers for Disease Control and Prevention (CDC) were able to confirm through genetic sequencing that dozens of infections reported after using EzriCare lubricating eye drop products in Florida, Utah and Connecticut were caused by the same strain of Pseudomonas Aeruginosa.
The CDC's findings resulted in an Artificial Tears eye drops recall on February 2, warning customers to stop using EzriCare and Delsam Pharma Artificial Tears products sold online through Amazon and in Walmart stores over the risk of contracting a Pseudomonas Aeruginosa infection which could result in eye infections, vision loss and other side effects.
Just three weeks later, the FDA issued a Delsam Pharma Artificial Eye ointment recall, warning those products could also contain the same strain of Pseudomonas Aeruginosa found in its Artificial Tears products.
As of February 21, the CDC has identified 58 into Artificial Tears Pseudomonas aeruginosa eye infections across 13 states. The CDC is currently aware of 35 patient illnesses occurring in healthcare facility outbreaks, which has resulted in one death and at least five individuals suffering vision loss.
Since the recalls, a growing number of eye drop infection lawsuits have been filed against the manufacturers over their alleged negligence, alleging the manufacturers of failing to perform proper microbial testing to ensure the products were safe for use.
At this time, product liability lawyers are actively investigating potential Artificial Tears infection lawsuits against the manufacturers and distributors of EzriCare and Delsam Pharma's eye drops for multiple injuries and side effects.
Charles

May 12, 2023 at 6:11 pm

Caused me congestive heart failure
"*" indicates required fields